Streaming Services Offer Clubs a Route to Fans' Ears and Hearts
The BVB have teamed up with Deezer and join the likes of ManUtd or Barça, while Boca Juniors and Co. partner with Spotify. Streaming Services grow in importance for any club, especially with podcasts in mind.
Multi media are a modern standard for any user. And so do football fans not only follow their beloved clubs via one channel, but use various opportunities to get ever more content concerning their club. With this in mind, it is no wonder a lot of clubs are teaming up with streaming services like Spotify and Deezer to create club branded channels and playlists in order to lure the supporters to the respective platforms. That very move also makes for a great foundation if clubs consider embracing the growing podcast market in the future.
Deezer deals aplenty for clubs
Borussia Dortmund just launched their very own Deezer account where not only playlists for the matchday will appear, but also curated ones from selected players like Marco Reus or Jacob Bruun Larsen.
Carsten Cramer, BVB director for sales, marketing & digitalisation, explained that the club could get closer to its fans via such a streaming service:
We're very happy to partner up with Deezer. Music like football has the power to unite people. With Deezer we have the ideal partner to get closer to our fans thanks with music.
Ralph Pighin, VP Central & Eastern Europe at Deezer said that Deezer would accompany happenings at one of Europe's biggest clubs with relevant audio content.
Referring to the founding year of the BVB, Deezer offers fans its family service for 19,09 euro in the next three months. This special offer, meant to make individualised listening for all family members – up to six profiles – easier, will be available in the BVB app.
The French streaming service Deezer is also the official music partner for media giants Manchester United or the FC Barcelona.
ManUtd put it nicely by claiming the streaming service offers a passage to clubs' hidden hearts:

Deezer's partnership with Manchester United is an exclusive backstage pass for fans to the club's hidden heart. With football and music content you won't find anywhere else, from player's playlists to what's playing in the stadium at Old Trafford before a match, Deezer is the best place to listen to Manchester United's Flow.

Clubs are banking on different streaming services like Apple Music or Spotify

Not only Deezer is helping teams around the globe reach their diverse fanbases. Argentinian powerhouse Boca Juniors for example have recently partnered with Spotify, as SportsPro Media report. As part of the deal the club will create a playlist with a title like Way to the Bombonera. The Swedish streaming giants had already teamed up with the three famous clubs from São Paulo: Corinthians, Palmeiras and São Paulo FC. On São Paulo FC's Spotify channel there are playlists with hits from the years 1992, 1993 an 2005 – as in each of those years the club won the famed Copa Libertadores. The partnership even saw Spotify give caricature paintings as well as co-branded headphones to the players.
Now, that's what you call visible branding.
Various clubs from all over the world have their own channel on Spotify by now. Borussia Mönchengladbach or West Ham United are examples for that.
And Spanish La Liga does have its own channel, too.
Apart from Deezer and Spotify, big clubs like Arsenal London or Bayern Munich have partnerships with different streaming services in place. The German record champions have an exclusive deal with Apple Music and are furthermore equipped with Dr. Dre headphones, a division from Apple. Arsenal London, on the other hand, have a started a partnership with streaming platform TIDAL. This rather unique deal emphasises Arsenal's conviction of developing young talent. Arsenal chief commercial officer Vinai Venkatesham said:
Football and music are great passions of so many of our global supporters. This partnership combines these two passions in a unique way and will give our members access to some fantastic benefits. It is also a celebration of our shared belief in young talent, and will create opportunities to bring together our players with TIDAL's rising artists.
Here, some Arsenal stars tell you what they listen to before matches.
The big potential in deals with audio streaming platforms
As of January 2019, Deezer had seven million paying subscribers, according to Statista. Spotify have 87 million paying users and 200 monthly unique visitors, though. And Daniel Ek, Spotify's CEO and founder, wants to turn the audio market into a success like the video market. For he says that people tend to spend as much time with audio these days as with video content.
With the world focused on trying to reduce screen time, it opens up a massive audio opportunity.
And audio does not just mean music. Podcasts are a content format which has been well adopted in the US. According to the IAB (International Advertising Bureau), ad revenue from podcasts was estimated at 314 million US dollar for 2017. To take it into perspective, that signals an 86 per cent increase year-over-year. And estimations from PwC see it surpass the one billion mark by 2020, growing to 1,6 billion dollar in 2022.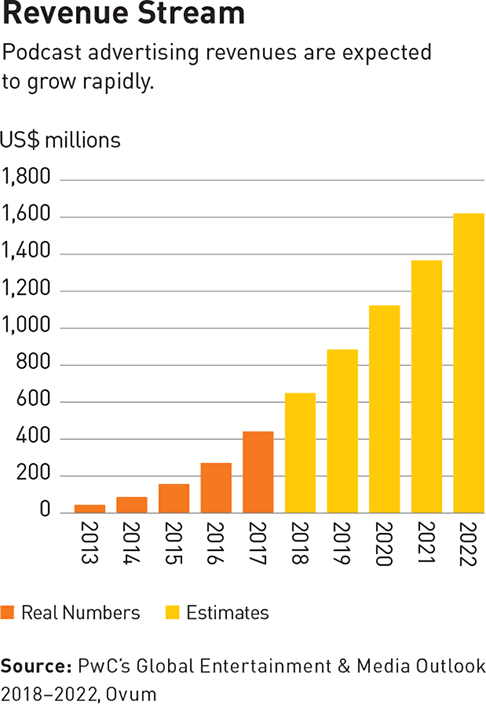 So there's a whole marketable market there for the taking – and sports clubs should be aware of this potential. Especially, since in Europe the podcast market hasn't been swamped with too much content, yet. And listeners are even earger to spend a lot of time and are not afraid of native advertising as well.
To partner with streaming services like Spotify, where the users are for a good part anyway, is a shrewd idea. Because Spotify just acquired podcast specialist platforms Anchor and Gimlet Media for nearly 340 million US dollar to strengthen their own podcast department.
St. Pauli, a cult club from Germany with fans everywhere, has already offered its fans the opportunity to listen to podcasts via Deezer. These are only fan podcasts, but clubs could integrate their own content, too. If it is exclusive, it would surely lure even more people. And that would also be great for the streaming service. The FC St. Pauli also promote songs from their remarkable FC St. Pauli Music School by Levi's® via Deezer, an insitution at the Millerntor stadium for everyone who can't afford music lessons. Branding and fan generating go hand in hand for them with the help of the streaming service. Those are great marketing prospects for any club in the world, since audio and football have long been closely related – and a revival, albeit way more digital and immersive, seems to be on the cards.

Asian eSports Market Taking Digital Football to Another Level
Whoever develops a growing interest in esports should take a look at whatever happens in Asia. South Korea, China etc. really are pioneers – and European clubs can benefit from their knowledge.
The look abroad is always needed if football teams want to evolve and get prepared for the adaption of new elements. eSports has indeed started to establish itself as kind of a parallel sports clubs bank on to gain new fans and more income. While the motives should be examined precisely, football brands should have a look at the Asian eSports market to ready themselves for what lies ahead in that very segment. For it holds so many lucrative options; the Wolverhampton Wanderers are one of the teams looking to take advantage of that.
Wolves form Wolves Weibo eSports section for China
In a football context, the concentration on EA Sports' FIFA is understandable, when it comes to eSports. Most teams in Europe already have their teams in place to represent them at domestic competitions – or the new eChampions League from EA Sports.
Meanwhile, in the ePremier League, Wolverhampton Wanderers' representative has made it to the finals, which are played later this month.
The English club has really adopted eSports holistically. Now, they form a team to play in China as they partner with the Shanghai Jingzong Culture Media Company which owns Weibo eSports. The Wolves Weibo eSports team will be launched via an event in March and take part in the Chinese FSL (FIFA Online 4 Star League).
The club wants to conquer the market in China. Therefore, the Wolves have taken to Weibo, which has 445 million daily active users and offers a great opportunity to gain new followers and fans for a club re-establishing itself quite impressively in the Premier League right now.
The esports market in China is growing at pace and we wanted to follow-on from the success of our existing esports team with a dedicated China presence. This collaboration is very exciting as it will see us partner with a world class esports club and one of the biggest media platforms in China,
said Russel Jones, head of marketing at Wolves. And Guangzhuo Shi, CEO of Jingzong Culture Media Company, added:
This cooperation is very exciting for Weibo eSports. Wolves are a very well-known and respected football club across the World. Partnering with Wolves, to form Wolves Weibo eSports, will help us reach an entirely new audience and provide powerful additional resources.
The move to China could turn out to be a quite shrewd one as in Asia, and especially in China, eSports is much more of a real economy already.
Asian eSports sets the tone
China have only recently accepted eSports as a real profession. For the country certainly has a big and lucrative eSports industry already, second only to North America. That is relating to a study by Tencent, which is quoted in the ESports Observer. According to that, the Chinese eSports market will grow to 1,5 billion US dollar in 2020, up from around 760 million in 2017. While North America made 258 million US dollar from eSports-related aspects, China's revenue was estimated at 104 million in 2017 – South Korea followed with about 49 million.
Well, these numbers are one thing. Another is the sheer amount of people clubs and brands can reach in the Asian and Chinese markets. Because in 2020, the global eSports user base is expected to grow to 590 million, yet, 59 per cent or 350 million of those originate from China. Although that means a decline in per cent, China is still extremely important for any club and their internationalisation strategies. And being present on WeChat or Weibo alone will not be enough as eSports' ever growing popularity can help clubs and brands reach a whole new audience.
The importance is clear to see when you look at the deal between Nike and TJ Sports from Tencent and Riot Games. Dot ESports report about a deal worth about 7,5 million US dollar annually, which sees Nike create the official clothing for the League of Legends Pro League. Furthermore, starting from the mid-season Invitational, fans can purchase sneakers and apparel from Nike and the LPL.
Additionally, Nike will provide players and teams with strength training programs to improve mental and physical health as well as stamina.
eSports potentials need to be assessed accurately
As the Asian eSports market offers a lot of potential, other teams are making their move, too. PSG, who already have teams for DOTA2 or FIFA in China, start with a Mobile Legends team for the Mobile Legends Pro League Season 3 in Indonesia.
Asia is a strategic market for PSG Esports. It's time for us to move down to Asia Pacific. With 43 millions Mobile Legends players, half of them in Indonesia, getting into this game was obvious for us. PSG Esports is striving for the best and we are glad to make an association with leading Team RRQ,
commented Yassine Jaada, Chief Gaming Officer of PSG eSports. Thus, not only China should be considered, if football clubs want to expand their eSports brand to Asia. According to the ESports Insider, the ESL will bring more DOTA2 tournaments to new markets like Thailand, Vietnam and Malaysia. And for any club or brand this opens the door to opportunities for reaching new audiences across Asia.
But before clubs start their journey, there are a lot of questions that need to answered honestly. What do they expect from their involvement in the eSports market? For only an authentic approach will provide ongoing appeal, income and fan engagement. Apart from that, it's important to know which games should be focused. Yes, FIFA has the closest ties to football. But in Japan, the J1 League collaborate with Konami to form an eSports league in which Pro Evolution Soccer – known as Winning Eleven in Japan – will be played, as SportsPro Media report. And DOTA2, League of Legends or what have you will be of growing importance if new audiences should be made aware of a brand. Yet, football clubs cannot view eSports as an extension of their traditional brand and a mere revenue driver, since it's a unique universe – which on one hand offers unique opportunities, not least in Asia, but on the other hand demands an approach appreciative of the long existing eSports culture.