Free Streaming to Promise Market Growth? Now Fans Worldwide Benefit
La Liga Segunda will be streamed for free in various markets, while DAZN offers free streams for the Ligue 1 and Coppa Italia in South America. Will it pay off?
You'll take what you can get for free. With growing opportunities for football fans around the globe to access any game or follow any league or competition they like, there are certainly some kind of openings for football associations and streaming services to generate broader interest in specific competitions. Trying to get more global reach, the Spanish second division as well as games from the Coppa Italia or Ligue 1 will be available for free on YouTube or DAZN's social channels.
DAZN wants more customers – and offer Brazilians a taste of free streaming
OTT service DAZN has really established itself as a go-to option for viewing football anywhere. Since the company is going to stream games from Italy and France in Brazil for the next few years, it wants to build up its audience in certain markets. That's why it offered free streams via their social channels for fans in Brazil. Those supporters could therefore follow Coppa Italia clashes or Ligue 1 encounters featuring PSG or Thierry Henry's AS Monaco, as SporsPro report. Facebook and YouTube were the platforms to provide those games.
But Facebook itself is trying to gain or at least keep users by offering free coverage of Champions League matches in Latin America. From 2018 to 2021 they have free-to-air rights to 32 live matches every season, including the final and UEFA Super Cup. Guy-Laurent Epstein, UEFA Events SA Director of Marketing, commented:
We look forward to the launch of this new partnership that will ensure the large community of local football fans is reached in a highly innovative and accessible manner.
This very innovative and accessible manner is also a springboard for augmenting the global reach for leagues of arguably less interest; especially if they can be watched for free.
YouTube provides free coverage of second Spanish divison in over 155 countries
The Spanish LaLiga has just announced that nearly everyone in the world will from now on be able to view any game from the second Spanish tier, LaLiga Segunda, live and for free on YouTube. In more than 155 countries fans can follow teams like former champions Deportivo La Coruña or the
FC Málaga. While fans in Spain will have to turn to the official broadcasters and pay, those in Germany, the UK, France, India, New Zealand, Australia and so many others can get free access. The option to follow the games is even more inviting as commentary is in English.
Apart from the live matches, the official LaLiga 1|2|3 YouTube account will also stream highlight shows. Melcior Soler, director of the LaLiga Audiovisual department, said:
The way we consume live sports is being changed by a new generation of online broadcasters, and we are committed to using such channels to extend the appeal of our competitions. This move will strengthen the LaLiga 1|2|3 by bringing it to an entirely new global audience, in a format that we think will really appeal to the viewer.
To consume football on a big screen, or even in a stadium, is probably still the most intriguing prospect for fans. But we're in the age of mobile devices and people get their news and information on their smartphones or tablets, via apps mainly. That very aspect of modern day media usage favours DAZN for example, which has also been strengthened by Japanese marketing giants Dentsu, that have bought stakes at the Perform Group and have given some notable financing.
When everyone is on YouTube, Facebook or Twitter, the football associations will need to present their competitions there as well. And free streaming is the best way to get into the fans' heads and on their phones. Fans who might be convinced to become paying customers sooner rather than later.
Streaming Services Offer Clubs a Route to Fans' Ears and Hearts
The BVB have teamed up with Deezer and join the likes of ManUtd or Barça, while Boca Juniors and Co. partner with Spotify. Streaming Services grow in importance for any club, especially with podcasts in mind.
Multi media are a modern standard for any user. And so do football fans not only follow their beloved clubs via one channel, but use various opportunities to get ever more content concerning their club. With this in mind, it is no wonder a lot of clubs are teaming up with streaming services like Spotify and Deezer to create club branded channels and playlists in order to lure the supporters to the respective platforms. That very move also makes for a great foundation if clubs consider embracing the growing podcast market in the future.
Deezer deals aplenty for clubs
Borussia Dortmund just launched their very own Deezer account where not only playlists for the matchday will appear, but also curated ones from selected players like Marco Reus or Jacob Bruun Larsen.
Carsten Cramer, BVB director for sales, marketing & digitalisation, explained that the club could get closer to its fans via such a streaming service:
We're very happy to partner up with Deezer. Music like football has the power to unite people. With Deezer we have the ideal partner to get closer to our fans thanks with music.
Ralph Pighin, VP Central & Eastern Europe at Deezer said that Deezer would accompany happenings at one of Europe's biggest clubs with relevant audio content.
Referring to the founding year of the BVB, Deezer offers fans its family service for 19,09 euro in the next three months. This special offer, meant to make individualised listening for all family members – up to six profiles – easier, will be available in the BVB app.
The French streaming service Deezer is also the official music partner for media giants Manchester United or the FC Barcelona.
ManUtd put it nicely by claiming the streaming service offers a passage to clubs' hidden hearts:

Deezer's partnership with Manchester United is an exclusive backstage pass for fans to the club's hidden heart. With football and music content you won't find anywhere else, from player's playlists to what's playing in the stadium at Old Trafford before a match, Deezer is the best place to listen to Manchester United's Flow.

Clubs are banking on different streaming services like Apple Music or Spotify

Not only Deezer is helping teams around the globe reach their diverse fanbases. Argentinian powerhouse Boca Juniors for example have recently partnered with Spotify, as SportsPro Media report. As part of the deal the club will create a playlist with a title like Way to the Bombonera. The Swedish streaming giants had already teamed up with the three famous clubs from São Paulo: Corinthians, Palmeiras and São Paulo FC. On São Paulo FC's Spotify channel there are playlists with hits from the years 1992, 1993 an 2005 – as in each of those years the club won the famed Copa Libertadores. The partnership even saw Spotify give caricature paintings as well as co-branded headphones to the players.
Now, that's what you call visible branding.
Various clubs from all over the world have their own channel on Spotify by now. Borussia Mönchengladbach or West Ham United are examples for that.
And Spanish La Liga does have its own channel, too.
Apart from Deezer and Spotify, big clubs like Arsenal London or Bayern Munich have partnerships with different streaming services in place. The German record champions have an exclusive deal with Apple Music and are furthermore equipped with Dr. Dre headphones, a division from Apple. Arsenal London, on the other hand, have a started a partnership with streaming platform TIDAL. This rather unique deal emphasises Arsenal's conviction of developing young talent. Arsenal chief commercial officer Vinai Venkatesham said:
Football and music are great passions of so many of our global supporters. This partnership combines these two passions in a unique way and will give our members access to some fantastic benefits. It is also a celebration of our shared belief in young talent, and will create opportunities to bring together our players with TIDAL's rising artists.
Here, some Arsenal stars tell you what they listen to before matches.
The big potential in deals with audio streaming platforms
As of January 2019, Deezer had seven million paying subscribers, according to Statista. Spotify have 87 million paying users and 200 monthly unique visitors, though. And Daniel Ek, Spotify's CEO and founder, wants to turn the audio market into a success like the video market. For he says that people tend to spend as much time with audio these days as with video content.
With the world focused on trying to reduce screen time, it opens up a massive audio opportunity.
And audio does not just mean music. Podcasts are a content format which has been well adopted in the US. According to the IAB (International Advertising Bureau), ad revenue from podcasts was estimated at 314 million US dollar for 2017. To take it into perspective, that signals an 86 per cent increase year-over-year. And estimations from PwC see it surpass the one billion mark by 2020, growing to 1,6 billion dollar in 2022.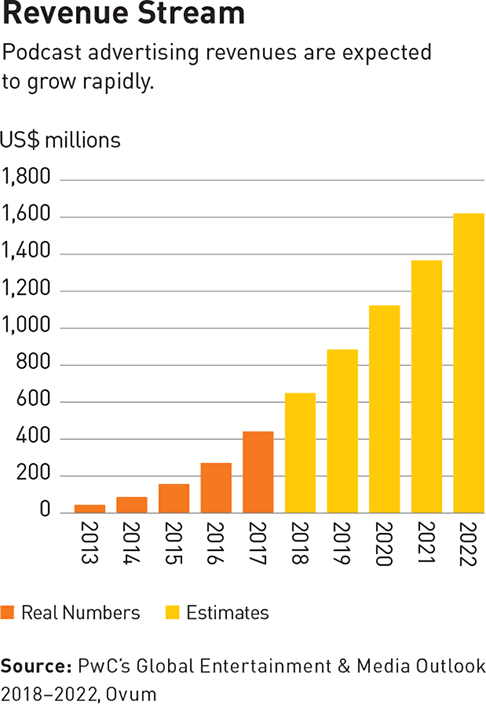 So there's a whole marketable market there for the taking – and sports clubs should be aware of this potential. Especially, since in Europe the podcast market hasn't been swamped with too much content, yet. And listeners are even earger to spend a lot of time and are not afraid of native advertising as well.
To partner with streaming services like Spotify, where the users are for a good part anyway, is a shrewd idea. Because Spotify just acquired podcast specialist platforms Anchor and Gimlet Media for nearly 340 million US dollar to strengthen their own podcast department.
St. Pauli, a cult club from Germany with fans everywhere, has already offered its fans the opportunity to listen to podcasts via Deezer. These are only fan podcasts, but clubs could integrate their own content, too. If it is exclusive, it would surely lure even more people. And that would also be great for the streaming service. The FC St. Pauli also promote songs from their remarkable FC St. Pauli Music School by Levi's® via Deezer, an insitution at the Millerntor stadium for everyone who can't afford music lessons. Branding and fan generating go hand in hand for them with the help of the streaming service. Those are great marketing prospects for any club in the world, since audio and football have long been closely related – and a revival, albeit way more digital and immersive, seems to be on the cards.