Von Indien bis Stockholm – Fans für die Ewigkeit?
Das Modewort Digitalisierung hat tatsächlich auch in seiner Frequenz eine Daseinsberechtigung. Sie ist überall. Doch neben all ihren Vorzügen und den hochspannenden und hilfreichen Entwicklungen sorgt sie genauso für eine Ungewissheit. Wie stark wirkt sie sich auf den Arbeitsmarkt aus? Kann die Vermittlung von Werten in einer gänzlich digitalisierten Welt verlustfrei vonstatten gehen? Oder: verliert der Fußball seine traditionsbewussten und loyalen Fans? Digitale Potentiale bedeuten einerseits die Chance zur Internationalisierung, die unbedingt genutzt werden muss, wenn man als Verein, als Liga, ja als Marke langfristig überleben möchte. Andererseits sind aber auch die User viel freier in ihren Entscheidungen, wie sie ihr Fußballerleben gestalten möchten; und vor allem: auf welchen Kanälen und bezogen auf welche Liga? Deshalb gilt es für Clubs und Verbände gleichsam schon heute mit Hochdruck daran zu arbeiten, neue Fans ausfindig zu machen und langfristig zu halten sowie die etablierten Supporter für lange Zeit an das eigene Produkt zu binden. Hier braucht es ein Gleichgewicht von digital und vor Ort engagierten Fans, damit das Bild des traditionellen Vereins in einer modernen Gesellschaft aufrechterhalten bleibt. Die Expansion nach Indien – und China – oder das Angebot von Stadionkarten auf Lebenszeit sind mutige und innovative Schritte.
Von zwei Herangehensweisen in verschiedener Größenordnung: Die DFL und AIK Solna
Die digitale Transformation ermöglicht ungeahnte Markteintritte, fordert jedoch auch Tribute. Grundsätzlich geben sich Vereine, hinter denen längst Marken, ja Unternehmen stehen, nicht nur mit dem Bewahren des Status quo zufrieden. Das wäre sowohl auf dem Platz als auch abseits davon fatal. Aus diesem Grund lotet man stets neue Geschäftsfelder aus oder sucht Wege, um den schon bestehenden Einkommensstrom auf Dauer zu sichern.
Die DFL geht dabei neue Wege. Mit China, dem einwohnerstärksten Land der Welt und einem auf technologischem Level starken Markt, kooperiert gerade der deutsche Fußball bereits seit einiger Zeit. Während sich die Chinese Super League dank hochbezahlter Stars inzwischen auch international einen Namen gemacht hat, werden Fans trotzdem großes Interesse an den etablierten Top-Ligen Europas haben. Die Premier League, die Ligue 1, die Serie A, LaLiga und die Bundesliga sind die Vorreiter. Allerdings muss die Bundesliga sich eingestehen, dass gegenüber dieser Konkurrenz nur wenige internationale Top Stars in Deutschland spielen, mithin das Awareness-Potential ein Stück weit geringer ist. Deshalb setzt man bei der DFL auf tiefgreifende Kooperationen, die das Interesse am deutschen Profifußball mehrdimensional und langfristig aufbauen sollen. Und das zahlt sich aus. Laut der renommierten Red Card-Studie aus China ist die Bundesliga in den digitalen Medien im Land am stärksten vertreten und sticht, Stand Februar, sogar die global so populäre Premier League aus.
Es ist eine große Ehre für die Bundesliga, mit unserem digitalen Angebot zum vierten Mal in Folge in China als die einflussreichste Fußballliga ausgezeichnet zu werden,
meinte der CEO der Bundesliga International GmbH, Robert Klein, zu der Zeit. Wird der chinesische Markt schon erobert, greift die DFL nun auch in Indien an, hinter China das zweitbevölkerungsreichste Land überhaupt und ebenso ein großer Player in digitalen Fragen. Gerade hat die DFL eine Partnerschaft mit IMG Reliance bekanntgegeben, die nicht nur die Bundesliga in Indien promoten, sondern ebenso zur Entwicklung des indischen Fußballs selbst beitragen soll.
The #DFL and @IMGReliance today announced an exclusive long-term understanding to develop and promote football and the #Bundesliga in India ➡️ https://t.co/eZNuuupNpC pic.twitter.com/bR7PyEgyw5

— DFL Deutsche Fußball Liga (@DFL_Official) November 30, 2018
Demnach sollen Jugendfußballsysteme und -strategien nach Indien exportiert werden, Besuche von deutschen Legenden und Stars sind genauso geplant wie Spiele deutscher Clubs in Indien. Außerdem wird IMG Reliance einzigartige Match Screenings und Fans Parks promoten, die der indischen Bevölkerung die Chance geben die Bundesliga in großem Stil zu verfolgen; noch liegt sie im Popularitätsranking im Land auf Platz zwei.
Zusätzlich profitieren sollen Bundesligavereine sowie die indische Tech-Industrie von einer verstärkten Zusammenarbeit außerhalb des Platzes.
The DFL will also work towards extending Indo-German cooperation in the field of football by creating platforms and opportunities for Bundesliga clubs to explore technical and commercial partnerships in India,
heißt es im Statement. Diese Zusammenarbeit wird langfristig sehr wertvoll sein, insbesondere, da technologische Entwicklungen schon jetzt als Grundlage für künftig erfolgreiche Vereine und Verbände integriert werden wollen. Robert Klein kommentiert entsprechend:
We are extremely excited to be part of the growth story of Indian football and look forward to entering into further strategic partnerships in India. Not only are we intent on offering fans in India the opportunity to experience the Bundesliga in myriad ways, we are also extremely keen to create more opportunities for Indian footballers to excel on the international stage.
Vielleicht kann die Bundesliga so zur beliebtesten Liga in Indien aufsteigen. Zumindest aber können Clubs hier neue Fans und neue Partner, im Bestfall sogar technologische Pioniere, gewinnen; und somit eine wichtige Ausgangssituation schaffen, um das Einkommen und die internationale Relevanz – die zwangsläufig miteinander verknüpft sind und in digitalen Zeiten umso mehr – zu sichern.
AIK Solna bietet Karten für die Ewigkeit
Bei all der Unsicherheit im Hinblick auf die Entwicklung des so simplen und traditionellen Sports Fußball bleibt den Vereinen meist noch eine Sicherheit. Ein Fan bleibt im Normalfall lebenslang Fan desselben Vereins. Für viele ist es anders gar nicht vorstellbar. Auch wenn heute schon der Trend zu beobachten ist, dass weniger gegenüber Vereinen als eher gegenüber medial präsenten Top Stars Loyalität entwickelt wird, verlassen sich Vereine auf ihre jahrelangen Begleiter. Und sie tun gut daran, gerade diese mit besonderer Wertschätzung zu behandeln.
Der frisch gebackene schwedische Meister und Traditionsclub AIK Solna hat sich nun eine ganz besondere Aktion für Fans ausgedacht. Die Supporter erhalten die Möglichkeit eine Art Dauerkarte zu erwerben; allerdings gilt diese bis zum Lebensende. Sie kostet genau 189.100 Kronen (etwas über 19.000 Euro) und spielt damit auf das Gründungsjahr 1891 an. Außerdem werden 40.000 Exemplare angeboten.
Evighetskortet är en ny sorts biljett som gäller som entré för AIK Fotbolls samtliga hemmamatcher i Allsvenskan, så länge kortinnehavaren lever. Läs mer på https://t.co/Wx9euXJOWE pic.twitter.com/ynhkPrclsA

— AIK Fotboll (@aikfotboll) November 27, 2018
Das Angebot kann sich für Fans durchaus lohnen, wenn sie lange genug ins Stadion gehen. Es zelebriert laut Website das Willkommenheißen von Fans jedes Alters, jedes Backgrounds, jedes Berufs. Fredrik Söderberg, Ticket und Marketing Manager bei AIK, das in einem Stockholmer Vorort beheimatet ist, meint:
Es wird wahrscheinlich kein großer Verkaufsschlager sein, aber vielleicht erinnert die Karte daran, dass AIK immer für dich da ist.
Mit der Karte für die Ewigkeit bietet AIK seinen Fans also eine tolle Option, versucht sich aber gleichzeitig langfristiges Engagement vor Ort zu sichern, das in Zeiten vermehrter digitaler Möglichkeiten zur Rezeption des Fußballs extrem wichtig wird. Und natürlich wäre jedes verkaufte Ticket ein Garant für Ticketeinnahmen, die man andernfalls erst in der Zukunft hätte generieren können. Tatsächlich wachsen die durchschnittlichen Zuschauerzahlen in der Friends Arena in Stockholm seit Jahren, wie Transfermarkt.de zeigt. Dennoch ist man bei AIK noch weit entfernt von einer Auslastung der Arena mit ihren mehr als 54.000 Plätzen.
Die Friends Arena ist mit deutlichem Abstand das größte Fußballstadion in Schweden und AIK hat im Schnitt beinah genau so viele Zuschauer wie Hammarby IF, ebenfalls ein Stockholmer Club. Möglicherweise schlagen ja doch ein paar mehr Fans bei den Karten auf Lebenszeit zu und das Stadion erfährt mit der Meisterschaft im Rücken noch mehr Auslastung 2019, der Verein weitere sichere Einnahmen.
Ob eine Expansion nach Indien als groß angelegte systematische Maßnahme oder eine Lebensdauerkarte als gut gemeinter Versuch, um die Fans auf lange Sicht ins Stadion zu locken. Die Möglichkeiten und Herausforderungen der Digitalisierung und des Wandels im Fußball überhaupt animieren doch zu innovativen Marketing- und Business-Lösungen, die zwar ökonomisch motiviert, aber auch tolle Geschichten hervorzubringen imstande sind. Mit der Ausrichtung "Fußball, wie er sein sollte" und den Fans für die Ewigkeit bleibt also im digitalen Zeitalter noch Platz für die Fußballromantiker.
Streaming Services Offer Clubs a Route to Fans' Ears and Hearts
The BVB have teamed up with Deezer and join the likes of ManUtd or Barça, while Boca Juniors and Co. partner with Spotify. Streaming Services grow in importance for any club, especially with podcasts in mind.
Multi media are a modern standard for any user. And so do football fans not only follow their beloved clubs via one channel, but use various opportunities to get ever more content concerning their club. With this in mind, it is no wonder a lot of clubs are teaming up with streaming services like Spotify and Deezer to create club branded channels and playlists in order to lure the supporters to the respective platforms. That very move also makes for a great foundation if clubs consider embracing the growing podcast market in the future.
Deezer deals aplenty for clubs
Borussia Dortmund just launched their very own Deezer account where not only playlists for the matchday will appear, but also curated ones from selected players like Marco Reus or Jacob Bruun Larsen.
Carsten Cramer, BVB director for sales, marketing & digitalisation, explained that the club could get closer to its fans via such a streaming service:
We're very happy to partner up with Deezer. Music like football has the power to unite people. With Deezer we have the ideal partner to get closer to our fans thanks with music.
Ralph Pighin, VP Central & Eastern Europe at Deezer said that Deezer would accompany happenings at one of Europe's biggest clubs with relevant audio content.
Referring to the founding year of the BVB, Deezer offers fans its family service for 19,09 euro in the next three months. This special offer, meant to make individualised listening for all family members – up to six profiles – easier, will be available in the BVB app.
The French streaming service Deezer is also the official music partner for media giants Manchester United or the FC Barcelona.
ManUtd put it nicely by claiming the streaming service offers a passage to clubs' hidden hearts:

Deezer's partnership with Manchester United is an exclusive backstage pass for fans to the club's hidden heart. With football and music content you won't find anywhere else, from player's playlists to what's playing in the stadium at Old Trafford before a match, Deezer is the best place to listen to Manchester United's Flow.

Clubs are banking on different streaming services like Apple Music or Spotify

Not only Deezer is helping teams around the globe reach their diverse fanbases. Argentinian powerhouse Boca Juniors for example have recently partnered with Spotify, as SportsPro Media report. As part of the deal the club will create a playlist with a title like Way to the Bombonera. The Swedish streaming giants had already teamed up with the three famous clubs from São Paulo: Corinthians, Palmeiras and São Paulo FC. On São Paulo FC's Spotify channel there are playlists with hits from the years 1992, 1993 an 2005 – as in each of those years the club won the famed Copa Libertadores. The partnership even saw Spotify give caricature paintings as well as co-branded headphones to the players.
Now, that's what you call visible branding.
Various clubs from all over the world have their own channel on Spotify by now. Borussia Mönchengladbach or West Ham United are examples for that.
And Spanish La Liga does have its own channel, too.
Apart from Deezer and Spotify, big clubs like Arsenal London or Bayern Munich have partnerships with different streaming services in place. The German record champions have an exclusive deal with Apple Music and are furthermore equipped with Dr. Dre headphones, a division from Apple. Arsenal London, on the other hand, have a started a partnership with streaming platform TIDAL. This rather unique deal emphasises Arsenal's conviction of developing young talent. Arsenal chief commercial officer Vinai Venkatesham said:
Football and music are great passions of so many of our global supporters. This partnership combines these two passions in a unique way and will give our members access to some fantastic benefits. It is also a celebration of our shared belief in young talent, and will create opportunities to bring together our players with TIDAL's rising artists.
Here, some Arsenal stars tell you what they listen to before matches.
The big potential in deals with audio streaming platforms
As of January 2019, Deezer had seven million paying subscribers, according to Statista. Spotify have 87 million paying users and 200 monthly unique visitors, though. And Daniel Ek, Spotify's CEO and founder, wants to turn the audio market into a success like the video market. For he says that people tend to spend as much time with audio these days as with video content.
With the world focused on trying to reduce screen time, it opens up a massive audio opportunity.
And audio does not just mean music. Podcasts are a content format which has been well adopted in the US. According to the IAB (International Advertising Bureau), ad revenue from podcasts was estimated at 314 million US dollar for 2017. To take it into perspective, that signals an 86 per cent increase year-over-year. And estimations from PwC see it surpass the one billion mark by 2020, growing to 1,6 billion dollar in 2022.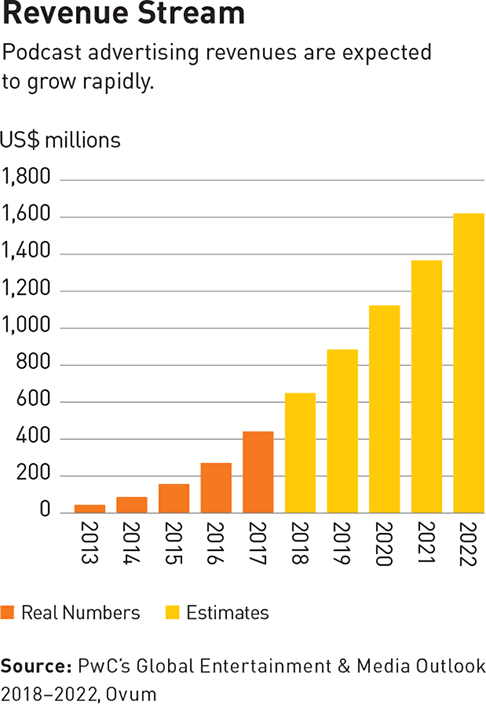 So there's a whole marketable market there for the taking – and sports clubs should be aware of this potential. Especially, since in Europe the podcast market hasn't been swamped with too much content, yet. And listeners are even earger to spend a lot of time and are not afraid of native advertising as well.
To partner with streaming services like Spotify, where the users are for a good part anyway, is a shrewd idea. Because Spotify just acquired podcast specialist platforms Anchor and Gimlet Media for nearly 340 million US dollar to strengthen their own podcast department.
St. Pauli, a cult club from Germany with fans everywhere, has already offered its fans the opportunity to listen to podcasts via Deezer. These are only fan podcasts, but clubs could integrate their own content, too. If it is exclusive, it would surely lure even more people. And that would also be great for the streaming service. The FC St. Pauli also promote songs from their remarkable FC St. Pauli Music School by Levi's® via Deezer, an insitution at the Millerntor stadium for everyone who can't afford music lessons. Branding and fan generating go hand in hand for them with the help of the streaming service. Those are great marketing prospects for any club in the world, since audio and football have long been closely related – and a revival, albeit way more digital and immersive, seems to be on the cards.