Maßgeschneiderte Vereinsshops bei Amazon: Internationalisierung mit Absatzsteigerung
FAANG dominiert den digitalen Handel, das Marketing, die Suche und Vieles mehr. Facebook, Apple, Amazon, Netflix und Google sind die Bezugspunkte dieses Jahrtausends, wenn es um digitale Präsenz geht. Keine Marke und kein Unternehmen kann sich dem entziehen – und auch Fußballclubs nutzen diese mächtigen Player längst, um digital und international als Verein zu wachsen, vor allem aber als eine Marke mit Wiedererkennungswert. Das reicht vom Entertainment-Bereich bis hin zur optimierten Produktsuche für Vereinsartikel. Amazon ermöglicht Clubs inzwischen individualisierte Shops auf der Plattform. Erste europäische Vereine wie Real Betis Sevilla oder der SSC Neapel gehen diesen Weg bereits für ihre Online-Strategie; er wirkt mindestens finanziell vielversprechend.
FAANG: Das Erlebnis Fußball findet längst auf anderen Kanälen statt
Vorbei sind die Zeiten, da am Samstag die Sportschau gesehen, am Montag der Kicker gelesen und der Lieblingsverein dann für ein paar Tage einfach Verein sein durfte. Wenngleich etwas überspitzt formuliert, ist in Zeiten besonders digitaler Wahrnehmung das Erlebnis Fußball ein Angebot, das sieben Tage die Woche und für 24 Stunden bereitsteht. Live-Partien bieten dies natürlich nicht, doch jeder Verein möchte seine Reichweite und Awareness in jeder Stunde, ja jeder Minute optimal ausgeschöpft und optimiert wissen. Denn das sorgt letztlich für stärkeres Engagement und für ein Mehr an Einnahmen.
Dass die Clubs und ihre jeweiligen Accounts bei Social Media bei Google ohne Umstände gefunden werden, ist nur logisch. Allerdings setzen die Vereine auch verstärkt auf eigene YouTube-Kanäle, die mindestens täglich frisch bespielt werden. Mit Hintergrundmaterial, Top 10-Listen zu den besten Toren oder exklusiven Interviews werden die Fans dort – wo sie ohnehin extrem häufig Highlight-Videos und ähnliches konsumieren – in den Bann des Clubs, der Marke gezogen.
Eine Präsenz bei Facebook und natürlich Instagram gehört ebenfalls längst zum guten Ton. Hier definieren sich Marken. Vereine können dort ein breit aufgestelltes Publikum erreichen und zu Followern und im Bestfall Fans machen; außerdem lässt sich dort eine publikumsnahe Interaktion aufrechterhalten. Zum Beispiel dann, wenn über den Alltag der Fußballer mehr preisgegeben wird.
Das wiederum kann mit Verkaufsstrategien verknüpft werden. Für diese ist es ebenso wichtig als Marke einen Zugang zu mehr visuellem Entertainment zu finden. Juventus Turin zeigt im Netflix Original "Juventus Turin – Der Rekordmeister" nach eigenen Angaben die Männer hinter den Trikots. Damit wird der Topclub in dem Bestreben bestärkt die eigene Marke international, etwa auch in den USA, zu etablieren; der Wechsel zum eher modisch simplifizierten Logo war bereits Teil dieser Strategie.
Bei Amazon Prime Video findet sich im Format All Or Nothing beispielsweise eine eingehende Darstellung zu Pep Guardiolas Zeit und Methoden als Trainer bei Manchester City. Das Format erfreut sich großer Beliebtheit und ermöglicht sogar ein Aufpolieren des Image.
Genau das ist für den Verein als Marke heute relevant, digital umso mehr. Amazon entwickelt sich als Plattform rasant, ist jedoch für seine Produktsuche und das unfassbar große Angebot bekannt. Genau diesen Aspekt nutzen die Vereine nun auch für ihre Strategien.
Clubs kooperieren mit Amazon und erstellen dort eigene Shops
Bei Amazon gibt es bereits erste gebrandete Shops von Vereinen. Dazu zählen der SSC Neapel und nun auch Real Betis Sevilla. Beide Vereine genießen in ihren Heimatländern großes Ansehen. Ihr internationales Renommee kann, besonders im Fall von Betis, aber verstärkt werden. Wenn im Zuge einer Internationalisierungsstrategie mehr Produkte ins Ausland verkauft werden wollen, bietet sich die Plattform Amazon dafür an.
Real Betis has millions of fans all over the world and is currently playing European competitions. It's really important for us to get our official products closer to all our fans in and outside Spain and, thanks to Amazon, we are now open at five European countries at the same time. It is a new bid from Real Betis to be a global club through new technologies,
erklärt Ramón Alarcón, der General Business Manager von Real Betis auf der Website des Clubs.
Auch der italienische Traditionsverein SSC Neapel hat bei Amazon einen eigenen Clubshop eingerichtet. Und der zeigt sich sowohl in Sachen Layout als auch in Sachen Übersicht von einer sehr guten Seite.
Dabei werden nicht nur Kollektionen und besondere Angebote präsentiert, die Marke bietet zugleich noch den für Digital so wichtigen Entertainment-Faktor. In diesem Fall mit einem kurzen Clip im Graphic Novel-Stil.
Diese Kombination von Entertainment und Verkauf ist für die Markenbildung im internationalen digitalen Raum unheimlich wichtig und effektiv. Und weil Amazon als Plattform in der Produktsuche der absolute Platzhirsch ist, werden künftig sicherlich deutlich mehr Vereine auf diese Strategie zurückgreifen. Denn sie bietet Kunden einen schnellen und unkomplizierten Zugang zu den Produkten des favorisierten Clubs. Das bedeutet für die Vereine womöglich eine klare Absatzsteigerung. Selbst dann, wenn Amazon seinen Teil bekommt. Für Amazon bedeutet es hierbei, dass die Marktmacht dank der Kooperationen mit einem so finanzstarken Sektor weiter gefestigt wird.
FAANG wird die digitalen Strategien für Fußballclubs weiter beherrschen. Auf diese Player müssen sich die Marketing Manager und Co. weiter fokussieren. Hierüber werden schließlich ebenso die wachsenden eSports-Bereiche mit ihren jeweiligen Visuals, Artikeln oder News distribuiert. Doch für eine umfassende Internationalisierung sollten auf lange Sicht verschiedene Märkte im Auge behalten werden. China bietet etwa noch viele Potentiale, Alibaba, Tencent Weibo, Sina Weibo oder WeChat und Baidu sollten demnach unbedingt im Hinterkopf behalten werden. Für den Anfang ist ein individualisierter Vereinsshop auf Amazon aber sicher schon ein starker Kundenmagnet.
Streaming Services Offer Clubs a Route to Fans' Ears and Hearts
The BVB have teamed up with Deezer and join the likes of ManUtd or Barça, while Boca Juniors and Co. partner with Spotify. Streaming Services grow in importance for any club, especially with podcasts in mind.
Multi media are a modern standard for any user. And so do football fans not only follow their beloved clubs via one channel, but use various opportunities to get ever more content concerning their club. With this in mind, it is no wonder a lot of clubs are teaming up with streaming services like Spotify and Deezer to create club branded channels and playlists in order to lure the supporters to the respective platforms. That very move also makes for a great foundation if clubs consider embracing the growing podcast market in the future.
Deezer deals aplenty for clubs
Borussia Dortmund just launched their very own Deezer account where not only playlists for the matchday will appear, but also curated ones from selected players like Marco Reus or Jacob Bruun Larsen.
Carsten Cramer, BVB director for sales, marketing & digitalisation, explained that the club could get closer to its fans via such a streaming service:
We're very happy to partner up with Deezer. Music like football has the power to unite people. With Deezer we have the ideal partner to get closer to our fans thanks with music.
Ralph Pighin, VP Central & Eastern Europe at Deezer said that Deezer would accompany happenings at one of Europe's biggest clubs with relevant audio content.
Referring to the founding year of the BVB, Deezer offers fans its family service for 19,09 euro in the next three months. This special offer, meant to make individualised listening for all family members – up to six profiles – easier, will be available in the BVB app.
The French streaming service Deezer is also the official music partner for media giants Manchester United or the FC Barcelona.
ManUtd put it nicely by claiming the streaming service offers a passage to clubs' hidden hearts:

Deezer's partnership with Manchester United is an exclusive backstage pass for fans to the club's hidden heart. With football and music content you won't find anywhere else, from player's playlists to what's playing in the stadium at Old Trafford before a match, Deezer is the best place to listen to Manchester United's Flow.

Clubs are banking on different streaming services like Apple Music or Spotify

Not only Deezer is helping teams around the globe reach their diverse fanbases. Argentinian powerhouse Boca Juniors for example have recently partnered with Spotify, as SportsPro Media report. As part of the deal the club will create a playlist with a title like Way to the Bombonera. The Swedish streaming giants had already teamed up with the three famous clubs from São Paulo: Corinthians, Palmeiras and São Paulo FC. On São Paulo FC's Spotify channel there are playlists with hits from the years 1992, 1993 an 2005 – as in each of those years the club won the famed Copa Libertadores. The partnership even saw Spotify give caricature paintings as well as co-branded headphones to the players.
Now, that's what you call visible branding.
Various clubs from all over the world have their own channel on Spotify by now. Borussia Mönchengladbach or West Ham United are examples for that.
And Spanish La Liga does have its own channel, too.
Apart from Deezer and Spotify, big clubs like Arsenal London or Bayern Munich have partnerships with different streaming services in place. The German record champions have an exclusive deal with Apple Music and are furthermore equipped with Dr. Dre headphones, a division from Apple. Arsenal London, on the other hand, have a started a partnership with streaming platform TIDAL. This rather unique deal emphasises Arsenal's conviction of developing young talent. Arsenal chief commercial officer Vinai Venkatesham said:
Football and music are great passions of so many of our global supporters. This partnership combines these two passions in a unique way and will give our members access to some fantastic benefits. It is also a celebration of our shared belief in young talent, and will create opportunities to bring together our players with TIDAL's rising artists.
Here, some Arsenal stars tell you what they listen to before matches.
The big potential in deals with audio streaming platforms
As of January 2019, Deezer had seven million paying subscribers, according to Statista. Spotify have 87 million paying users and 200 monthly unique visitors, though. And Daniel Ek, Spotify's CEO and founder, wants to turn the audio market into a success like the video market. For he says that people tend to spend as much time with audio these days as with video content.
With the world focused on trying to reduce screen time, it opens up a massive audio opportunity.
And audio does not just mean music. Podcasts are a content format which has been well adopted in the US. According to the IAB (International Advertising Bureau), ad revenue from podcasts was estimated at 314 million US dollar for 2017. To take it into perspective, that signals an 86 per cent increase year-over-year. And estimations from PwC see it surpass the one billion mark by 2020, growing to 1,6 billion dollar in 2022.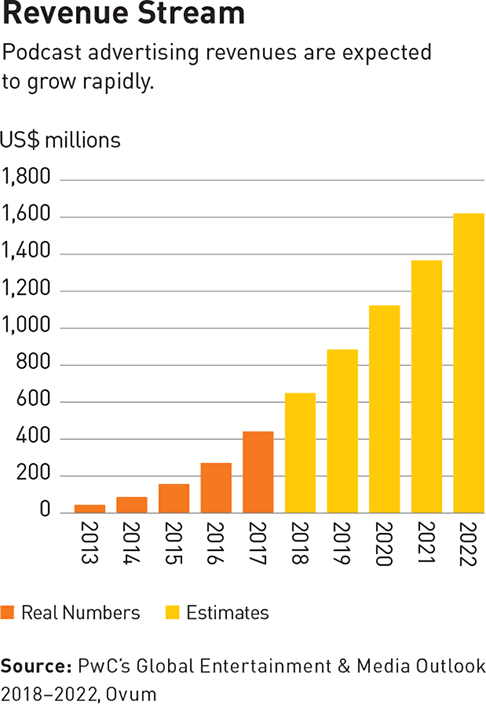 So there's a whole marketable market there for the taking – and sports clubs should be aware of this potential. Especially, since in Europe the podcast market hasn't been swamped with too much content, yet. And listeners are even earger to spend a lot of time and are not afraid of native advertising as well.
To partner with streaming services like Spotify, where the users are for a good part anyway, is a shrewd idea. Because Spotify just acquired podcast specialist platforms Anchor and Gimlet Media for nearly 340 million US dollar to strengthen their own podcast department.
St. Pauli, a cult club from Germany with fans everywhere, has already offered its fans the opportunity to listen to podcasts via Deezer. These are only fan podcasts, but clubs could integrate their own content, too. If it is exclusive, it would surely lure even more people. And that would also be great for the streaming service. The FC St. Pauli also promote songs from their remarkable FC St. Pauli Music School by Levi's® via Deezer, an insitution at the Millerntor stadium for everyone who can't afford music lessons. Branding and fan generating go hand in hand for them with the help of the streaming service. Those are great marketing prospects for any club in the world, since audio and football have long been closely related – and a revival, albeit way more digital and immersive, seems to be on the cards.