Sponsorengelder über eSports maximieren – Ajax und Co. machen es vor
Sponsoren finden sich gerade bei erfolgreichen oder besonders populären Vereinen meist schnell und der Wettbewerb der Marken bringt den Clubs letztlich immer höhere Einnahmen. Doch während die Vereine und Ligen – in dem Fall eher Unternehmen – stetig mehr Inventar über Apps oder modernste Virtual Hybrid-Bandensysteme monetarisieren, bietet ein anderer Bereich aufgrund seiner rasant wachsenden Reichweite und Popularität enormes Potential, um Sponsorengelder auf verschiedenen Ebenen zu generieren und zu maximieren: eSports. Die Partner investieren längst nicht mehr nur zögerlich in die relevanten eSports-Units; nebenbei wird die millionenschwere Wett-Branche für dieses an den modernen Fußball geknüpfte Sportsegment legalisiert – und damit für Monetarisierungen im großen Stil geöffnet.
Beispiel Ajax Amserdam: Mit eSports-Units können Vereine mehr Sponsorengelder kanalisieren
Es ist längst nicht mehr bloß irgendein Trend sich als Fußballverein mit einem eSports-Team in der Branche zu positionieren. Die Entwicklung solcher Units ist ein natürlicher Entwicklungsschritt und sollte von keinem Verein vernachlässigt werden. Denn neben den Potentialen für die Generierung von Awareness bei spezifischen Zielgruppen – insbesondere junge Gamer – stellt eine eSports-Abteilung inzwischen einen bedeutenden wirtschaftlichen Faktor dar. Laut dem ESports Business Digest für das zweite Quartal 2018, herausgegeben vom ESports Observer, wurden allein in diesem Jahresabschnitt 427 Millionen US-Dollar Kapital im Ökosystem generiert. Dabei spielen Sportsimulationen wie EA Sports' FIFA zunächst eine geringere Rolle als etwa League of Legends oder DOTA2.
Für die Fußballvereine ist FIFA nun oft zentral, da ihre eSports-Units über dieses Spiel den Sportverein optimal repräsentieren können. In Sachen Repräsentation steckt auch eine große Chance zur Monetarisierung. Ende Oktober waren gut 20.000 Zuschauer in die Barclaycard Arena in Hamburg gekommen, um das mehrtägige DOTA2-Turnier ESL One zu sehen. Allein hier ging es um 300.000 Euro Preisgeld. Das zeigt, dass sowohl ein immer breiter gefächertes Interesse und Publikum für eSports vorhanden und dass in der Branche schon jetzt viel Geld im Umlauf ist.
Um die Möglichkeiten der Repräsentation über die eSports-Teams optimal zu nutzen, tragen die Spieler dieser Teams natürlich ebenso wie die Fußballprofis auf dem Platz Vereinstrikots. Allein über diese lassen sich Sponsorengelder einholen. Ajax Amsterdam etwa, ein Pionier im niederländischen Fußball wie auch eSports-Bereich, hat seinen seit 2015 für die Fußballmannschaft operierenden Hauptsponsor, den Kabelanbieter Ziggo, ebenfalls als Partner für die eSports-Unit akquiriert. Die Marke sponsert sogar einen eRoom für die Spieler.
Die Trikots der eSportler ziert der Schriftzug "connected by Ziggo". Tatsächlich bringt Ziggo die Fußball- und Gaming Fans zusammen, denn als Teil der Partnerschaft veranstaltet die Marke mit Ajax zusammen Fan-Turniere über FIFA 19, die auf ein großes Finale in der Johan Cruyff Arena hinauslaufen, wie SportsPro Media berichtet. Im Übrigen kooperiert der niederländische Rekordmeister auch mit EA Sports: es gibt eine lizenzierte Spezialversion von FIFA 19.
Ajax nutzt viele Optionen, um den eigenen großen eSports-Bereich zu monetarisieren. Die Sponsorengelder werden etwa von Ziggo für die Fußballteams eingeholt und für die eSports-Unit. Darüber hinaus hat Ajax eine dreijährige Partnerschaft mit Playseat geschlossen. Der Hersteller von Gaming-Stühlen stellt Modelle im Ajax-Design her, die auch über den Fanshop vertrieben werden – zu 399 Euro das Stück.
Natürlich können Vereine und die Unternehmen dahinter noch deutlich mehr Wege finden, um ihre eSports-Abteilungen nicht nur sportlich zu fördern, sondern auch als Marketing-Magnet zu nutzen. So könnten auf den Ärmeln der Trikots weitere Sponsoren Platz finden und weiteres Zubehör für Gamer ließe sich branden.
eSports darf nicht nur als Geldmaschine betrachtet werden
Trotz der finanziellen Möglichkeiten, die im eSports stecken und die gerade auch Fußballvereine mehr und mehr entdecken und nutzen, muss die Entwicklung der eSports-Units gründlich reflektiert werden. Man tut den Sportlern unrecht, wenn sie lediglich als innovative Marketing-Zugpferde eingespannt werden und sich weniger als Leistungsträger ihrer eigenen Disziplin profilieren können als es ihnen gebührt. Bei GlobalSportsJobs wird Marcel Sandrock, der Manager für eSports und Gaming bei Infront Sports & Media zitiert:
Zwar lässt sich durchaus kurzfristig Geld mit dem Bereich eSports machen, keine Frage. Doch langfristig wird das Konzept nur haltbar sein, wenn der wachsenden Zielgruppe eine authentische Synergie von Verein und eSports-Abteilung vermittelt werden kann. Ein gutes Beispiel liefert hierbei der FC Kopenhagen. Als Projektleiter der eSports-Unit hat Christian Sorensen dort eine Abteilung geschaffen, die eben nicht FC Kopenhagen heißt, sondern North. Wie SkySports näher erläutert, kooperierte der Verein mit der Filmfirma Nordic Films, die Teil des Projekts sein wollte. Diese Kooperation ist natürlich ebenfalls lukrativ. Dennoch ermöglicht das spezielle Branding dem eSports-Verein eine gewisse Unabhängigkeit, so Sorensen:
"More importantly, we didn't want to be called 'FC Copenhagen eSports'. We look at North as a global brand, if we called it FC Copenhagen eSports, we would be limiting the brand to greater Copenhagen."
Durch die optimierte Internationalisierung, die dem eSports-Bereich ohnehin inhärent ist, eröffnen sich langfristig natürlich weitere Perspektiven für globale Partnerschaften, aber auch umfassende Awareness. Bei North ist der Fokus durchaus aufs Finanzielle gerichtet, doch es ist dem Verein FC Kopenhagen wichtig, dass die Wertschätzung der Spieler gewährleistet ist:
"What we've done from day one is to make sure players know that we respect them as athletes. They get the same opportunities our football players get and just like the football players, they need to go out there and prove themselves too."
Momentan hat North bereits eine Akademie für eSportler, Spieler werden schon im frühen Teenageralter beobachtet und mitunter übernommen. Andere Spieler schaffen es nicht ins erste Team, werden aber womöglich verkauft. Auch das bringt ein wenig Geld ein. Das große Geld aber kommt wohl, das glaubt auch Sorensen, sobald die Broadcaster mehr und mehr einsteigen und für Übertragungsrechte zahlen. Und dann werden die Fans eigenständige eSports-Teams sehen wollen, keine Kopien der Fußballclubs. Dabei darf ebenfalls nicht vergessen werden: ein eSports-Turnier dauert deutlich länger als ein Fußballspiel, hat also allein vom zeitlichen Aspekt her ein breites Vermarktungspotential.
eSports als neuer Markt: Wetten erfreut sich auch im digitalen Zeitalter größter Beliebtheit
Schließlich kommt neben all den Momenten, die eSports in doppeltem Sinne bereichern, ein Wirtschaftsaspekt hinzu, der schon im Fußball für viel Geldfluss sorgt: das Wetten. Im Umfeld des Fußballs sind Wettanbieter immer häufiger Sponsoren, gerade in England in erstaunlich hohem Maße. Beim eSports sponsert GG.Bet beispielsweise die bei YouTube erscheinenden Folgen von Stronger, die das Team North präsentieren, sowie die Trikots des Teams. GG.Bet ist dabei ebenso fortschrittlich, hier kann bereits mit Bitcoin und "echtem Geld" gewettet werden.
Doch das Wett-Business wird im eSports künftig wohl noch umfassender Fuß fassen. Denn Unikrn wurde gerade lizenziert, um das Wetten auf eSports-Leistungen in zunächst weltweit 20 Ländern zu ermöglichen. Unikrn ist das erste komplett auf Blockchain basierende Wettunternehmen, wie SportsPro Media darstellt, und gibt seinen Nutzern die Option Geldbeträge auf bestimmte Spielleistungen etwa bei der League of Legends Championship zu setzen. Zudem sollen konkret auf Fähigkeiten der Spieler zugeschnittene Wetten ermöglicht werden.
Die Wettindustrie ist riesig und finanzstark, man rechnet mitunter mit einem Marktkapital von gut 250 Milliarden US-Dollar. Sie wird eSports um ein weiteres Element bereichern, das eine breite und globale Akzeptanz erfährt. Gelingt es mehr eSports-Abteilungen bei Vereinen diese wirtschaftlichen Möglichkeiten zu erkennen und zu nutzen, steckt also ein unerhört großes Potential in diesem Bereich. Um Menschen für den Sport zu begeistern und natürlich letztlich deren Begeisterung für die eigene Finanzierung einzusetzen.
Marken, Vereine, Unternehmen aus dem Fußballbereich, die eSports immer noch stiefmütterlich behandeln oder als nerdige Seitensparte abtun, sollten sich die positiven Beispiele ansehen, deren Möglichkeiten erkennen und auf die lukrative und zukunftsgerichtete Koexistenz von eSports-Units und Fußballteams etc. zusteuern. Wer das nicht tut, wird etwas verpassen, einen gewaltigen Markt; und droht schließlich insgesamt an Bedeutung zu verlieren.
Streaming Services Offer Clubs a Route to Fans' Ears and Hearts
The BVB have teamed up with Deezer and join the likes of ManUtd or Barça, while Boca Juniors and Co. partner with Spotify. Streaming Services grow in importance for any club, especially with podcasts in mind.
Multi media are a modern standard for any user. And so do football fans not only follow their beloved clubs via one channel, but use various opportunities to get ever more content concerning their club. With this in mind, it is no wonder a lot of clubs are teaming up with streaming services like Spotify and Deezer to create club branded channels and playlists in order to lure the supporters to the respective platforms. That very move also makes for a great foundation if clubs consider embracing the growing podcast market in the future.
Deezer deals aplenty for clubs
Borussia Dortmund just launched their very own Deezer account where not only playlists for the matchday will appear, but also curated ones from selected players like Marco Reus or Jacob Bruun Larsen.
Carsten Cramer, BVB director for sales, marketing & digitalisation, explained that the club could get closer to its fans via such a streaming service:
We're very happy to partner up with Deezer. Music like football has the power to unite people. With Deezer we have the ideal partner to get closer to our fans thanks with music.
Ralph Pighin, VP Central & Eastern Europe at Deezer said that Deezer would accompany happenings at one of Europe's biggest clubs with relevant audio content.
Referring to the founding year of the BVB, Deezer offers fans its family service for 19,09 euro in the next three months. This special offer, meant to make individualised listening for all family members – up to six profiles – easier, will be available in the BVB app.
The French streaming service Deezer is also the official music partner for media giants Manchester United or the FC Barcelona.
ManUtd put it nicely by claiming the streaming service offers a passage to clubs' hidden hearts:

Deezer's partnership with Manchester United is an exclusive backstage pass for fans to the club's hidden heart. With football and music content you won't find anywhere else, from player's playlists to what's playing in the stadium at Old Trafford before a match, Deezer is the best place to listen to Manchester United's Flow.

Clubs are banking on different streaming services like Apple Music or Spotify

Not only Deezer is helping teams around the globe reach their diverse fanbases. Argentinian powerhouse Boca Juniors for example have recently partnered with Spotify, as SportsPro Media report. As part of the deal the club will create a playlist with a title like Way to the Bombonera. The Swedish streaming giants had already teamed up with the three famous clubs from São Paulo: Corinthians, Palmeiras and São Paulo FC. On São Paulo FC's Spotify channel there are playlists with hits from the years 1992, 1993 an 2005 – as in each of those years the club won the famed Copa Libertadores. The partnership even saw Spotify give caricature paintings as well as co-branded headphones to the players.
Now, that's what you call visible branding.
Various clubs from all over the world have their own channel on Spotify by now. Borussia Mönchengladbach or West Ham United are examples for that.
And Spanish La Liga does have its own channel, too.
Apart from Deezer and Spotify, big clubs like Arsenal London or Bayern Munich have partnerships with different streaming services in place. The German record champions have an exclusive deal with Apple Music and are furthermore equipped with Dr. Dre headphones, a division from Apple. Arsenal London, on the other hand, have a started a partnership with streaming platform TIDAL. This rather unique deal emphasises Arsenal's conviction of developing young talent. Arsenal chief commercial officer Vinai Venkatesham said:
Football and music are great passions of so many of our global supporters. This partnership combines these two passions in a unique way and will give our members access to some fantastic benefits. It is also a celebration of our shared belief in young talent, and will create opportunities to bring together our players with TIDAL's rising artists.
Here, some Arsenal stars tell you what they listen to before matches.
The big potential in deals with audio streaming platforms
As of January 2019, Deezer had seven million paying subscribers, according to Statista. Spotify have 87 million paying users and 200 monthly unique visitors, though. And Daniel Ek, Spotify's CEO and founder, wants to turn the audio market into a success like the video market. For he says that people tend to spend as much time with audio these days as with video content.
With the world focused on trying to reduce screen time, it opens up a massive audio opportunity.
And audio does not just mean music. Podcasts are a content format which has been well adopted in the US. According to the IAB (International Advertising Bureau), ad revenue from podcasts was estimated at 314 million US dollar for 2017. To take it into perspective, that signals an 86 per cent increase year-over-year. And estimations from PwC see it surpass the one billion mark by 2020, growing to 1,6 billion dollar in 2022.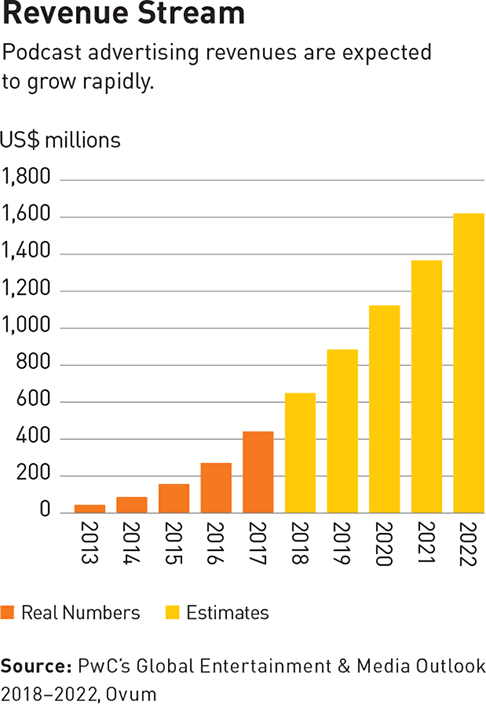 So there's a whole marketable market there for the taking – and sports clubs should be aware of this potential. Especially, since in Europe the podcast market hasn't been swamped with too much content, yet. And listeners are even earger to spend a lot of time and are not afraid of native advertising as well.
To partner with streaming services like Spotify, where the users are for a good part anyway, is a shrewd idea. Because Spotify just acquired podcast specialist platforms Anchor and Gimlet Media for nearly 340 million US dollar to strengthen their own podcast department.
St. Pauli, a cult club from Germany with fans everywhere, has already offered its fans the opportunity to listen to podcasts via Deezer. These are only fan podcasts, but clubs could integrate their own content, too. If it is exclusive, it would surely lure even more people. And that would also be great for the streaming service. The FC St. Pauli also promote songs from their remarkable FC St. Pauli Music School by Levi's® via Deezer, an insitution at the Millerntor stadium for everyone who can't afford music lessons. Branding and fan generating go hand in hand for them with the help of the streaming service. Those are great marketing prospects for any club in the world, since audio and football have long been closely related – and a revival, albeit way more digital and immersive, seems to be on the cards.