FIFA 19 lässt eSports und Fußball, virtuelle und reale Stars verschmelzen
Auch in diesem Jahr werden weltweit wieder Millionen Fußballfans und Spielbegeisterte in die Tasche greifen, um sich FIFA 19 für ihre Konsole oder ihren PC zu kaufen. Das Spiel gilt seit jeher als Dauerbrenner und überzeugt in diesem Jahr nicht nur mit den Rechten für die UEFA-Wettbewerbe, allen voran die Champions League, sondern bildet genauso immer mehr eine Schnittstelle zwischen dem real existenten Ökosystem Fußball und seinem virtuellen Äquivalent. Während eSports zusehends Einfluss auf die Vereinskultur im Fußball nimmt, wird das Spiel mehr und mehr zu einer gefragten Referenz für Stars oder Vereine.
FIFA 19 begeistert Millionen – und wird zu einer stärkeren Vermarktungsplattform
Seit knapp über zwei Wochen dominiert FIFA 19 wieder die Games-Charts. Der Vorgänger des neuen Spiels, FIFA 18, hat sich weltweit über 24 Millionen Mal verkauft. Obwohl FIFA 19 etwas schwächer startete, wird die Zahl der verkauften Kopien sich sicher drastisch erhöhen, sobald am Black Friday die Preise gesenkt werden. Außerdem wurde beim ersten Vergleich nur auf die verkauften physischen Einheiten Bezug genommen. Heutzutage werden aber mehr denn je Spiele als Download erworben. Letztendlich kann Electronic Arts darauf hoffen auch in dieser Saison ähnlich viel Gewinn mit seinem Bestseller zu erreichen.
Die Jahr für Jahr wachsende Relevanz der Spielreihe – die sich zum Beispiel in FIFA-orientierten eSports-Ligen manifestiert – lässt Vereine und Stars nicht unberührt. Nicht nur die Coverstars, allen voran Cristiano Ronaldo (der im Zuge der gegen ihn erhobenen Vergewaltigungsworwürfe übrigens von einigen offiziellen EA Sports-Seiten entfernt worden war), profitieren davon. Die AS Roma hat ebenfalls eine Partnerschaft mit EA begonnen, die zwei Jahre laufen soll. Als Teil des Deals wird der Verein insbesondere über die eigenen Social Media-Kanäle und jene von EA in exklusivem Content promotet.
Zugleich identifizieren sich vermehrt Profispieler mit ihren Alter Egos im Spiel; und fordern etwa bessere Werte im Sprint oder neue Frisuren. Der englische Nationalspieler Jesse Lingard zum Beispiel freut sich darüber, dass sein markanter Jubel ins Spiel aufgenommen wurde. So werden Wiedererkennungswerte von Spielern, die sich in Social Media und Co. zugleich beinah als Marken profilieren, geschaffen. Er bemängelt jedoch, dass seine Frisur nicht mehr aktuell sei.
EA SPORTS JLINGZ IN THE GAME!!! @EASPORTSFIFA finally listened but still not changed my trim 💈✂️🙁😂 #JLingz #Fifa19 pic.twitter.com/yLdyiMfTGY

— Jesse Lingard (@JesseLingard) October 12, 2018
Lingard (alias JLingz) verkauft unter anderem Handyhüllen. Da wird die Relevanz dieses Wiedererkennungswerts auch in einem Spiel ganz neu gewichtet.
Look what arrived! The #Jlingz phone case, Jlingz gang 🤟🏽 Thank you @JLingz @JesseLingard #jesselingard pic.twitter.com/GLRv6R00IC

— Jesse Lingard (@lingzjess) October 6, 2018
Die Überschneidungspunkte von einem inzwischen von Social Media nicht mehr zu trennenden Marketingbereich im Fußball und den virtuellen Fortführungen weiten sich aus. Immerhin zeigen sich auf den Banden in den realen Arenen nachmpfundenen Stadien auch die entsprechenden Sponsoren. Des Weiteren findet sich eine erfreuliche Verschmelzung. Alex Hunter, der Star des noch recht jungen Modus The Journey wird sich bei FIFA 19 der Initiative Common Goal anschließen. Diese hat der Spieler Juan Mata zusammen mit der Organisation streetfootballworld ins Leben gerufen. Die Organisation nutzt Gelder, um weltweit soziale Projekte mit Sportbezug zu unterstützen. Dabei spenden Trainer oder Spieler, darunter Mats Hummels oder Julian Nagelsmann, ein Prozent ihres Gehalts; was wohl zu verschmerzen ist. Inzwischen ist auch die Legende Eric Cantona als Mentor miteingestiegen.
Wie Goal.com nun berichtet, kann Alex Hunter sich bei FIFA also auch der Initiative anschließen. EA spendete dem Bericht zufolge selbst 200.000 US-Dollar an diese. Die spezielle Kommunikation berühmter Größen des Fußballs mit Alex Hunter seht ihr im Video zur Bekanntgabe.
Die Beispiele zeigen, dass  die FIFA-Reihe nicht mehr nur eine sehr getreue Abbildung des Fußballs darstellt, sondern zu einem nicht zu vernachlässigenden Element im gesamten Fußballökosystem geworden ist. Immerhin mag das Spiel für Marken oder eben Initiativen als Engagement-Treiber und ganz besonders als Reichweitenoptimierer gelten.
Die Gamer-Community hält weiter Einzug in traditionelle Bereiche des Sports
Wie wichtig das Gaming im Fußball längst ist, zeigt das Potential von eSports und den FIFA-Spielen überhaupt. Der BVB-Marketingchef Carsten Cramer erklärt im Rahmen der Partnerschaft des Vereins mit FIFA 19 gegenüber Playm:
"Die Gaming-Community wächst seit Jahren, und wir nehmen erfreut wahr, dass neben dem echten auch der virtuelle Fußball von Jahr zu Jahr beliebter wird. Wir freuen uns sehr über die Partnerschaft mit EA Sports und blicken auch im Bereich Gaming auf eine spannende Saison mit FIFA 19. Gerade durch die Integration der UEFA Champions League tritt der BVB in EA Sports FIFA 19 nun auch virtuell auf dem Rasen der Königsklasse an."
Dass der virtuelle Fußball immer populärer wird, ist auch ein Zeichen der Zeit. Denn eSports allgemein, die Fußballsektion aber ebenso, erfreuen sich größter Beliebtheit. Vereine müssen sich in diesem Segment längst positionieren, um das volle Potential auszuschöpfen. Noch gibt es in Deutschland keine verpflichtende Liga. Die Premier League allerdings hat es gerade Ländern wie Frankreich oder Holland nachgemacht und eine offizielle ePremier League eingeführt. EA Sports und die Liga kooperieren, um die 20 Teams auf dem Bildschirm repräsentiert zu wissen. Im Januar soll der Wettbewerb losgehen.
Der Premier League Managing Director Richard Masters meint:
"We know that millions of fans play FIFA and this new esports competition will provide our clubs with an exciting opportunity to engage with them. We can't wait to get started with the opening online rounds in January 2019."
Manchester City wird als eines der Teams vertreten sein. Deren Senior Vice President und General Manager der EA Competitive Gaming Division, Todd Sitrin, führt aus, dass sowohl die Fußballfans als auch die eSports-Fans dank der ePremier League auf ihre Kosten kommen werden, mit dem realen oder dem virtuellen Spiel.
"Through the ePL, this partnership carves a critical path forward in expanding competition not only for players, but for the hundreds of millions watching Premier League games who now can support their club on the virtual and the traditional pitch."
Die zunehmende Einflussnahme und Ausbreitung des eSports wird aber nicht durchweg positiv aufgenommen. Erst kürzlich kam es beim Ligaspiel zwischen den Young Boys Bern und dem FC Basel in der Schweiz zum Fan-Protest gegen diese neue Form des Sports. Die Sportschau berichtete von Tennisbällen und Controllern, die auf den Rasen geworfen worden waren und zur Spielunterbrechung geführt hatten. Die Ostkurve Bern macht sich gegen eSports stark, weil dabei weniger die Werte des Sports als vielmehr die Profite im Vordergrund stünden.
Der in seiner Form fragwürdige, weil überzogene Protest spiegelt doch einen aktuellen Diskurs im Kontext des Fußballs wider. Leistet das FIFA-Spielen als Teil des eSports für eine Liga oder einen Club einen Beitrag zur Vereins- oder Sportkultur oder werden durch die Integration des Sportsegments vorrangig Werbeinventare ausgelotet, mediale Reichweiten gesteigert und Profitoptimierungen angestoßen?
Wahrscheinlich ist die Antwort weitaus komplexer als die Frage; oder der Protest. Natürlich steckt in eSports unheimlich viel Geld, weil das globale Interesse groß ist und schnell wächst. Im August kürte sich der Saudi-Araber Mosaad Aldossary zum eSports-FIFA-Weltmeister. Das brachte ihm satte 250.000 US-Dollar ein. Dieses Potential allerdings ungenutzt zu lassen, wäre für Verbände und Vereine aus wirtschaftlicher Sicht fahrlässig. Denn tatsächlich lassen sich über eSports-Units ganz neue Geschäftsfelder erschließen – und Fans gewinnen. Das haben wir in einem weiteren Bericht schon dargestellt. Und eine Koexistenz von eSports im Bereich FIFA und dem Fußball selbst wird diesen sicher nicht gefährden. Dass die eSportler in ihrem ganz eigenen Bereich aber stark für das Sportmarketing eingespannt werden, um letztlich Gewinne für ihren Verein zu stärken, ist verständlich.
eSports mag für den einen oder anderen weniger mit Sport zu tun haben als der Fußball. Doch er bildet eine Sportform in Zeiten von Digital Natives ab, die im Kontext von Medien- und digitaler Sozialkompetenz wichtige Aspekte eines innovativen Sportsgeists aufzeigt. Im Sinne dieses Sportsgeists sollten Fans diesem Zusammenkommen eine Chance geben. Die Vereine und Marken haben zumeist schon lange begriffen, dass in der virtuellen Welt, die ohne ihre räumlichen oder zeitlichen Einschränkungen große Vermarktungspotentiale aufweist, Zukunftsperspektiven und künftiges Engagement steckt. Vielleicht wird die nächste Generation von Fans nicht mehr im Stadion gewonnen, sondern eben bei  EA Sports' FIFA oder während eines eSports-Turniers. Das ist eine Realität, die nicht ganz so romantisch ist; dafür aber für viele Parteien langfristig profitabel. Die vielen Partnerschaften und Features bei FIFA 19 zeigen uns schon heute, wo der Weg hingehen mag. Und "Was zählt, is aufm Platz" erlangt plötzlich eine ganz andere Bedeutung.
Streaming Services Offer Clubs a Route to Fans' Ears and Hearts
The BVB have teamed up with Deezer and join the likes of ManUtd or Barça, while Boca Juniors and Co. partner with Spotify. Streaming Services grow in importance for any club, especially with podcasts in mind.
Multi media are a modern standard for any user. And so do football fans not only follow their beloved clubs via one channel, but use various opportunities to get ever more content concerning their club. With this in mind, it is no wonder a lot of clubs are teaming up with streaming services like Spotify and Deezer to create club branded channels and playlists in order to lure the supporters to the respective platforms. That very move also makes for a great foundation if clubs consider embracing the growing podcast market in the future.
Deezer deals aplenty for clubs
Borussia Dortmund just launched their very own Deezer account where not only playlists for the matchday will appear, but also curated ones from selected players like Marco Reus or Jacob Bruun Larsen.
Carsten Cramer, BVB director for sales, marketing & digitalisation, explained that the club could get closer to its fans via such a streaming service:
We're very happy to partner up with Deezer. Music like football has the power to unite people. With Deezer we have the ideal partner to get closer to our fans thanks with music.
Ralph Pighin, VP Central & Eastern Europe at Deezer said that Deezer would accompany happenings at one of Europe's biggest clubs with relevant audio content.
Referring to the founding year of the BVB, Deezer offers fans its family service for 19,09 euro in the next three months. This special offer, meant to make individualised listening for all family members – up to six profiles – easier, will be available in the BVB app.
The French streaming service Deezer is also the official music partner for media giants Manchester United or the FC Barcelona.
ManUtd put it nicely by claiming the streaming service offers a passage to clubs' hidden hearts:

Deezer's partnership with Manchester United is an exclusive backstage pass for fans to the club's hidden heart. With football and music content you won't find anywhere else, from player's playlists to what's playing in the stadium at Old Trafford before a match, Deezer is the best place to listen to Manchester United's Flow.

Clubs are banking on different streaming services like Apple Music or Spotify

Not only Deezer is helping teams around the globe reach their diverse fanbases. Argentinian powerhouse Boca Juniors for example have recently partnered with Spotify, as SportsPro Media report. As part of the deal the club will create a playlist with a title like Way to the Bombonera. The Swedish streaming giants had already teamed up with the three famous clubs from São Paulo: Corinthians, Palmeiras and São Paulo FC. On São Paulo FC's Spotify channel there are playlists with hits from the years 1992, 1993 an 2005 – as in each of those years the club won the famed Copa Libertadores. The partnership even saw Spotify give caricature paintings as well as co-branded headphones to the players.
Now, that's what you call visible branding.
Various clubs from all over the world have their own channel on Spotify by now. Borussia Mönchengladbach or West Ham United are examples for that.
And Spanish La Liga does have its own channel, too.
Apart from Deezer and Spotify, big clubs like Arsenal London or Bayern Munich have partnerships with different streaming services in place. The German record champions have an exclusive deal with Apple Music and are furthermore equipped with Dr. Dre headphones, a division from Apple. Arsenal London, on the other hand, have a started a partnership with streaming platform TIDAL. This rather unique deal emphasises Arsenal's conviction of developing young talent. Arsenal chief commercial officer Vinai Venkatesham said:
Football and music are great passions of so many of our global supporters. This partnership combines these two passions in a unique way and will give our members access to some fantastic benefits. It is also a celebration of our shared belief in young talent, and will create opportunities to bring together our players with TIDAL's rising artists.
Here, some Arsenal stars tell you what they listen to before matches.
The big potential in deals with audio streaming platforms
As of January 2019, Deezer had seven million paying subscribers, according to Statista. Spotify have 87 million paying users and 200 monthly unique visitors, though. And Daniel Ek, Spotify's CEO and founder, wants to turn the audio market into a success like the video market. For he says that people tend to spend as much time with audio these days as with video content.
With the world focused on trying to reduce screen time, it opens up a massive audio opportunity.
And audio does not just mean music. Podcasts are a content format which has been well adopted in the US. According to the IAB (International Advertising Bureau), ad revenue from podcasts was estimated at 314 million US dollar for 2017. To take it into perspective, that signals an 86 per cent increase year-over-year. And estimations from PwC see it surpass the one billion mark by 2020, growing to 1,6 billion dollar in 2022.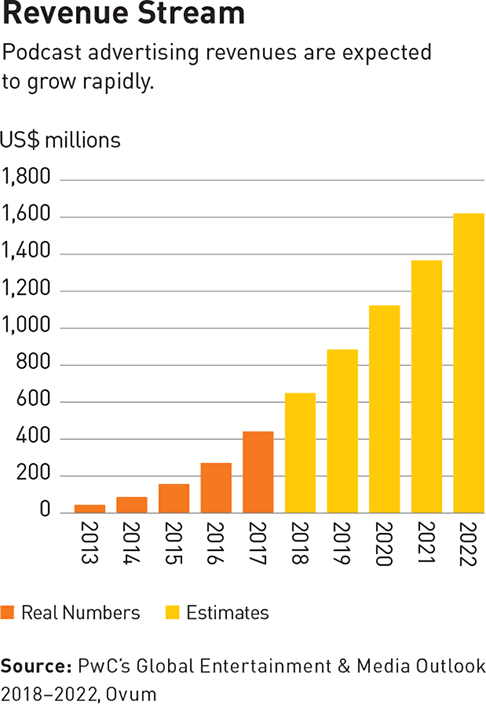 So there's a whole marketable market there for the taking – and sports clubs should be aware of this potential. Especially, since in Europe the podcast market hasn't been swamped with too much content, yet. And listeners are even earger to spend a lot of time and are not afraid of native advertising as well.
To partner with streaming services like Spotify, where the users are for a good part anyway, is a shrewd idea. Because Spotify just acquired podcast specialist platforms Anchor and Gimlet Media for nearly 340 million US dollar to strengthen their own podcast department.
St. Pauli, a cult club from Germany with fans everywhere, has already offered its fans the opportunity to listen to podcasts via Deezer. These are only fan podcasts, but clubs could integrate their own content, too. If it is exclusive, it would surely lure even more people. And that would also be great for the streaming service. The FC St. Pauli also promote songs from their remarkable FC St. Pauli Music School by Levi's® via Deezer, an insitution at the Millerntor stadium for everyone who can't afford music lessons. Branding and fan generating go hand in hand for them with the help of the streaming service. Those are great marketing prospects for any club in the world, since audio and football have long been closely related – and a revival, albeit way more digital and immersive, seems to be on the cards.