Dritter europäischer Clubwettbewerb? Die UEFA denkt digital
Mit ihrem Vorstoß, schon bald einen dritten Clubwettbewerb für Europa einzuführen, hat die UEFA zunächst ein Fragezeichen hinter die Struktur der Europacups gesetzt. Dabei ist die Idee aus Vermarktersicht nur folgerichtig und könnte helfen das enorme Potential des europäischen Fußballs für die digitale Verbreitung weltweit auszuschöpfen.
Ein dritter Clubwettbewerb bedeutet mehr Rechte, die zu vermarkten sind
Übereinstimmend hatten Medien Ende August von dem Plan der UEFA berichtet, der vorsieht einen weiteren Europacupwettbewerb nach der Champions League und der Europa League einzuführen. Demnach könnte ein solcher schon 2021 starten; denn dann beginnt ein neuer Zyklus, auch in Bezug auf den Verkauf der Rechte. Ausführlich hatte Berries Boßmann in der Sport-BILD berichtet. Dort heißt es, dass es bei einer UEFA-Sitzung schon zu einer Entscheidung gekommen sei. 2021 soll der noch unbenannte Wettbewerb mit 32 Teilnehmern starten. Die Europa League soll ebenso nur noch mit 32 Teams ausgetragen werden, wobei hierdurch auch deren Attraktivität für die Vermarktung optimiert werden mag. Der neue Wettbewerb soll dann wiederum Teams aus vermeintlich kleineren Nationen mit schwachem UEFA-Ranking eine Chance geben sich in einem europäischen Wettbewerb zu zeigen. Nun hat sich nach Aussagen von Andrea Agnelli, Chef der ECA (European Club Association), die Einführung intern bestätigt; eine Absegnung vonseiten des Exekutivkomitees steht jedoch noch aus.
Gerade solch ein Wettbewerb wirft jedoch die Frage auf, ob überhaupt genügend Zuschauer, Sponsoren und Interessierte an den Rechten auf den Plan treten werden. Auch deshalb soll der Wettbewerb vor allem über Online-Plattformen vermarktet werden. Hier könnten dann ebenso Modelle zum Tragen kommen, bei denen nur bestimmte Spiele geschaut werden, für die dann im Einzelnen gezahlt wird.
Die Diversifizierung der Übertragung europäischen Fußballs
Allein die Übertragung der Champions League zeigt, wie stark eine Rechteverteilung im europäischen Fußball voranschreitet und wie sehr sich damit der Markt ändert. Dafür sorgen vor allem Anbieter wie DAZN, aber auch noch größere Player wie Facebook und Co. Wer hierzulande die CL sehen möchte, kann das nicht mehr im Free TV tun, sondern nur über DAZN, Sky oder Telekom Sport. Die Europa League hingegen ist bezahlt über DAZN zu sehen, zudem mit Konferenzen, aber zum Teil auch über RTL im Free TV. In Brasilien und Lateinamerika können Fans allerdings über Facebook die Champions League genießen.
Überhaupt entwickelt sich auf dem Markt der Rechtehalter eine neue Ausrichtung. Onlinebasierte Unternehmen gewinnen an Gewicht, weil sich das Rezeptionsverhalten der Fans ebenfalls ändert. Gleichzeitig ist der Fußball in Europa weiterhin extrem populär – und zwar global. Daher sehen immer mehr Medienunternehmen darin ein großes Vermarktungspotential; nicht zuletzt Amazon, das sich zunächst 20 Premier League-Spiele für Prime-Mitglieder in Großbritannien gesichert hat. Auch Facebook ist bekanntlich immer stärker in die Rechteverhandlungen involviert. Ab der laufenden Saison profitieren davon besonders Nutzer mit einer IP-Adresse aus Lateinamerika.
We're proud to be the exclusive free-to-air home for UEFA Champions League matches across Latin America for the next three years. This world-renowned competition exemplifies how sports can connect communities, so we look forward to helping fans watch these live matches together and are committed to working closely with our great partners at UEFA to deliver an innovative viewing experience,
erklärt Peter Hutton, Facebooks Head of Global Live Sports Programming, bei UEFA.com. Guy-Laurent Epstein, Marketingdirektor für UEFA Events in Südamerika, betont, dass der Fußball so auf innovative Weise – und einfach zugänglich – zu den Fans kommt. Nicht zuletzt deshalb hatte der Sender BT Sports auch 2018 das Europa League- und Champions League-Finale wieder über YouTube zum kostenlosen Stream bereitgestellt. Ohnehin, so schätzen auch Experten, werden die Fans aus verschiedenen Gründen künftig vermehrt sogenannte OTT-Angebote online wahrnemen. Zu diesen zählt etwa DAZN, dass Fans für die UEFA-Wettbewerbe in Deutschland nutzen können. In den USA liefert zum Beispiel Turner Sports einen Großteil der Übertragung über seine Plattform B/R Live, wie SportsPro Media berichtet. Dort hat man bereits erkannt, wie über digitale Angebote mehr Einnahmen generiert werden können. Denn Fans können hier entscheiden, ob sie die ganze Saison sehen möchten, nur einen Monat oder nach einem Pay per Match-Modell zusehen. Das einzelne Spiel kostet demnach knapp drei US-Dollar, der Monat zehn und die Saison knapp 80. US-Fans, die bereits für Kabelfernsehen bezahlen, jetzt aber noch für einen Stream zahlen müssten, um alle Spiele sehen zu können, sind natürlich wenig begeistert. Eine andere Option bietet Univision, die als spanischsprachiger Broadcaster die CL in die USA bringen und dabei Abonnenten das Schauen über die Website oder die App ermöglicht; so Sports Illustrated.
Ähnlich wie in Deutschland wird es ab dieser Spielzeit auch in Spanien keine Champions League-Spiele mehr im Free TV geben. Télefonica hat alle Rechte dort gekauft. Man setzt auch darauf, dass durch die neuen Anstoßzeiten der CL, 19 und 21 Uhr, mehr Zuschauer generiert werden können. Klar ist jedoch: wer alle Spiele der europäischen Clubwettbewerbe sehen möchte, braucht je nach Wohnort womöglich mindestens zwei Player und künftig wohl auch noch mehr Toleranz beim Geldausgeben.
Der digitale Gedanke bei der Vermarktung
Immer mehr Fußballfans erwarten geradezu, dass sie online auf ihre favorisierten Spiele zugreifen können. Allein bei der WM in Russland wurde etwa BBCs iPlayer für die Onlineübertragung extrem oft genutzt. Wie der Independent berichtet, waren schon in der Gruppenphase 31,2 Millionen Browserzugriffe verzeichnet – 2014 in Brasilien waren es insgesamt 32 Millionen.
Millions are watching the big matches on their connected TV at home, while millions more are sneaking a peak on their work laptop or cramming in some games on their commute. People love the BBC's World Cup coverage  –and we're making sure they can tune in whenever and wherever they want,
meint der Chief Technology and Product Officer der BBC, Matthew Postgate, im Bericht. Die digitale Rezeption nimmt immer größere Ausmaße an. Ein Musterbeispiel dafür ist der seit 2018 in der MLS aktive Club Los Angeles FC. In einem Deal mit YouTube wurde festgelegt, dass 18 Spiele des Vereins exklusiv über YouTube TV zu sehen sein werden.
Dabei wird einerseits zwar ein unheimlich starkes monetäres Potential aufgerufen; immerhin kostet das YouTube TV-Abonnement gut 35 US-Dollar im Monat. Andererseits ist das ein Drahtseilakt für den LAFC, der als neues Franchise zunächst eine Fanbase aufbauen muss.
Ein solcher Drahtseilakt stünde der UEFA mit einem weiteren europäischen Clubwettbewerb ebenfalls bevor. Schon mit der umstrittenen Nations League auf Nationalmannschaftslevel möchte man die Länderspiele für Sponsoren und Rechtehalter interessanter gestalten. Immerhin waren beim Spiel zwischen Deutschland und Frankreich im Free TV noch knapp elf Millionen Zuschauer interessiert. DAZN hat übrigens für die Nations League auch schon ein neues Paket geschnürt. Insgesamt will die UEFA knapp zwei Milliarden Euro mit der Nations League und den entsprechenden Rechten einnehmen, ARD und ZDF bezahlten schon 122 Millionen Euro für die Übertragungsrechte.
Kommt ein neuer Wettbewerb unterhalb der Europa League nun also zustande, wäre jedoch neben angebrachter Kritik an der nur geringfügig ummantelten Geldgier der UEFA eine Frage, wie groß die mediale Nachfrage tatsächlich ausfallen würde, wenn Clubs wie HNK Rijeka, die Shamrock Rovers oder F91 Düdelingen (als erster luxemburgischer Verein überhaupt diese Saison in einem UEFA-Wettbewerb unterwegs) sich messen. Die Reaktionen im Netz sind jedenfalls eher negativ.
Völlig uninteressant ein dritter Europa Cup.

— Chrisu_STMK 🇦🇹 (@chri5389) August 30, 2018
Vereinzelt werden Fans aus den Ländern sicher darauf zugreifen wollen. Hier lohnt sich ein Pay per Match-System über Plattformen vermutlich. Womöglich könnten sich auch soziale Medien an den Rechten oder dem Sponsoring für diesen potentiellen Wettbewerb beteiligen, um insgesamt eine größere Verweildauer auf ihren jeweiligen Plattformen zu erhalten; diese führt wiederum zu mehr Werbeimpressionen. Denn Werbeinventar wird die Übertragung wohl zur Genüge liefern können. Letztlich dürften die Rechte hier günstiger sein und damit dafür sorgen, dass solch ein Wettbewerb, so er denn kommt, zunächst über diverse Plattformen distribuiert wird. So könnte er als Nischenprogramm Fuß fassen und in Sachen digitale Rezeption quasi als Testfeld fungieren. Schließlich wird die Champions League ebenso wie die Europa League in wenigen Jahren sicher nicht mehr sehr viel über traditionelle Wege rezipiert werden. Schlussendlich kann man also einen strategischen Gedanken hinter dem Clubwettbewerb Nummer drei der UEFA erkennen; neben den Europacup-Gefühlen für die Teams aus im Ranking schwachen Ländern. Dass letztere dem Verband aber wichtiger sind als die langfristig eingeplanten Werbe- und Rechteeinnahmen, darf zumindest bezweifelt werden. In diesem Sinne kann man sich auch fragen, ob solch ein Wettbewerb aus sportlicher Sicht tatsächlich eine Daseinsberechtigung hat. Die digitalen Möglichkeiten in Bezug auf konzentrierte, mitunter gar personalisierte Anforderungen einzelner Fans und Fangruppen ermöglichen aber selbst diesem Vorstoß einen wirtschaftlichen Nährboden. Bleibt abzuwarten, wer sich die Mühe macht ihn erst einmal zu bestellen.
Streaming Services Offer Clubs a Route to Fans' Ears and Hearts
The BVB have teamed up with Deezer and join the likes of ManUtd or Barça, while Boca Juniors and Co. partner with Spotify. Streaming Services grow in importance for any club, especially with podcasts in mind.
Multi media are a modern standard for any user. And so do football fans not only follow their beloved clubs via one channel, but use various opportunities to get ever more content concerning their club. With this in mind, it is no wonder a lot of clubs are teaming up with streaming services like Spotify and Deezer to create club branded channels and playlists in order to lure the supporters to the respective platforms. That very move also makes for a great foundation if clubs consider embracing the growing podcast market in the future.
Deezer deals aplenty for clubs
Borussia Dortmund just launched their very own Deezer account where not only playlists for the matchday will appear, but also curated ones from selected players like Marco Reus or Jacob Bruun Larsen.
Carsten Cramer, BVB director for sales, marketing & digitalisation, explained that the club could get closer to its fans via such a streaming service:
We're very happy to partner up with Deezer. Music like football has the power to unite people. With Deezer we have the ideal partner to get closer to our fans thanks with music.
Ralph Pighin, VP Central & Eastern Europe at Deezer said that Deezer would accompany happenings at one of Europe's biggest clubs with relevant audio content.
Referring to the founding year of the BVB, Deezer offers fans its family service for 19,09 euro in the next three months. This special offer, meant to make individualised listening for all family members – up to six profiles – easier, will be available in the BVB app.
The French streaming service Deezer is also the official music partner for media giants Manchester United or the FC Barcelona.
ManUtd put it nicely by claiming the streaming service offers a passage to clubs' hidden hearts:

Deezer's partnership with Manchester United is an exclusive backstage pass for fans to the club's hidden heart. With football and music content you won't find anywhere else, from player's playlists to what's playing in the stadium at Old Trafford before a match, Deezer is the best place to listen to Manchester United's Flow.

Clubs are banking on different streaming services like Apple Music or Spotify

Not only Deezer is helping teams around the globe reach their diverse fanbases. Argentinian powerhouse Boca Juniors for example have recently partnered with Spotify, as SportsPro Media report. As part of the deal the club will create a playlist with a title like Way to the Bombonera. The Swedish streaming giants had already teamed up with the three famous clubs from São Paulo: Corinthians, Palmeiras and São Paulo FC. On São Paulo FC's Spotify channel there are playlists with hits from the years 1992, 1993 an 2005 – as in each of those years the club won the famed Copa Libertadores. The partnership even saw Spotify give caricature paintings as well as co-branded headphones to the players.
Now, that's what you call visible branding.
Various clubs from all over the world have their own channel on Spotify by now. Borussia Mönchengladbach or West Ham United are examples for that.
And Spanish La Liga does have its own channel, too.
Apart from Deezer and Spotify, big clubs like Arsenal London or Bayern Munich have partnerships with different streaming services in place. The German record champions have an exclusive deal with Apple Music and are furthermore equipped with Dr. Dre headphones, a division from Apple. Arsenal London, on the other hand, have a started a partnership with streaming platform TIDAL. This rather unique deal emphasises Arsenal's conviction of developing young talent. Arsenal chief commercial officer Vinai Venkatesham said:
Football and music are great passions of so many of our global supporters. This partnership combines these two passions in a unique way and will give our members access to some fantastic benefits. It is also a celebration of our shared belief in young talent, and will create opportunities to bring together our players with TIDAL's rising artists.
Here, some Arsenal stars tell you what they listen to before matches.
The big potential in deals with audio streaming platforms
As of January 2019, Deezer had seven million paying subscribers, according to Statista. Spotify have 87 million paying users and 200 monthly unique visitors, though. And Daniel Ek, Spotify's CEO and founder, wants to turn the audio market into a success like the video market. For he says that people tend to spend as much time with audio these days as with video content.
With the world focused on trying to reduce screen time, it opens up a massive audio opportunity.
And audio does not just mean music. Podcasts are a content format which has been well adopted in the US. According to the IAB (International Advertising Bureau), ad revenue from podcasts was estimated at 314 million US dollar for 2017. To take it into perspective, that signals an 86 per cent increase year-over-year. And estimations from PwC see it surpass the one billion mark by 2020, growing to 1,6 billion dollar in 2022.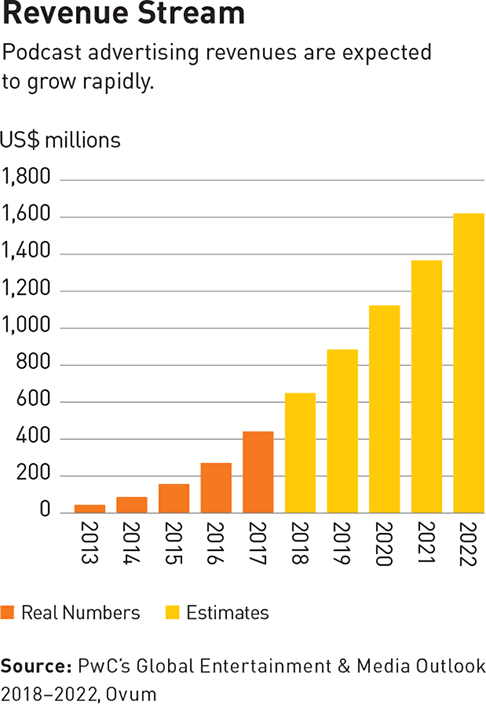 So there's a whole marketable market there for the taking – and sports clubs should be aware of this potential. Especially, since in Europe the podcast market hasn't been swamped with too much content, yet. And listeners are even earger to spend a lot of time and are not afraid of native advertising as well.
To partner with streaming services like Spotify, where the users are for a good part anyway, is a shrewd idea. Because Spotify just acquired podcast specialist platforms Anchor and Gimlet Media for nearly 340 million US dollar to strengthen their own podcast department.
St. Pauli, a cult club from Germany with fans everywhere, has already offered its fans the opportunity to listen to podcasts via Deezer. These are only fan podcasts, but clubs could integrate their own content, too. If it is exclusive, it would surely lure even more people. And that would also be great for the streaming service. The FC St. Pauli also promote songs from their remarkable FC St. Pauli Music School by Levi's® via Deezer, an insitution at the Millerntor stadium for everyone who can't afford music lessons. Branding and fan generating go hand in hand for them with the help of the streaming service. Those are great marketing prospects for any club in the world, since audio and football have long been closely related – and a revival, albeit way more digital and immersive, seems to be on the cards.