Interview mit Stephanus Tekle: "Der Einstieg in den eSports war für uns ein logischer Schritt"
Spielmacher Die Fußball-Weltmeisterschaft in Russland war kein sportliches Highlight aus deutscher Sicht. Was war aus deiner Sicht ein erfolgreiches Sportmarketing-Highlight im Rahmen der WM?
Stephanus Tekle Es gab einige smarte Kampagnen im Vorfeld und Verlauf der WM. Im "klassischen" Bereich hat mir die Kampagne von Wish – der Shopping App, sehr gefallen. Es wurde mit Fußballstars gearbeitet, die nicht bei der WM mit dabei waren und gezeigt, was diese während der WM so tun bzw. über die App kaufen, um die Zeit zu überbrücken. So wurde Gareth Bale beispielsweise zum Starfriseur. Eine komplett andere Kam- pagne stellte Copa90 in Kooperation mit Snapchat auf die Beine. Mit der Grundidee von First-Person Storytelling schickte man zahlreiche Mitarbeiter in die WM-Standorte, um vor Ort Live-Content auf Snapchat zu erstellen und so mit der jungen Zielgruppe zu interagieren. Dabei ist wirklich cooles Material entstanden.
Spielmacher Wenn man das Sportbusiness aufmerksam verfolgt, dann erkennt man, dass Infront gerade in einer Art Trans- formationsprozess steckt. Unter anderem hat die Beteiligung an Copa90 hierzulande für Aufmerksamkeit ge- sorgt. Welche konkreten Überlegungen stecken dahinter?
Stephanus Tekle Unsere Branche hat sich gerade in den letzten Jahren stark gewandelt. Durch die Digitalisierung arbeiten wir unter völlig veränderten Voraussetzungen und auch unsere Kunden und Partner haben eine ganz andere Erwartungshaltung an uns als Sportmarketingagentur. Um diesen Erwartungen gerecht zu werden, müssen wir neue Wege gehen – denn für uns zählt letztendlich nur, die bestmöglichen Lösungen für unsere Kunden zu finden. Durch die Investition in Copa90 haben wir im Bereich Content Creation völlig neue Möglichkeiten – das ist schon großes Kino, was die Kollegen dort machen.
Spielmacher Auf der Spielmacher Konferenz steht das Thema "Digitalisierung" im Zentrum aller Überlegungen. Damit verbunden ist die Fragestellung, wie sich der Fußball mittelfristig weiterentwickeln wird. Wie reagiert Ihr als Sport- marketing Firma auf die Digitalisierung?
Stephanus Tekle Natürlich sehen wir uns in der Verantwortung nicht nur von Digitalisierung zu sprechen, sondern diese auch selbst zu leb- en und in alle unsere Prozesse zu integrieren. In Bezug auf unser Business geht es aber vor allem darum, Entwicklungen zu antizipieren und zu agieren. Schließlich wollen wir den Markt aktiv mitgestalten sowie die Potenziale der Digitalisierung optimal nutzen. Gleichzeitig stehen wir vor der Herausforderung, auch das digitale Verständnis der Brands und Rechte- halter zu schärfen – denn das ist zwingend notwendig, um gute Ergebnisse zu erzielen. Oftmals sind wir dann selbst überrascht, welche Eigendynamiken sich entwickeln können, wenn einmal Blut geleckt wurde.
Spielmacher Inwiefern ist eSports ein strategisches Wachstumsfeld für Euch?
Stephanus Tekle Der Einstieg in den eSports ist für uns ein logischer Schritt gewesen, um die Brücke zu unserer stärkeren Kundenzen- trierung zu schlagen und uns breiter aufzustellen. Zudem boomt der Markt (immer weiter), adressiert eine spannende Zielgruppe und bietet den Freiraum, Partnerschaften zwischen Brands und eSports-Entities einmal völlig neu zu denken. Und das macht, um ehrlich zu sein, richtig Spaß! Doch wir wissen auch, dass die Schnelllebigkeit in diesem Geschäft auf manche abschreckend wirkt, weil es so gar nicht dem entspricht, was in den Köpfen seit Jahren fest verankert ist. Jeder möchte Sicherheiten – wir geben diese in Form von Know-How.
Spielmacher Ihr wart auf der Spielmacher Konferenz selbst mit einer Gaming-Zone vertreten. Das erleichterte vor Ort den Zugang zum Thema eSports. Würdest du sagen, der Sportmarkt hat eSports samt seinen Strukturen, Stakeholdern, Plattformen und Fans schon verstanden?
Stephanus Tekle Das wäre schön und für 2018 auch wünschenswert, aber ganz so weit ist es leider noch nicht. In unseren Gesprächen und Workshops mit Unternehmen als auch Rechthaltern merken wir, dass viele Gedanken immer noch mit Stereotypen behaftet sind und der Einstieg in den eSports mit Vorsicht betrachtet wird. Das soll aber kein Vorwurf sein. Denn positiv ist, dass mittlerweile jeder weiß, dass eSports nicht nur ein Trend ist, der bald wieder vorbei geht, und dass sich die Branchenakteure aktiv mit dem Thema auseinandersetzen. Unser Ziel dabei ist es, jeden Partner individuell an das Thema heranzuführen und aufzuzeigen, welche (neuen) Möglichkeiten eSports bietet. Denn so viel ist klar: das Potenzial ist noch nicht mal ansatzweise ausgeschöpft.
Streaming Services Offer Clubs a Route to Fans' Ears and Hearts
The BVB have teamed up with Deezer and join the likes of ManUtd or Barça, while Boca Juniors and Co. partner with Spotify. Streaming Services grow in importance for any club, especially with podcasts in mind.
Multi media are a modern standard for any user. And so do football fans not only follow their beloved clubs via one channel, but use various opportunities to get ever more content concerning their club. With this in mind, it is no wonder a lot of clubs are teaming up with streaming services like Spotify and Deezer to create club branded channels and playlists in order to lure the supporters to the respective platforms. That very move also makes for a great foundation if clubs consider embracing the growing podcast market in the future.
Deezer deals aplenty for clubs
Borussia Dortmund just launched their very own Deezer account where not only playlists for the matchday will appear, but also curated ones from selected players like Marco Reus or Jacob Bruun Larsen.
Carsten Cramer, BVB director for sales, marketing & digitalisation, explained that the club could get closer to its fans via such a streaming service:
We're very happy to partner up with Deezer. Music like football has the power to unite people. With Deezer we have the ideal partner to get closer to our fans thanks with music.
Ralph Pighin, VP Central & Eastern Europe at Deezer said that Deezer would accompany happenings at one of Europe's biggest clubs with relevant audio content.
Referring to the founding year of the BVB, Deezer offers fans its family service for 19,09 euro in the next three months. This special offer, meant to make individualised listening for all family members – up to six profiles – easier, will be available in the BVB app.
The French streaming service Deezer is also the official music partner for media giants Manchester United or the FC Barcelona.
ManUtd put it nicely by claiming the streaming service offers a passage to clubs' hidden hearts:

Deezer's partnership with Manchester United is an exclusive backstage pass for fans to the club's hidden heart. With football and music content you won't find anywhere else, from player's playlists to what's playing in the stadium at Old Trafford before a match, Deezer is the best place to listen to Manchester United's Flow.

Clubs are banking on different streaming services like Apple Music or Spotify

Not only Deezer is helping teams around the globe reach their diverse fanbases. Argentinian powerhouse Boca Juniors for example have recently partnered with Spotify, as SportsPro Media report. As part of the deal the club will create a playlist with a title like Way to the Bombonera. The Swedish streaming giants had already teamed up with the three famous clubs from São Paulo: Corinthians, Palmeiras and São Paulo FC. On São Paulo FC's Spotify channel there are playlists with hits from the years 1992, 1993 an 2005 – as in each of those years the club won the famed Copa Libertadores. The partnership even saw Spotify give caricature paintings as well as co-branded headphones to the players.
Now, that's what you call visible branding.
Various clubs from all over the world have their own channel on Spotify by now. Borussia Mönchengladbach or West Ham United are examples for that.
And Spanish La Liga does have its own channel, too.
Apart from Deezer and Spotify, big clubs like Arsenal London or Bayern Munich have partnerships with different streaming services in place. The German record champions have an exclusive deal with Apple Music and are furthermore equipped with Dr. Dre headphones, a division from Apple. Arsenal London, on the other hand, have a started a partnership with streaming platform TIDAL. This rather unique deal emphasises Arsenal's conviction of developing young talent. Arsenal chief commercial officer Vinai Venkatesham said:
Football and music are great passions of so many of our global supporters. This partnership combines these two passions in a unique way and will give our members access to some fantastic benefits. It is also a celebration of our shared belief in young talent, and will create opportunities to bring together our players with TIDAL's rising artists.
Here, some Arsenal stars tell you what they listen to before matches.
The big potential in deals with audio streaming platforms
As of January 2019, Deezer had seven million paying subscribers, according to Statista. Spotify have 87 million paying users and 200 monthly unique visitors, though. And Daniel Ek, Spotify's CEO and founder, wants to turn the audio market into a success like the video market. For he says that people tend to spend as much time with audio these days as with video content.
With the world focused on trying to reduce screen time, it opens up a massive audio opportunity.
And audio does not just mean music. Podcasts are a content format which has been well adopted in the US. According to the IAB (International Advertising Bureau), ad revenue from podcasts was estimated at 314 million US dollar for 2017. To take it into perspective, that signals an 86 per cent increase year-over-year. And estimations from PwC see it surpass the one billion mark by 2020, growing to 1,6 billion dollar in 2022.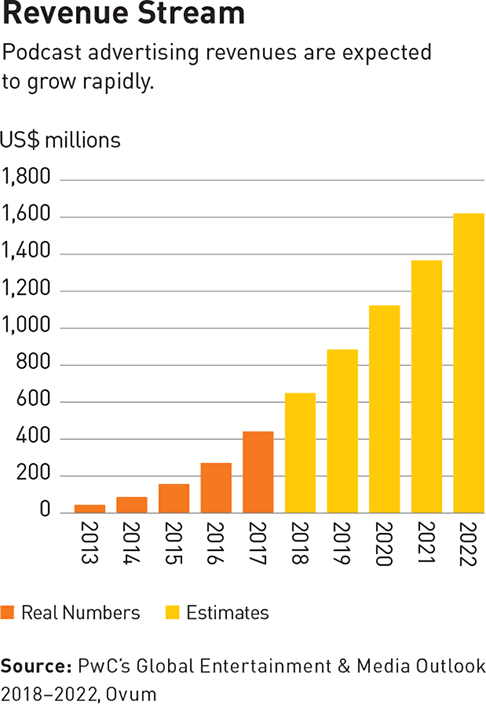 So there's a whole marketable market there for the taking – and sports clubs should be aware of this potential. Especially, since in Europe the podcast market hasn't been swamped with too much content, yet. And listeners are even earger to spend a lot of time and are not afraid of native advertising as well.
To partner with streaming services like Spotify, where the users are for a good part anyway, is a shrewd idea. Because Spotify just acquired podcast specialist platforms Anchor and Gimlet Media for nearly 340 million US dollar to strengthen their own podcast department.
St. Pauli, a cult club from Germany with fans everywhere, has already offered its fans the opportunity to listen to podcasts via Deezer. These are only fan podcasts, but clubs could integrate their own content, too. If it is exclusive, it would surely lure even more people. And that would also be great for the streaming service. The FC St. Pauli also promote songs from their remarkable FC St. Pauli Music School by Levi's® via Deezer, an insitution at the Millerntor stadium for everyone who can't afford music lessons. Branding and fan generating go hand in hand for them with the help of the streaming service. Those are great marketing prospects for any club in the world, since audio and football have long been closely related – and a revival, albeit way more digital and immersive, seems to be on the cards.