Recap: Die Spielmacher Konferenz 2018 – Hamburg zeigt sich als Tor zur Welt des digitalen Fußballs
Die Spielmacher Konferenz lockte in diesem Jahr tausend Besucher, über 40 Speaker und dabei zahlreiche Experten der Digital- und Fußballbranche nach Hamburg. Vom Kicker über Transfermarkt.de bis hin zu Copa90 waren namhafte Publisher und Plattformen vor Ort, während sich sowohl die FIFA als auch der DFB die Ehre gaben. SAP, die Perform Group und NielsenSports trafen auf Adidas, Octagon, infront oder DAZN. Und damit nicht genug: neben Vertretern aus LaLiga, vom FC Bayern München oder dem BVB kamen Eintracht Frankfurts Sportvorstand Fredi Bobic, der Chefanalyst des HSV, Johannes Spors, und Ben Ladkin, seines Zeichens General Manager der Arsenal London Media Group ins neue Cruise Center in der Hafencity. Im Kontext des Zusammenspiels von Innovation und traditionellen Strukturen war die Location an der Elbe wie geschaffen für das Event.
Bei lockerer Atmosphäre wurden faszinierendes Know-how geteilt und Insights zu Innovationen und Digitalisierungsprozessen im Fußball und Fußballmarketing diskutiert. Im Zentrum der Veranstaltung standen vor allem die Fragen: wie können Vereine und Marken mit den (mobil) vernetzten Fans optimal interagieren und wie wird die Digitalisierung unseren geliebten, aber traditionsreichen Sport verändern? Welche Chancen birgt eSports und werden die Stars künftig deutlich mehr Zugkraft als Vereine haben?
Von kommerziellen Trends im Fußball und digitalem Fan Engagment
Das Cruise Center in der Hafencity besticht durch seinen authentischen Containerlook; und wurde bei der Spielmacher Konferenz 2018 passend mit hochwertigem Content bespielt. Während auf der Insight Stage im Zelt direkt an der Elbe meist explizite Cases digitaler Innovation im Verein, bei einer Plattform oder der Aufstieg von eSports diskutiert wurden, strahlte die Main Stage im Inneren einen besonderen Eventcharakter aus. Neben der Bühne, auf der eine LED-Bande die Sponsoren der Konferenz auswies, wurden die Vorträge über den Eurosport-Player auf einen Screen übertragen.
Nach der Begrüßung durch die Veranstalter Christopher und Sebastian Lemm führte Lars Stegelmann von Nielsen Sports mit seinen Insights zu kommerziellen Trends in den Morgen der Vorträge ein. Dabei sprach er von der Notwendigkeit der Rechtehalter sich diverser Kanäle zu bedienen und eSports als Wachstumsfaktor nicht zu vernachlässigen. Außerdem sprach er von neuen Playern auf dem Fußballrechtemarkt: Amazon, Facebook und Twitter; wobei Tencent und YouTube TV hier als Dark Horses ins Spiel kommen könnten. Die Inhalte Stegelmanns wurden mit Zahlen belegt: 41 Prozent des Gesamtumsatzes deutscher Bundesligaclubs wird durch Sponsoring erzielt, was jedoch von den Fans kritisch beobachtet wird. Um die Verbindung zum Fan nicht zu verlieren, braucht es daher heute umso mehr die digitale Transformation, um diverse Touchpoints für diesen zu schaffen.
Als Highlight Speaker trat dann Ben Ladkin auf den Plan. Der General Manager der Arsenal London Media Group teilte wertvolle Erfahrungen zu digitalen Innovationsprozessen bei den Gunners. Unter der Prämisse: reach, engage, monetise erklärte er im Detail, wie verschiedenste internationale Social Media-Kanäle optimal bespielt werden.
"The right content, at the right time, on the right platform."
Welche Anforderungen die Fans heutzutage überhaupt haben, zeigte in der Folge Christoph Heimes von Konferenzpartner infront auf. Ehemals bei YouTube, Miccrosoft oder auch Google tätig, wies Heimes auf die Relevanz des neuen Kundenverhaltens hin: die technologischen Anforderungen seien gewachsen. Es brauche daher auch zielgenaueres Marketing auf Basis dessen. Ein Beispiel könnten die Connected Jerseys werden – auf der Insight Stage wurde diesbezüglich von Ashkan Maleki, Senior Director Digital & Content beim FC Schalke 04, über die Integration des Connected Badge gesprochen.
In der ersten von drei Pausen konnten die zahlreichen Gäste und Speaker bei innovativen Drinks und Premium Food von der Stadionwurst bis hin zum Burrito das eigene Networking vorantreiben. Dazu konnte man sich an der Transfermarkt.de-Tribüne oder auf einen Plausch mit Mike Hanke treffen, der seine Lifestyle-Plattforme tivela vorstellte. Dazu wurde die Möglichkeit zum FIFA-Duell ebenso bereitgestellt wie das Eintauchen in den Tech-Fortschritt am Stand des Kicker.
Als Fredi Bobic dann auf der Main Stage mit Nicholas MacGowan von Holstein, dem Gründer von Match IQ, ins Gespräch zur Internationalisierung von Eintracht Frankfurt kam, war die Halle brechend voll. Im Zentrum des Gesprächs stand die USA-Tour des Vereins, die sich in den kommenden Jahren wiederholen soll. Die SGE möchte dort zu einer bekannten Marke werden und setzt auf Kooperationen mit der MLS, auf eine eigene Akademie und möchte über eine nachhaltige Strategie letztlich zu einem Player in vielen globalen Märkten werden. Dazu bedarf es auch auf einer Tour vor der Saison der Balance zwischen Trainingsrealität und Social Media-Präsenz. Über derlei Plattformen wird das Storytelling bereitgestellt, das die Brand Awareness steigern soll. Diese liegt neben der sportlichen Erfahrung im Fokus; denn Bobic bekräftigt, wie solch eine Reise wirtschaftlich eingeschätzt wird:
"Wenn wir auf null rauskommen, bin ich zufrieden."
Eine andere wirtschaftliche, mehr noch eine Marketingperspektive lieferte Olga Gavrilenko von InBev EFES zur BUD-Kampagne bei der WM in Russland. Als offizielles Bier der WM konnte BUDWEISER letztlich mehr Social Impressions aufweisen als irgendein anderer Partner; was Gavrilenko zu der Aussage verleitete: "Budweiser has also won the World Cup!" Erreicht wurde der Erfolg mit aggressivem Branding: vom BUD-Hotel über den BUD-Club bis hin zum BUD-Boat mit Hubschrauberlandeplatz darauf. Die Fans bei Instagram (#budboat) dankten es – und die Kampagne wurde zum Riesenerfolg.
Wie gut Marketing über Instagram funktioniert, legte auch Adidas' Marc Makowski dar. Im Kontext des Produkts Glitch stellte sich die Marke die Frage: Was passiert, wenn die Konsumenten entscheiden? Die heute so wichtige Konsumentenzentrierung war gegeben. Adidas suchte First User und gestaltete eine App für Glitch. Durch eine enge Interaktion wurden gewissermaßen Micro Influencer geschaffen, die sich als Teil des Produkts sehen und dieses über Social Media weiter popularisieren. So wurden physische Communities auf Plattformen übertragen, was auch zu Social Credibility führt. So kann eine Marke wie Adidas selbst ohne die Superstars kundennahes Branding betreiben.
Die Superstars sind jedoch ein Thema der Konferenz gewesen; allen voran Cristiano Ronaldo. Anatol Korel, Gründer der Manager App Kickbase, verriet, dass viele Fans sich inzwischen eher für die einzelnen Spieler interessieren. Auch daher sei seine App das "Serotonin für den Fußballfan". Und auch manchen Profi. Vor allem die Live-Daten bei Kickbase seien für viele Downloads verantwortlich.
Live Daten tragen zum Entertainment des Sports bei; gerade in digitalen Medien. James Kirkham von Copa90 sprach mit Nikolaus von Doetinchem von Lagardère Sports über die Entwicklungen im Fußballentertainment. Traditionelle Arten des Konsums sind längst aufgebrochen, verschiedene Plattformen und Inhalte sprechen Fans weltweit an. "Make the 90 minutes matter more", rät Kirkham und verweist darauf, dass die diversen Facetten der Fußballkultur digital gelebt werden müssen. Das heißt, dass zum Beispiel Werbung einen Mehrwert für die Fans haben muss und dass Persönlichkeiten wie Zlatan oder ein Paul Pogba näher an den Fan rücken.
Wie die Fans selbst näher an das Spielgeschehen rücken, und das schon vor dem Spiel, erklärte währenddessen auf der Insight Stage Francis Casado von 3D Digital. Beim FC Barcelona half man den Fans – 60 Prozent der Besucher des Camp Nou sind übrigens Touristen – über 3D-Systeme bei der Ticketauswahl. Immerhin müssten diese Fans allein 400 Preiskategorien unterscheiden. Dank 3D Digital konnten sie die Kategorien im Stadion in 3D nachvollziehen und bei einer Entscheidung für einen Platz sogar die tatsächliche Perspektive von diesem auf das Spielfeld einnehmen. Diese Option vereinfacht das Ticketing und führt zugleich zu mehr Zustrom; auch von Eventfans.
Gleichzeitig, und das haben Marco Hagemann, bekannt als Kommentator bei DAZN, und Dirf Ifsen von der Perform Group Deutschland diskutiert, ist der Stadion-Fan gefährdet. Dafür sorgen eSports, ein immer spektakuläreres Erlebnis bei der Rezeption zuhause oder sogar der demographische Wandel. Daher müssten Fans auch über Mobile und Co. erreicht werden; allerdings mit relevanten Daten. Wenn Opta-Daten also so aufbereitet werden, dass klar wird: Cristiano Ronaldo hat in seiner Zeit bei Real Madrid mehr Tore geschossen als der HSV in der Zeit insgesamt, dann wird die Imagination der Fans aktiviert. Und diese ist letztlich für die Bindung und Monetarisierung aufrechtzuerhalten.
Zum Stichwort Monetarisierung gab Thomas H. Rudy, Investmentexperte und Gründer von WhiteRock einige Erkenntnisse zum Besten. Zum einen müsse man seine Marke an große Persönlichkeiten knüpfen, da diese immer einen starken ROI versprächen. Das zeigt sich bei der Strategie im US-Sport (LeBron James und Tom Brady wurden als Beispiele genannt). Gerade für die Bindung zu den US-Fans ist das eine wertvolle Strategie – dank Apple, Facebook und Co. könnte der europäische Fußball dort auch bald präsenter werden. Dazu warf Rudy noch die Idee von Global Games in den Raum, wie sie bei der NBA und NFL schon angekommen ist.
Im Panel mit Mark Heidenberg, CMO von Transfermarkt.de, Stephanus Tekle, Director Marketing & BD bei infront Germany und Andreas Heyden, CEO DFL Digital Sports, kam auch Rudy wieder auf die Starpolitik zurück. Da in der Bundesliga immer weniger Top Stars sind, könnte die Liga global langfristig von anderen weiter abgehängt werden.
Wie aber auch weltweit neue Stars ausfindig gemacht werden können, deutete der Chefanalyst und -scout des HSV, Johannes Spors, auf der Insight Stage an. Mit Ralf Leister von Fussballwirtschaft.de diskutierte er, wie die Kaderplanung inzwischen von der Digitalisierung mitbestimmt wird. Da werden unzählbare Opta-Daten analysiert, ehe die Spieler vor Ort angeschaut und dann persönlich getroffen werden. Dann gilt es aber zu prüfen: hat der Spieler Starallüren? Und: wollen wir diese im Verein? Mit Blick auf die Trends der Konferenz scheint das gar nicht negativ konnotiert zu sein.
Die Vielfalt und Tiefe von Daten ist bereits im Alltag aller Proficlubs präsent. Bei Hertha BSC, so der Jugendakademieleiter Benjamin Weber, setzt man auf die Plattform SAP One. Sie liefert bei zahlreichen Werten zu verschiedenen Spielern eine individuelle Auswertung samt ganzheitlichem Steuerungsprozess. Leistungsdiagnostik und Positionsdaten können so optimiert verwaltet werden. Dabei muss das System auch mobil einsetzbar sein. Demnach stellt es über Mobile Gegner-, Re- und Einzelspieleranalysen bereit. Darunter sogar Videos über etwaige Gegenspieler für die Profis. Ähnlich wie nach Spors' Angaben können so technologiebasiert Scouting und Trainingsplanung optimiert werden.
In Sachen Technologie zeigten sich bei der Konferenz viele junge Gründer. Zum Beispiel Jakob Jakobov, der unter anderem mit Lukas Hinterseer vom VfL Bochum die App SPRT gegründet hat. Diese ermöglicht es Sportbegeisterten allerorten, sich in Echtzeit zu verknüpfen und ein Sportevent oder einfach nur ein kleines Fußballmatch auf die Beine zu stellen. Im Kontext zukunftsorientierter Tech-Innovationen verlieh die Spielmacher Konferenz in Kooperation mit Transfermakt.de erstmals den European SportsTech Award #ESTA18.
Von der Top-Jury, bestehend aus Andreas Heyden, Dirk Schluenz, Thomas H. Rudy und Dirk Ifsen, wurde der Preis nach vier Pitches an Kick160 verliehen, das Tracking von Spielern mit Machine Learning-Prozessen kombiniert.
Während Michael Strohmaier und Max Fritzsching mit ihrem FUMS & GRÄTSCH Live-Podcast direkt an der Waterkant den Abend einläuteten, startete das abendliche Networking mit exklusiven Drinks und gehaltvollen Gesprächen. Die kurzen hanseatischen Wetterkapriolen verstärkten letztlich nur den Eindruck: Das ist Hamburg, das sind die Spielmacher und das war die beeindruckende Fußballkonferenz in all ihren Facetten.
Streaming Services Offer Clubs a Route to Fans' Ears and Hearts
The BVB have teamed up with Deezer and join the likes of ManUtd or Barça, while Boca Juniors and Co. partner with Spotify. Streaming Services grow in importance for any club, especially with podcasts in mind.
Multi media are a modern standard for any user. And so do football fans not only follow their beloved clubs via one channel, but use various opportunities to get ever more content concerning their club. With this in mind, it is no wonder a lot of clubs are teaming up with streaming services like Spotify and Deezer to create club branded channels and playlists in order to lure the supporters to the respective platforms. That very move also makes for a great foundation if clubs consider embracing the growing podcast market in the future.
Deezer deals aplenty for clubs
Borussia Dortmund just launched their very own Deezer account where not only playlists for the matchday will appear, but also curated ones from selected players like Marco Reus or Jacob Bruun Larsen.
Carsten Cramer, BVB director for sales, marketing & digitalisation, explained that the club could get closer to its fans via such a streaming service:
We're very happy to partner up with Deezer. Music like football has the power to unite people. With Deezer we have the ideal partner to get closer to our fans thanks with music.
Ralph Pighin, VP Central & Eastern Europe at Deezer said that Deezer would accompany happenings at one of Europe's biggest clubs with relevant audio content.
Referring to the founding year of the BVB, Deezer offers fans its family service for 19,09 euro in the next three months. This special offer, meant to make individualised listening for all family members – up to six profiles – easier, will be available in the BVB app.
The French streaming service Deezer is also the official music partner for media giants Manchester United or the FC Barcelona.
ManUtd put it nicely by claiming the streaming service offers a passage to clubs' hidden hearts:

Deezer's partnership with Manchester United is an exclusive backstage pass for fans to the club's hidden heart. With football and music content you won't find anywhere else, from player's playlists to what's playing in the stadium at Old Trafford before a match, Deezer is the best place to listen to Manchester United's Flow.

Clubs are banking on different streaming services like Apple Music or Spotify

Not only Deezer is helping teams around the globe reach their diverse fanbases. Argentinian powerhouse Boca Juniors for example have recently partnered with Spotify, as SportsPro Media report. As part of the deal the club will create a playlist with a title like Way to the Bombonera. The Swedish streaming giants had already teamed up with the three famous clubs from São Paulo: Corinthians, Palmeiras and São Paulo FC. On São Paulo FC's Spotify channel there are playlists with hits from the years 1992, 1993 an 2005 – as in each of those years the club won the famed Copa Libertadores. The partnership even saw Spotify give caricature paintings as well as co-branded headphones to the players.
Now, that's what you call visible branding.
Various clubs from all over the world have their own channel on Spotify by now. Borussia Mönchengladbach or West Ham United are examples for that.
And Spanish La Liga does have its own channel, too.
Apart from Deezer and Spotify, big clubs like Arsenal London or Bayern Munich have partnerships with different streaming services in place. The German record champions have an exclusive deal with Apple Music and are furthermore equipped with Dr. Dre headphones, a division from Apple. Arsenal London, on the other hand, have a started a partnership with streaming platform TIDAL. This rather unique deal emphasises Arsenal's conviction of developing young talent. Arsenal chief commercial officer Vinai Venkatesham said:
Football and music are great passions of so many of our global supporters. This partnership combines these two passions in a unique way and will give our members access to some fantastic benefits. It is also a celebration of our shared belief in young talent, and will create opportunities to bring together our players with TIDAL's rising artists.
Here, some Arsenal stars tell you what they listen to before matches.
The big potential in deals with audio streaming platforms
As of January 2019, Deezer had seven million paying subscribers, according to Statista. Spotify have 87 million paying users and 200 monthly unique visitors, though. And Daniel Ek, Spotify's CEO and founder, wants to turn the audio market into a success like the video market. For he says that people tend to spend as much time with audio these days as with video content.
With the world focused on trying to reduce screen time, it opens up a massive audio opportunity.
And audio does not just mean music. Podcasts are a content format which has been well adopted in the US. According to the IAB (International Advertising Bureau), ad revenue from podcasts was estimated at 314 million US dollar for 2017. To take it into perspective, that signals an 86 per cent increase year-over-year. And estimations from PwC see it surpass the one billion mark by 2020, growing to 1,6 billion dollar in 2022.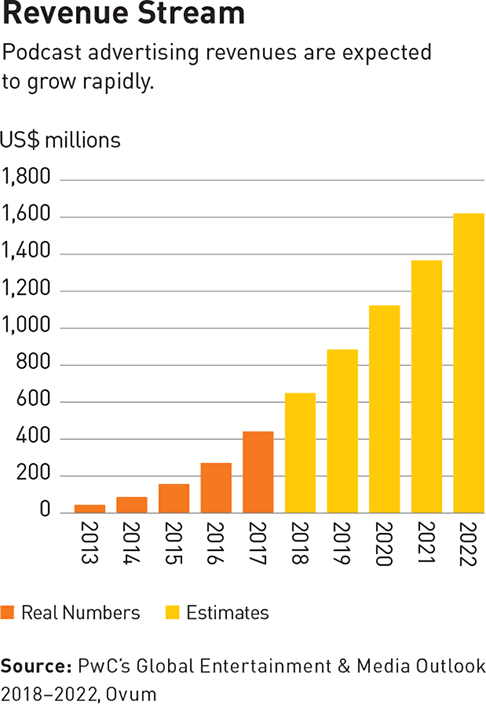 So there's a whole marketable market there for the taking – and sports clubs should be aware of this potential. Especially, since in Europe the podcast market hasn't been swamped with too much content, yet. And listeners are even earger to spend a lot of time and are not afraid of native advertising as well.
To partner with streaming services like Spotify, where the users are for a good part anyway, is a shrewd idea. Because Spotify just acquired podcast specialist platforms Anchor and Gimlet Media for nearly 340 million US dollar to strengthen their own podcast department.
St. Pauli, a cult club from Germany with fans everywhere, has already offered its fans the opportunity to listen to podcasts via Deezer. These are only fan podcasts, but clubs could integrate their own content, too. If it is exclusive, it would surely lure even more people. And that would also be great for the streaming service. The FC St. Pauli also promote songs from their remarkable FC St. Pauli Music School by Levi's® via Deezer, an insitution at the Millerntor stadium for everyone who can't afford music lessons. Branding and fan generating go hand in hand for them with the help of the streaming service. Those are great marketing prospects for any club in the world, since audio and football have long been closely related – and a revival, albeit way more digital and immersive, seems to be on the cards.