Wie wird auf innovativen Plattformen konstantes Fan Engagement geschaffen?
Arsenal London ist eines der bekanntesten und traditionsreichsten Teams Englands und Europas. Und einer der größten Player im digitalen Fußballkosmos. Dafür ist nicht zuletzt Ben Ladkin verantwortlich, der als General Manager der Arsenal London Media Group die digitale Transformation für den Verein in die Wege geleitet und damit faszinierenden Erfolg gehabt hat. Wie er es geschafft hat, Arsenal zu einem der innovativsten Clubs des digitalen Zeitalters zu formen und dabei über neue und bestehende Plattformen das Fan-Engagement signifikant und langfristig steigern konnte, hat er auf der Spielmacher Konferenz 2018 in Hamburg überzeugend dargestellt. Daher liefern wir euch die konkreten Insights.
Diversität leben, global vernetzen und wachsenden Ansprüchen gerecht werden
Vor einigen Jahren haben Ladkin und sein Team ermittelt, dass 70 Prozent aller Besucher der Vereinswebsite arsenal.com von außerhalb des Vereinigten Königreichs kommen. Auch wenn das bei der Popularität des Vereins keine allzu große Überraschung gewesen sein kann, war es doch der Anstoß zu einem Umdenken in der Digitalisierungsstrategie für die Gunners. Denn Reichweite und Engagement konnten im Zuge der Entwicklung zahlreicher Social Media und Kanäle, auf denen Inhalte zum Verein rezipiert werden können, nicht über die Exklusivität einer guten Website generiert werden. So wurde nicht nur die Website selbst überholt, sondern auch die Ausrichtung auf den Social Media-Kanälen; davon bespielt Arsenals Media Group inzwischen 14 mit je spezifischem Content. Wie die eigene Vereinskultur auch global distribuiert werden kann, zeigt Ladkin komprimiert in einem Video, das Arsenals Tour 2018 nach Singapur zusammenfasste. Da wurden die Landeskultur gezeigt, die Fans in den Vordergrund gestellt, aber auch Stars wie Mesut Özil und neue Hoffnungen wie Emile Smith Rowe präsentiert. Natürlich durfte in puncto Branding auch die Präsentation des neuen dritten Trikots nicht fehlen.
Auf diese Weise beweist Arsenal bereits Storytelling-Qualitäten für Social Media, die die Dualität von Reichweite und Engagement letztlich zum zentralen Dreischritt führt: Reichweite, Engagement, Monetarisierung. Um die bestehende Fanbase zu monetarisieren und gleichzeitig neue Fans zu gewinnen, muss man sich als Topclub großer Konkurrenz weltweit stellen. Daher ist die Nutzung aller möglichen Plattformen, vor allem digitaler, unerlässlich.
"The right content, at the right time, on the right platform", ist Ladkins Motto. Hierbei ist der schmale Grat zwischen Erfolgsorientierung und Authentizität zu bewältigen. Vor allem für große Organisationen sei diese Balance schwer zu halten, so der Media Group General Manager. Nicht zuletzt deshalb hat eben diese Media Group über 30 Mitarbeitende; denn für jede Plattform – von Facebook und Instagram über Twitter und GIPHY bis hin zu Tencent und Sina Weibo in China – muss geklärt werden: Was ist eigentlich das Ziel der Plattform und wer ist dort das Publikum? Das heißt konkreter, dass die Dynamik jeder Distributionsoption analysiert werden muss; und das immerzu. Deshalb hat Ladkin vor drei Jahren einen Contentanalysten mit ins Team geholt.

Auch bei GIPHY ist Arsenal aktiv: 245 GIF Uploads führten zu über 80 Millionen Views, Screenshot GIPHY
Wie genau verschiedene Inhalte von Arsenal London für verschiedene Plattformen aufbereitet werden, hat er dann exemplarisch vorgeführt.
Instagram als Retail-Driver, Twitter für die Kommunikation mit dem Fan optimal
Facebook ist eine Plattform, auf der organische Reichweite immer schwerer erreicht werden kann. Dennoch hat Arsenal hier 37 Millionen Follower, da mit hoher Frequenz gepostet wird.

Arsenals Facebookseite mit Video im Header ist durchaus zeitgemäß, Screenshot Facebook
Allerdings eignet sich das Soziale Netzwerk heute eher, um die Medienausgaben bei Marketingpartnern zu optimieren. Partnerschaften lassen sich dort besonders gut darstellen. Außerdem ist Facebook inzwischen ein Medium, das aufgrund seiner Nutzerdaten ein effizientes lokales Targeting erlaubt. Deshalb nutzt Arsenal diesen Kanal auch dafür lokalbasierten Content für die Nutzer auszuspielen.
Die Facebooktochter Instagram hingegen kann dank Optionen wie Shopping in den Stories etc. gut für die direkte Optimierung von Conversions instrumentalisiert werden. Laut Ladkin werden hier direkte Click-Throughs zum Retailbereich gefördert. Beliebt sind außerdem die Player Takeovers bei Instagram, während natürlich eine wachsende Zahl an Influencern die Marke Arsenal weiter globalisiert.
Arsenal beweist bei Instagram sein Gespür für neue Formate, © Arsenal London, Screenshot Instagram
Ladkin nennt ein Beispiel, bei dem per Slide zu einer Torgalerie auf der eigenen Seite verlinkt wurde. Innerhalb kurzer Zeit wurden 44.000 Click-Throughs generiert.

Knapp 12 Millionen Menschen folgen den Gunners bei Instagram, Screenshot Instagram
Bei Twitter spielt nun die Sprache eine große Rolle und auch diese ist von Plattform zu Plattform ein wenig different. Allerdings liefert Twitter eine tolle Option, um mit den Fans in Echtzeit – auch während der Spiele etwa – in Kontakt zu kommen. Denn gerade für viele junge Fans ist Twitter Alltag. Hier muss vonseiten des Vereins also auf den richtigen Ton geachtet werden. Ladkin beschreibt ihn auf der Plattform als "light conversational tone", bei dem Emojis erwünscht sind. Weil Twitter als soziales Medium so reaktiv und emotional ist, konnte Arsenal mit seiner Strategie dort die Engagementrate um 64 Prozent steigern. Inzwischen haben die Gunners hier 13,7 Millionen Follower.
The 2018/19 season – what you saying? 🔮 @PremierLeague – ❓ @EuropaLeague – ❓ @EmiratesFACup – ❓ @Carabao_Cup – ❓ pic.twitter.com/59tEIulZW9

— Arsenal FC (@Arsenal) August 10, 2018
Und YouTube darf gerade im Sportmarketing nie vergessen werden. Bewegtbildcontent ist für Vereine das A und O. Das spiegelt sich ebenso auf den eigenen Homepages der Clubs wider. Überall in Social Media werden Videos rezipiert und geteilt. Das Zuhause der Videos bleibt aber YouTube. Hier setzen die Londoner auf Behind the Scenes-Material, Insights vom Training oder Torhighlights.

Arsenals YouTube-Channel überzeugt mit exklusiven Inhalten, Screenshot YouTube
Neben aktuellen Clips zu Spielen und Spielern werden immer wieder Geschichten rund um den Verein gezeigt. Trainingsvideos von acht bis zehn Minuten Länge erfahren immer bessere Viewzahlen; hiernach wird auch gesucht. Wenn bei YouTube im Video deutlich wird, wie Granit Xhaka Inhalte für Instagram erstellt, ist die Überschneidung der Kanäle erkennbar. Auf allen Kanälen hat Arsenal fünf Minuten nach Ende des letzten Spiels des großen Arsène Wenger das Video mit dem Hashtag #merciarsene geteilt.
Da es auf den eigenen Plattformen ohne Liverechte immer schwieriger wird Traffic zu generieren, müssen diese so verlässlich und nutzerfreundlich wie die digitalen Plattformen werden. Und dabei im direkten Zusammenspiel mit ihnen stehen.
Zum Beispiel macht bei Arsenal London ein sogenannter Data Entry Point unmittelbar personalisiertes Retargeting möglich. Dabei heißt es aber ebenfalls: "Fan first means mobile first". Denn der Zugriff auf arsenal.com, so Ladkin, geht nun zu 60 bis 70 Prozent von Mobile aus. Also müssen über Apps und für die mobile Nutzung optimierte Inhalte die Verbindungen mit den Fans aufrechterhalten werden. Denn eine starke Bindung zu den Fans bedeutet letztlich verkaufte Tickets, Trikots und vieles vieles mehr.
Ben Ladkin hat einen detaillierten Einblick in effektive Digitalisierungsstrategien für (vor allem soziale) Plattformen gegeben. Heute reichen Facebook, Instagram und YouTube aber nicht mehr aus, auch Sina oder Tencent Weibo in China sind elementar, Snapchat gilt es für kommende Generationen zu bedienen etc.

Für die vielen Fußballfans in China sind Plattformen wie Sina Weibo das Medium schlechthin, Quelle: Sixth Tone
Die Aufgabe lautet nach Ladkin: "Engage existing fans and entertain new ones". Diese doppelte Anforderung wird künftig nicht leichter werden. Doch gerade in Social Media bieten sich so viele Optionen, um mit seinem Verein und seiner Marke zu den Fans zu gelangen; wo immer diese auch sein mögen.
Streaming Services Offer Clubs a Route to Fans' Ears and Hearts
The BVB have teamed up with Deezer and join the likes of ManUtd or Barça, while Boca Juniors and Co. partner with Spotify. Streaming Services grow in importance for any club, especially with podcasts in mind.
Multi media are a modern standard for any user. And so do football fans not only follow their beloved clubs via one channel, but use various opportunities to get ever more content concerning their club. With this in mind, it is no wonder a lot of clubs are teaming up with streaming services like Spotify and Deezer to create club branded channels and playlists in order to lure the supporters to the respective platforms. That very move also makes for a great foundation if clubs consider embracing the growing podcast market in the future.
Deezer deals aplenty for clubs
Borussia Dortmund just launched their very own Deezer account where not only playlists for the matchday will appear, but also curated ones from selected players like Marco Reus or Jacob Bruun Larsen.
Carsten Cramer, BVB director for sales, marketing & digitalisation, explained that the club could get closer to its fans via such a streaming service:
We're very happy to partner up with Deezer. Music like football has the power to unite people. With Deezer we have the ideal partner to get closer to our fans thanks with music.
Ralph Pighin, VP Central & Eastern Europe at Deezer said that Deezer would accompany happenings at one of Europe's biggest clubs with relevant audio content.
Referring to the founding year of the BVB, Deezer offers fans its family service for 19,09 euro in the next three months. This special offer, meant to make individualised listening for all family members – up to six profiles – easier, will be available in the BVB app.
The French streaming service Deezer is also the official music partner for media giants Manchester United or the FC Barcelona.
ManUtd put it nicely by claiming the streaming service offers a passage to clubs' hidden hearts:

Deezer's partnership with Manchester United is an exclusive backstage pass for fans to the club's hidden heart. With football and music content you won't find anywhere else, from player's playlists to what's playing in the stadium at Old Trafford before a match, Deezer is the best place to listen to Manchester United's Flow.

Clubs are banking on different streaming services like Apple Music or Spotify

Not only Deezer is helping teams around the globe reach their diverse fanbases. Argentinian powerhouse Boca Juniors for example have recently partnered with Spotify, as SportsPro Media report. As part of the deal the club will create a playlist with a title like Way to the Bombonera. The Swedish streaming giants had already teamed up with the three famous clubs from São Paulo: Corinthians, Palmeiras and São Paulo FC. On São Paulo FC's Spotify channel there are playlists with hits from the years 1992, 1993 an 2005 – as in each of those years the club won the famed Copa Libertadores. The partnership even saw Spotify give caricature paintings as well as co-branded headphones to the players.
Now, that's what you call visible branding.
Various clubs from all over the world have their own channel on Spotify by now. Borussia Mönchengladbach or West Ham United are examples for that.
And Spanish La Liga does have its own channel, too.
Apart from Deezer and Spotify, big clubs like Arsenal London or Bayern Munich have partnerships with different streaming services in place. The German record champions have an exclusive deal with Apple Music and are furthermore equipped with Dr. Dre headphones, a division from Apple. Arsenal London, on the other hand, have a started a partnership with streaming platform TIDAL. This rather unique deal emphasises Arsenal's conviction of developing young talent. Arsenal chief commercial officer Vinai Venkatesham said:
Football and music are great passions of so many of our global supporters. This partnership combines these two passions in a unique way and will give our members access to some fantastic benefits. It is also a celebration of our shared belief in young talent, and will create opportunities to bring together our players with TIDAL's rising artists.
Here, some Arsenal stars tell you what they listen to before matches.
The big potential in deals with audio streaming platforms
As of January 2019, Deezer had seven million paying subscribers, according to Statista. Spotify have 87 million paying users and 200 monthly unique visitors, though. And Daniel Ek, Spotify's CEO and founder, wants to turn the audio market into a success like the video market. For he says that people tend to spend as much time with audio these days as with video content.
With the world focused on trying to reduce screen time, it opens up a massive audio opportunity.
And audio does not just mean music. Podcasts are a content format which has been well adopted in the US. According to the IAB (International Advertising Bureau), ad revenue from podcasts was estimated at 314 million US dollar for 2017. To take it into perspective, that signals an 86 per cent increase year-over-year. And estimations from PwC see it surpass the one billion mark by 2020, growing to 1,6 billion dollar in 2022.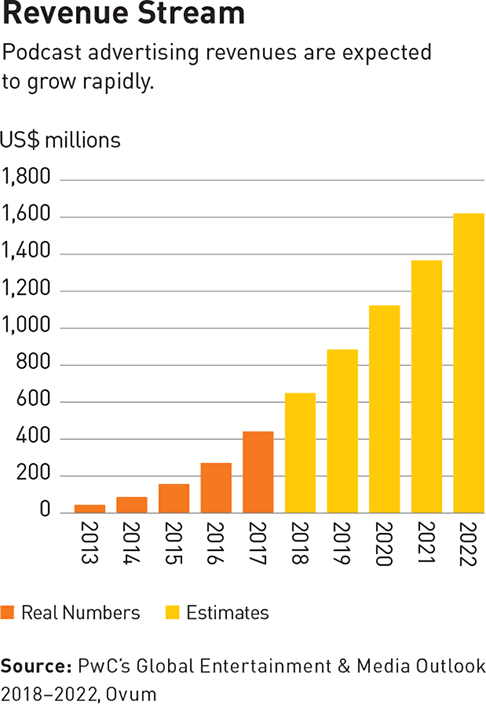 So there's a whole marketable market there for the taking – and sports clubs should be aware of this potential. Especially, since in Europe the podcast market hasn't been swamped with too much content, yet. And listeners are even earger to spend a lot of time and are not afraid of native advertising as well.
To partner with streaming services like Spotify, where the users are for a good part anyway, is a shrewd idea. Because Spotify just acquired podcast specialist platforms Anchor and Gimlet Media for nearly 340 million US dollar to strengthen their own podcast department.
St. Pauli, a cult club from Germany with fans everywhere, has already offered its fans the opportunity to listen to podcasts via Deezer. These are only fan podcasts, but clubs could integrate their own content, too. If it is exclusive, it would surely lure even more people. And that would also be great for the streaming service. The FC St. Pauli also promote songs from their remarkable FC St. Pauli Music School by Levi's® via Deezer, an insitution at the Millerntor stadium for everyone who can't afford music lessons. Branding and fan generating go hand in hand for them with the help of the streaming service. Those are great marketing prospects for any club in the world, since audio and football have long been closely related – and a revival, albeit way more digital and immersive, seems to be on the cards.