Was ist Social Media für Vereine am Ende wirklich wert? Blinkfire Analytics' KI bewertet Olympique de Marseilles Sponsoring
Ein gepflegter Social Media-Auftritt ist für jeden professionellen Fußballclub heute gang und gäbe. Mitreißende Posts und aktuelle Meldungen halten die Fans bei Facebook, Instagram und Co. auf dem Laufenden und laden zu Engagement in Form von Kommentaren, Likes und Shares ein. Doch wie viele Social Media Manager müssen sich auch jene der Vereine aus ökonomischer Sicht der Frage stellen, welchen finanziellen Mehrwert diese öffentliche Fan-Kommunikation eigentlich liefert. Zwar lässt sich dahingehend mit dem Zugewinn an Fans, womöglich Nutzern der offiziellen App usw. argumentieren – und diese dürften auch die Conversions vorantreiben, darunter genauso Verkäufe von Trikots und Merchandisingartikeln überhaupt.
Allerdings fragen sich Clubs und deren Sponsoren gleichermaßen, genauso im Hinblick auf ihre Kollaboration, wie sich die Wertigkeit der Präsenz in den sozialen Medien tatsächlich bewerten lässt. Die KI von Blinkfire Analytics liefert eine Lösung, die den Wert und den Einfluss in Social Media nach klar definierten Maßstäben bemisst; sodass Marken, Vereine, Spieler, Sponsoren oder einfach Rechteinhaber ihre Zusammenarbeit dort einschätzen und optimieren können. Nun vertraut auch der französische Topclub Olympique de Marseille dem innovativen System
OM setzt auf Blinkfire Analytics: So lässt sich digitales Sponsoring optimieren
Frankreichs Traditionsclub Olympique de Marseille, kürzlich im Europa League-Finale noch Atlético Madrid unterlegen, hat eine Zusammenarbeit mit dem Digital Analytics-Unternehmen Blinkfire Analytics bekanntgegeben. Blinkfire setzt auf Künstliche Intelligenz und Computer Vision, um sowohl den Einfluss etwa von Sponsoren bei Vereinen in Social Media zu ermitteln als auch den Wert desselben zu bestimmen. Dabei sind bisher zahlreiche namhafte Clubs Partner des Unternehmens, darunter Juventus Turin, der FC Barcelona oder Manchester City. Und auch bei anderen Sportarten analysiert die KI von Blinkfire fleißig: die New York Mets oder die Baltimore Ravens nutzen die Lösungen. Außerdem setzen Marken wie Toyota, Heineken, Microsoft und Dafabet auf Blinkfire.

Eine Auswahl der Partner von Blinkfire Analytics, © Blinkfire Analytics
Olympique de Marseille stellt sich als neuer Partner dar, der den Einfluss von Vereinspostings in Social Media mit konkreten Zahlen belegen möchte.

Blinkfire arbeitet nun auch mit Olympique de Marseille, © Olympique de Marseille
Auf der offiziellen Vereinswebsite wurde die Kooperation bestätigt. Hierbei wird auf die steigende Relevanz der sozialen Medien als Ort der Exposition von Vereinen und Marken hingewiesen und OM möchte die Potentiale für sich und seine Partner – etwa den neuen Ausrüster PUMA und Hauptsponsor Orange – erkennen und ausschöpfen. Dort erklärt Jean-François Richard, OMs Marketing und Media Director, in etwa:
"Im modernen Fußball haben soziale Netzwerke einen wichtigen Platz eingenommen und digitales Marketing wird zur neuen Kommunikations- und Promotionsachse, die für Clubs entwickelt wird, um die Erwartungen von Partnern und Sponsoren zu erfüllen. In diesem Sinne beginnt Olympique de Marseille diese Zusammenarbeit mit Blinkfire Analytics, um alle notwendigen Daten für diese neue Herausforderung zu haben."
Steve Olechowski von Blinkfire freut sich auf die Zusammenarbeit mit dem Club und glaubt, dass sein Unternehmen helfen kann, die digitalen und Social Media-Auftritte des Vereins einzuschätzen und optimieren zu können.
OM hat gerade erst die Marke von fünf Millionen Fans auf Facebook geknackt. Damit liegt man zwar deutlich hinter dem französischen Meister PSG (35 Millionen Follower), aber nicht so weit hinter Europa League-Gegner Atlético (13 Millionen Follower) und etwa gleichauf mit Ligakonkurrent AS Monaco (knapp 5 Millionen Follower). Bei Instagram, der Plattform, die am meisten am Puls der Zeit und somit der Fans liegt, hat OM immerhin gut 730.000 Fans – zum Vergleich: Schalke 04 hat etwa 480.000 Fans dort, ein europäischer Topclub wie der FC Liverpool hingegen 7,8 Millionen.
Olympique de Marseille hat jedoch in der letzten Saison eine starke Leistung auf dem Platz gezeigt, bei der mehrere Rekorde gebrochen wurden. Zudem bahnt sich der medienwirksame Transfer von Mario Balotelli zum Verein an. Dieses Momentum möchte man nun auch digital verwerten und die Zahlen von Fans in Social Media bei Beiträgen wie Posts zum neuen Trikot fruchtbar machen.
.@OM_Officiel unveiled all three of the club's kits for the 2018-2019 season, including this away kit on Instagram, earning more than 26,000 engagements with exposure for sponsors @puma and @Orange. https://t.co/frUXe5rRhd pic.twitter.com/Y7ywKGNIW5

— Blinkfire Analytics (@BlinkfireStats) July 5, 2018
Doch Blinkfire ist natürlich nicht nur dazu da, um zu klären, welches Engagement ein Post einbringt; das wäre recht einfach. Vielmehr soll dafür der entsprechende finanzielle Mehrwert ermittelt werden, was die Sponsoren deutlich mehr interessieren dürfte.
Die Medienwerte von Visual Content, Hashtags und Co.
Wenn es um Engagement in Social Media geht, finden sich viele kreative Wege, um Neuigkeiten, zum Beispiel bei einem Transfer, zu verbreiten. Als Alexis Sánchez im Januar zu Manchester United wechselte, wurde das per Video, in dem er selbst das Piano spielt und sich im Old Trafford vorstellt, promoted. Die innovative Art und Weise der Bekanntmachung sorgte für Aufsehen, das Video wurde knapp acht Millionen mal gesehen, der entsprechende Tweet erhielt über 207.000 Likes und über 150.000 ReTweets.
🎹 Ladies and gentlemen, please take your seats. Introducing #Alexis7…#GGMU #MUFC @Alexis_Sanchez pic.twitter.com/t9RIIx4mE4

— Manchester United (@ManUtd) January 22, 2018
Da hat sich der schottische Premier League-Club FC Motherwell, normalerweise nicht für überbordendes Social Media-Engagement bekannt (knapp 45.000 Fans bei Facebook), gedacht, auf diesen Zug könnte man aufspringen – und eine Parodie des Posts veröffentlicht. Die Verpflichtung von Peter Hartley wurde ähnlich inszeniert. Und das mit Erfolg: über 2,5 Millionen Views für das Video, fast 60.000 Likes für den Tweet, dazu starke 1.800 Kommentare.
🎹 | Ladies and gentlemen, please take your seats. Introducing #Pete6… #SIWY #MFC

Are we doing this right, @ManUtd? 👀 😜 pic.twitter.com/4d14hXW7bN

— Motherwell FC (@MotherwellFC) January 23, 2018
Doch selbst wenn die Freude über gelungene Postings bei Twitter oder Instagram groß ist, sprechen die Zahlen zum Engagement nur die Sprache der Brand Awareness. Aber was ist diese im Hinblick auf die Monetarisierung wert?
Blinkfire Analytics setzt zur Beantwortung solcher Fragen auf das Know-How einer eigens entwickelten Künstlichen Intelligenz und der Computer Vision. Mit diesen technologisch basierten Lösungen sollen auch klar definierte finanzielle Medienwerte dargestellt werden.

Blinkfire Analytics wirbt mit der Macht der Messung, © Blinkfire Analytics
Das Messen von Social Media-Engagement spielt hier die wichtigste Rolle. Wie sich das darstellt, sollen zwei knappe aktuelle Beispiele zeigen. Frankreichs Paul Pogba hatte bei Instagram den Einzug ins WM-Viertelfinale gefeiert und seinen Post mit dem Markenhashtag #heretocreate von Adidas versehen. Blinkfire schätzt, dass die Exposition der Marke – der Post erreichte ein Engagement von über 1,5 Millionen – einem realen Medienwert von über 900.000 US-Dollar entspricht.
Using the hashtag #HereToCreate , @paulpogba gives exposure to @adidas valued at more than $900,000. #smsports https://t.co/gnBK6kuXRN pic.twitter.com/fANZ0Ny5s2

— Blinkfire Analytics (@BlinkfireStats) July 2, 2018
Ein weiteres Beispiel: Englands Marcus Rashford postete bei Instagram ein Bild vom Jubel der Engländer nach einem Tor bei der WM. Auf den Banden im Hintergrund ist Werbung des WM-Partners VISA zu sehen. Der von Blinkfire geschätzte Medienwert des Posts übersteigt 82.000 Euro.
.@England's @MarcusRashford
gibt dem # Rusia2018-Sponsor @Visa ein Engagement für einen verdienten Medienwert von mehr als 82.000€. https://t.co/qlBMtSxo9l pic.twitter.com/BEURpiPSn1

— Blinkfire Analytics (@BlinkfireDE) June 25, 2018
Die Beispiele zeigen bereits, dass Instagram für Sponsoren derzeit mit Abstand der wichtigste Kanal in den Social Media ist. Das bestätigt auch eine Grafik von Blinkfire Analytics zum Engagement nach Tageszeit und Tag bei verschiedenen Kanälen:

Instagram generiert für Marken und Vereine am meisten Engagement; und damit auch Medienwert, © Blinkfire Analytics
Blinkfire setzt alle Datenwerte aus Social Media in Beziehung und ermöglicht seinen Nutzern unter anderem kompetitive Analysen von Teams, auch im direkten Vergleich. Dabei werden dann tägliches Engagement, das Engagement per Follower usw. errechnet und in einen monetären Wert per Follower, per Post und ähnliche Angaben umgewandelt.

Beispielanalyse im Vergleich mit den konkreten Geldwerten für Social Media Engagement, © Blinkfire Analytics
Außerdem zeigt Blinkfire Trends nach Kanal, Sportart, Art des Contents und dergleichen mehr an. Blinkfire Analytics bietet also einige Lösungen, um die Social Media-Präsenz im wahrsten Sinne des Wortes zu bewerten. Damit können Vereine wie Olympique de Marseille diese für sich und die Sponsoren ebenfalls auf Grundlage von Datenpunkten aufwerten und so ihre digitale Kooperation mit Partnern und Ausrüstern weiter optimieren.
Diese Möglichkeiten, dank fortschrittlicher KI-Technologie bereitgestellt, liefern Vereinen und Sponsoren also einen Mehrwert, der im Zeitalter der digitalen Kommunikation mit den Fans unverzichtbar wird. Denn bei jeder Budgetplanung hilft eine datenbasierte Analysegrundlage, welche klar definiert aussagt: das ist unser Social Media-Account, das sind unsere Posts wert. Damit könnten auch künftige Sponsoren leichter überzeugt werden. Vereine tun also gut daran, sich mit derlei Lösungen vertraut zu machen oder Wege zu finden, die eigene Präsenz bei Facebook und Co. zu bewerten. Wichtig wird in Zukunft wohl ebenso sein, verstärkt auf Instagram zu setzen; und Sina Weibo aus China nicht außer acht zu lassen. Denn auch digital müssen die Clubs sich stets weiterentwickeln. Und die soziale Komponente von Social Media ist für die Bindung zu den Fans und die Brand Awareness hierzulande und international sehr wichtig. Doch für Vereine und Sponsoren, die Marken, ist am Ende das finanzielle Ergebnis genauso maßgeblich. Deswegen gilt es, die Wertigkeit von Social Media schon jetzt zu definieren.
Streaming Services Offer Clubs a Route to Fans' Ears and Hearts
The BVB have teamed up with Deezer and join the likes of ManUtd or Barça, while Boca Juniors and Co. partner with Spotify. Streaming Services grow in importance for any club, especially with podcasts in mind.
Multi media are a modern standard for any user. And so do football fans not only follow their beloved clubs via one channel, but use various opportunities to get ever more content concerning their club. With this in mind, it is no wonder a lot of clubs are teaming up with streaming services like Spotify and Deezer to create club branded channels and playlists in order to lure the supporters to the respective platforms. That very move also makes for a great foundation if clubs consider embracing the growing podcast market in the future.
Deezer deals aplenty for clubs
Borussia Dortmund just launched their very own Deezer account where not only playlists for the matchday will appear, but also curated ones from selected players like Marco Reus or Jacob Bruun Larsen.
Carsten Cramer, BVB director for sales, marketing & digitalisation, explained that the club could get closer to its fans via such a streaming service:
We're very happy to partner up with Deezer. Music like football has the power to unite people. With Deezer we have the ideal partner to get closer to our fans thanks with music.
Ralph Pighin, VP Central & Eastern Europe at Deezer said that Deezer would accompany happenings at one of Europe's biggest clubs with relevant audio content.
Referring to the founding year of the BVB, Deezer offers fans its family service for 19,09 euro in the next three months. This special offer, meant to make individualised listening for all family members – up to six profiles – easier, will be available in the BVB app.
The French streaming service Deezer is also the official music partner for media giants Manchester United or the FC Barcelona.
ManUtd put it nicely by claiming the streaming service offers a passage to clubs' hidden hearts:

Deezer's partnership with Manchester United is an exclusive backstage pass for fans to the club's hidden heart. With football and music content you won't find anywhere else, from player's playlists to what's playing in the stadium at Old Trafford before a match, Deezer is the best place to listen to Manchester United's Flow.

Clubs are banking on different streaming services like Apple Music or Spotify

Not only Deezer is helping teams around the globe reach their diverse fanbases. Argentinian powerhouse Boca Juniors for example have recently partnered with Spotify, as SportsPro Media report. As part of the deal the club will create a playlist with a title like Way to the Bombonera. The Swedish streaming giants had already teamed up with the three famous clubs from São Paulo: Corinthians, Palmeiras and São Paulo FC. On São Paulo FC's Spotify channel there are playlists with hits from the years 1992, 1993 an 2005 – as in each of those years the club won the famed Copa Libertadores. The partnership even saw Spotify give caricature paintings as well as co-branded headphones to the players.
Now, that's what you call visible branding.
Various clubs from all over the world have their own channel on Spotify by now. Borussia Mönchengladbach or West Ham United are examples for that.
And Spanish La Liga does have its own channel, too.
Apart from Deezer and Spotify, big clubs like Arsenal London or Bayern Munich have partnerships with different streaming services in place. The German record champions have an exclusive deal with Apple Music and are furthermore equipped with Dr. Dre headphones, a division from Apple. Arsenal London, on the other hand, have a started a partnership with streaming platform TIDAL. This rather unique deal emphasises Arsenal's conviction of developing young talent. Arsenal chief commercial officer Vinai Venkatesham said:
Football and music are great passions of so many of our global supporters. This partnership combines these two passions in a unique way and will give our members access to some fantastic benefits. It is also a celebration of our shared belief in young talent, and will create opportunities to bring together our players with TIDAL's rising artists.
Here, some Arsenal stars tell you what they listen to before matches.
The big potential in deals with audio streaming platforms
As of January 2019, Deezer had seven million paying subscribers, according to Statista. Spotify have 87 million paying users and 200 monthly unique visitors, though. And Daniel Ek, Spotify's CEO and founder, wants to turn the audio market into a success like the video market. For he says that people tend to spend as much time with audio these days as with video content.
With the world focused on trying to reduce screen time, it opens up a massive audio opportunity.
And audio does not just mean music. Podcasts are a content format which has been well adopted in the US. According to the IAB (International Advertising Bureau), ad revenue from podcasts was estimated at 314 million US dollar for 2017. To take it into perspective, that signals an 86 per cent increase year-over-year. And estimations from PwC see it surpass the one billion mark by 2020, growing to 1,6 billion dollar in 2022.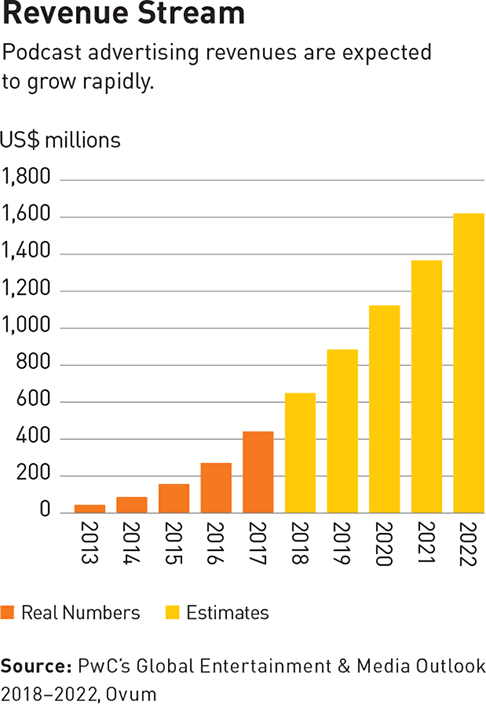 So there's a whole marketable market there for the taking – and sports clubs should be aware of this potential. Especially, since in Europe the podcast market hasn't been swamped with too much content, yet. And listeners are even earger to spend a lot of time and are not afraid of native advertising as well.
To partner with streaming services like Spotify, where the users are for a good part anyway, is a shrewd idea. Because Spotify just acquired podcast specialist platforms Anchor and Gimlet Media for nearly 340 million US dollar to strengthen their own podcast department.
St. Pauli, a cult club from Germany with fans everywhere, has already offered its fans the opportunity to listen to podcasts via Deezer. These are only fan podcasts, but clubs could integrate their own content, too. If it is exclusive, it would surely lure even more people. And that would also be great for the streaming service. The FC St. Pauli also promote songs from their remarkable FC St. Pauli Music School by Levi's® via Deezer, an insitution at the Millerntor stadium for everyone who can't afford music lessons. Branding and fan generating go hand in hand for them with the help of the streaming service. Those are great marketing prospects for any club in the world, since audio and football have long been closely related – and a revival, albeit way more digital and immersive, seems to be on the cards.