Wenn Werbung so dynamisch wie das Spiel wird – KIAs WM-Kampagne setzt Maßstäbe bei digitalem Fußballmarketing
#GetIntoTheGame – so heißt der Hashtag der WM-Kampagne des südkoreanischen Autoherstellers KIA. Doch was nach einer sportorientierten Marketingplattitüde klingt, darf in diesem Fall durchaus wörtlich genommen werden. Denn für KIA hat die Agentur BippesBrandão zusammen mit INNOCEAN eine Digitalkampagne ausgerollt, die mit Dynamic Ads unmittelbar auf aktuelle Spielentwicklungen bei WM-Begegnungen reagiert. So zeigt sich KIA nicht nur als statischer Begleiter des Turniers, sondern lebendiger und immer aktueller Werbepartner. Ob ein Tor fällt, eine rote Karte gezückt oder ein Elfmeter vergeben wird: KIA visualisiert die Highlights der WM-Spiele innovativ und rückt damit mit seinen Modellen wieder und wieder in den erhöhten Fokus der Zuschauer. Auf diese Weise setzt die Kampagne ein Beispiel für digitale Werbemomente bei großen Fußballevents, das sich jedoch auch auf Partien im Liga- und Pokal-Alltag übertragen lässt.
Werbung, die zum Spielgeschehen passt – und schon vorher auf sich aufmerksam macht
INNOCEAN und BippesBrandão haben für KIA eine Kampagne erstellt, die sich die Medienwirksamkeit der WM für eine optimale Werbepräsenz des Autoherstellers zunutze machen soll. Dabei wird vor allem auf eines gesetzt: die unmittelbare Nähe zu aufmerksamkeitserregenden Kontaktpunkten für die Fans vor dem Spiel und während des Spiels.
"So wird zum Beispiel im Fall eines Tores das Werbemittel mit dem neuen Punktestand, dem Namen des Torschützen und einer Gratulation ausgeliefert,"
erklärt Ivon Brandão von BippesBrandão. Das wirkt deshalb so vielversprechend für die Marke, weil bei einem Fußballspiel von 90 Minuten plus X die Highlights auch das größte Werbepotential bieten. Dieser Umstand nutzt etwa auch Premiumpartnern, deren Marke auf digitalen Banden – wie bei der Digital Billboard Replacement-Technologie von Supponor – bei Kernereignissen für die Zuschauer gut sichtbar ausgespielt wird. Bei KIAs Kampagne mit dem passenden Hashtag #GetIntoTheGame werden nun bei Toren oder aber gelben Karten die Werbemittel dargestellt.

Mögliche KIA Ad bei gelben Karten im Spiel, © KIA, BippesBrandão
Die dynamischen Ads tauchen im Digitalbereich auf und reagieren in Echtzeit auf die Spielentwicklung. Doch bereits im Vorwege der Partien werden die Fans auf die anstehenden Partien eingestimmt; dazu werden Modelle des Herstellers in den Landesfarben der Nationalteams dargestellt, während sie von einem Countdown begleitet werden.

KIAs visuelle Ads bereiten die Fans digital auch auf die Partien vor, © KIA, BippesBrandão

Nach dem Abpfiff folgt dann sogar eine Gratulation: in der Sprache des jeweiligen Siegers.
Die Kampagne ist jedoch umfassend angelegt, sodass es auf der Website KIAs weiteren Content zu finden gibt, der die Fans interessieren dürfte.
Sprüche von Assauer und ausgefallene Jubel
Wenn man die Fußballfans online und in Social Media bedienen möchte, müssen auch all die vielen erinnerungswürdigen Nebensächlichkeiten hervorgeholt werden. Ob das nun Jubel oder Sprüche sind, die unvergessen und daher noch heute in aller Munde sind, Hauptsache die Inhalte sorgen für Verweildauer und letztlich ebenfalls für Brand Awareness; hierauf ist die genannte Kampagne ausgelegt. Das sollte aber nicht darüber hinwegtäuschen, dass das primäre Ziel immerzu die Konversionen bleiben werden. Doch gerade diese sind auf dem Automobilmarkt von einem positiv geprägten Markenimage abhängig. KIA setzt also auf Markenbildung und bietet nicht zuletzt deshalb auf der Seite vielerlei kleine Features an, die die Fußballfans amüsieren dürften. Da gibt es den WM-Spielplan zum Download – natürlich entsprechend gebrandet. Zudem können die Nutzer an einem Tippspiel teilnehmen, bei dem sie auch Preise gewinnen mögen. Ein kleines Highlight ist sicherlich noch ein unterhaltsames Quiz zu mehr oder weniger berühmten Fußballersprüchen

Das Quiz zu den Fußballerzitaten auf der Kampagnenwebsite ist humorvoll gestaltet, © KIA
Auch bei diesem darf das obligatorische Auto-Modell am Bildrand nicht fehlen. Darüber hinaus lädt KIA die Fans dazu ein, eigene Jubel zu kreieren.
Celebrate the 2018 FIFA World Cup together with Kia.
How would you celebrate? Create your own celebration now! #CelebrateTogether #GetIntoTheGame
Click to get into the game: https://t.co/MRadEmclHT pic.twitter.com/ydmlkUCKyL

— Kia Motors Global (@Kia_Motors) June 21, 2018
Auf diese Weise generiert die Marke zusätzliches Engagement der Fans und potentiellen künftigen Autokäufer. Für diesen Kontext wird ebenso entsprechender Video Content bereitgestellt; ein Format, das die Nutzer gerade im Sportsegment ganz besonders anspricht.
KIA unterfüttert die Kampagne rund um die Jubel zudem mit intelligenten Tweets:
Goal celebration of the day, presented by @goalglobal
Belgium send a Hazard warning to the rest of the World Cup #GetIntoTheGame #CelebrateTogether pic.twitter.com/HcqZlZoV0D

— Kia Motors Nigeria (@Kia_Nigeria) June 24, 2018
Einfach alles dafür geben, obenauf zu sein! #GetIntoTheGame pic.twitter.com/TYKcBXktAl

— Goal Deutschland (@GoalDeutschland) June 22, 2018
Insgesamt baut man dazu auf ein gelungenes Werbevideo. Dieses hat zwar eine gute Zahl an Aufrufen, ist aber in Sachen Interaktion bloß unterdurchschnittlich in Erscheinung getreten.
Dynamische digitale Werbung: Auch die Banden bieten Optionen
Letztlich hat KIA, das sich laut STERN inzwischen zu einer "europäischen Marke" gemausert hat, mit einer starken Kampagne auf sich aufmerksam gemacht, die gerade dank ihrer dynamischen Komponenten und deren Flexibilität so aufsehenerregend anmutet.
In Bezug auf die Dynamik, die dem Fan ins Auge fällt, hat vor allem Hyundai einen Coup bei seinem WM-Marketing gelandet. Hyundai, als Teil der Hyundai Motor Group, die offizieller FIFA-Partner und ebenso Mutter von KIA Motors ist, wirbt bei der diesjährigen WM auf den Banden für seine N-Modelle. Das wäre nicht allzu besonders oder auffällig, würde sich nicht plötzlich ein solches Modell digital auf der Bande in Bewegung setzen und diese abfahren. Diese Bandenfahrten dürften bisher jedem Zuschauer aufgefallen sein; und zeugen somit von einem cleveren Werbeschachzug.
Nun befinden sich KIA und Hyundai als WM-Partner im Kreise von McDonald's VISA, WANDA, HISENSE, Budweiser und Co. in einem illustren Kreis. Und eine WM steht auch so schnell nicht wieder ins Haus. Dennoch lassen sich für das eher alltägliche Fußballmarketing, für das Sportmarketing überhaupt, Lehren aus den dynamischen Werbestrategien ziehen. Dazu gehört dann die gezielte Blicklenkung der Fans zu den wichtigsten Ereignissen während eines Spiels. Diese Blicke sind dabei zwar oft auf das Stadioninnnere gerichtet. Daher sind dynamische virtuelle Lösungen für Bandenwerbung eine geeignete und zukunftsträchtige Option, um sich bei Hunderttausenden Zuschauern, vielleicht Millionen, in den Vordergrund zu spielen. Aber neben dem Fußballspiel schauen die Fans auch auf ihre Smartphones oder Tablets, sind in Social Media unterwegs. Das heißt, dass zum Beispiel über Social Listening ein Eindruck gewonnen werden kann, wo und zu welchen Aspekten während der Spiele besonders viel gepostet und diskutiert wird. Dort können dann wiederum dynamische Ads, die auf eben solche diskutablen oder nennenswerten Ereignisse reagieren, ansetzen und ihre Wirkung voll entfalten. In Zeiten von Machine Learning und KI sind diese programmatischen Ansätze kein Hexenwerk mehr. Es braucht aber sicherlich eine gut geplante und mit klaren Strategien und KPIs versehene Kampagne. Wenn diese aber mit der Dynamik des Spiels und der digitalen Rezeptionsentwicklung Schritt halten kann, ist sie womöglich imstande der Marke eine ganz besondere Sichtbarkeit zu verschaffen. Und wer weiß, vielleicht können Marken künftig im Zuge von Entscheidungen per Videobeweis ihre Dynamic Ads effektiv einsetzen. Derlei Entwicklungen lassen sich auch werbewirksam instrumentalisieren; denn wie der VAR den Schiedsrichtern lässt die Zukunft der digitalen Vermarktung im Fußballkontext den Marketern einigen Spielraum.
Streaming Services Offer Clubs a Route to Fans' Ears and Hearts
The BVB have teamed up with Deezer and join the likes of ManUtd or Barça, while Boca Juniors and Co. partner with Spotify. Streaming Services grow in importance for any club, especially with podcasts in mind.
Multi media are a modern standard for any user. And so do football fans not only follow their beloved clubs via one channel, but use various opportunities to get ever more content concerning their club. With this in mind, it is no wonder a lot of clubs are teaming up with streaming services like Spotify and Deezer to create club branded channels and playlists in order to lure the supporters to the respective platforms. That very move also makes for a great foundation if clubs consider embracing the growing podcast market in the future.
Deezer deals aplenty for clubs
Borussia Dortmund just launched their very own Deezer account where not only playlists for the matchday will appear, but also curated ones from selected players like Marco Reus or Jacob Bruun Larsen.
Carsten Cramer, BVB director for sales, marketing & digitalisation, explained that the club could get closer to its fans via such a streaming service:
We're very happy to partner up with Deezer. Music like football has the power to unite people. With Deezer we have the ideal partner to get closer to our fans thanks with music.
Ralph Pighin, VP Central & Eastern Europe at Deezer said that Deezer would accompany happenings at one of Europe's biggest clubs with relevant audio content.
Referring to the founding year of the BVB, Deezer offers fans its family service for 19,09 euro in the next three months. This special offer, meant to make individualised listening for all family members – up to six profiles – easier, will be available in the BVB app.
The French streaming service Deezer is also the official music partner for media giants Manchester United or the FC Barcelona.
ManUtd put it nicely by claiming the streaming service offers a passage to clubs' hidden hearts:

Deezer's partnership with Manchester United is an exclusive backstage pass for fans to the club's hidden heart. With football and music content you won't find anywhere else, from player's playlists to what's playing in the stadium at Old Trafford before a match, Deezer is the best place to listen to Manchester United's Flow.

Clubs are banking on different streaming services like Apple Music or Spotify

Not only Deezer is helping teams around the globe reach their diverse fanbases. Argentinian powerhouse Boca Juniors for example have recently partnered with Spotify, as SportsPro Media report. As part of the deal the club will create a playlist with a title like Way to the Bombonera. The Swedish streaming giants had already teamed up with the three famous clubs from São Paulo: Corinthians, Palmeiras and São Paulo FC. On São Paulo FC's Spotify channel there are playlists with hits from the years 1992, 1993 an 2005 – as in each of those years the club won the famed Copa Libertadores. The partnership even saw Spotify give caricature paintings as well as co-branded headphones to the players.
Now, that's what you call visible branding.
Various clubs from all over the world have their own channel on Spotify by now. Borussia Mönchengladbach or West Ham United are examples for that.
And Spanish La Liga does have its own channel, too.
Apart from Deezer and Spotify, big clubs like Arsenal London or Bayern Munich have partnerships with different streaming services in place. The German record champions have an exclusive deal with Apple Music and are furthermore equipped with Dr. Dre headphones, a division from Apple. Arsenal London, on the other hand, have a started a partnership with streaming platform TIDAL. This rather unique deal emphasises Arsenal's conviction of developing young talent. Arsenal chief commercial officer Vinai Venkatesham said:
Football and music are great passions of so many of our global supporters. This partnership combines these two passions in a unique way and will give our members access to some fantastic benefits. It is also a celebration of our shared belief in young talent, and will create opportunities to bring together our players with TIDAL's rising artists.
Here, some Arsenal stars tell you what they listen to before matches.
The big potential in deals with audio streaming platforms
As of January 2019, Deezer had seven million paying subscribers, according to Statista. Spotify have 87 million paying users and 200 monthly unique visitors, though. And Daniel Ek, Spotify's CEO and founder, wants to turn the audio market into a success like the video market. For he says that people tend to spend as much time with audio these days as with video content.
With the world focused on trying to reduce screen time, it opens up a massive audio opportunity.
And audio does not just mean music. Podcasts are a content format which has been well adopted in the US. According to the IAB (International Advertising Bureau), ad revenue from podcasts was estimated at 314 million US dollar for 2017. To take it into perspective, that signals an 86 per cent increase year-over-year. And estimations from PwC see it surpass the one billion mark by 2020, growing to 1,6 billion dollar in 2022.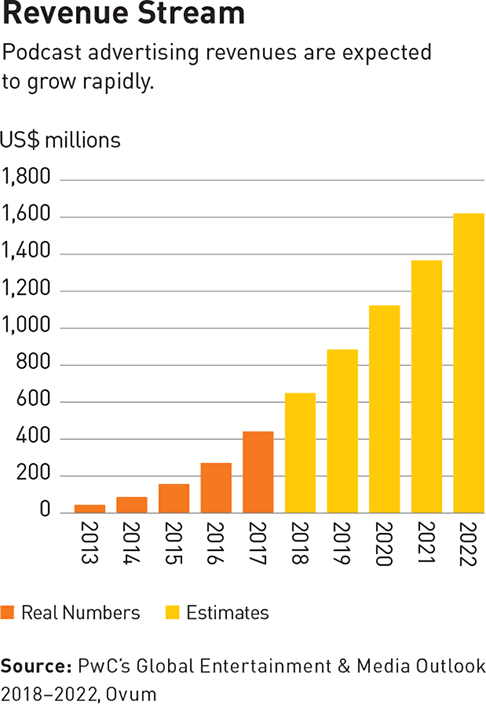 So there's a whole marketable market there for the taking – and sports clubs should be aware of this potential. Especially, since in Europe the podcast market hasn't been swamped with too much content, yet. And listeners are even earger to spend a lot of time and are not afraid of native advertising as well.
To partner with streaming services like Spotify, where the users are for a good part anyway, is a shrewd idea. Because Spotify just acquired podcast specialist platforms Anchor and Gimlet Media for nearly 340 million US dollar to strengthen their own podcast department.
St. Pauli, a cult club from Germany with fans everywhere, has already offered its fans the opportunity to listen to podcasts via Deezer. These are only fan podcasts, but clubs could integrate their own content, too. If it is exclusive, it would surely lure even more people. And that would also be great for the streaming service. The FC St. Pauli also promote songs from their remarkable FC St. Pauli Music School by Levi's® via Deezer, an insitution at the Millerntor stadium for everyone who can't afford music lessons. Branding and fan generating go hand in hand for them with the help of the streaming service. Those are great marketing prospects for any club in the world, since audio and football have long been closely related – and a revival, albeit way more digital and immersive, seems to be on the cards.