Zwischen TV-Recht und Profitgier – Daten vom Fan zum Gebühren eintreiben?
In Spanien nutzt der Ligaverband die offizielle App, um Daten über die Mikrofone der Smartphones von Fans zu erfassen. Verfolgen diese ein Ligaspiel etwa in einem Lokal, das jedoch keine Gebühren für die Rechte daran entrichtet, wird der Ligaverband darauf aufmerksam gemacht. Die Fans, die die App nutzen, stimmen bei der Installation der Nutzung solcher Datenerhebung zu. Für La Liga geht es besonders darum, die rechtmäßige Rezeption der Spiele zu überprüfen und eine Entwicklung zum Gebührenboykott in Bars und Kneipen aufzudecken und zu unterbinden. Man müsse die Verantwortung den Vereinen und ihren Rechten gegenüber wahren. Doch zugleich werden die Anhänger über ein Produkt der Liga quasi zu deren Spitzeln – und das banale Fußballschauen zu einer Schnittstelle von datenschutz- und TV-rechtlicher Diskussion. Vor allem aber bleibt die Frage: ist es legitim Rechte und Verpflichtungen im Fußball derart ethisch fragwürdig durchzusetzen?
TV-Gelder als Wirtschaftsfaktor: Vereine profitieren, Lokale bekommen Probleme
Die Gelder, die Vereine und Verbände durch den Verkauf von TV-Rechten heutzutage einnehmen, wachsen beinahe jährlich. Allein in der Bundesliga ist die Preisexplosion gewaltig. Vor 50 Jahren zahlten ARD und ZDF 1,68 Millionen Mark für die Rechte an der Bundesliga. Vor 20 Jahren zahlten Premiere und Co. bereits 255 Millionen Mark, während der Preis für die vergangene Saison sich auf knapp 1,2 Milliarden Euro pro Saison erhöht hat. Und Karl-Heinz Rummenigge erklärte gegenüber GQ, dass er eine deutliche Explosion der Preise erwarte, sobald die großen Player wie Amazon, Apple etc. einsteigen.
"Die wichtigsten Player sind noch gar nicht im Spiel. Die amerikanischen Unternehmen wie Apple, Amazon, Netflix, die kommen alle noch. (…) Denn für diese Unternehmen ist es doch nicht entscheidend, ob das Recht 500 Millionen oder eine Milliarde Euro kostet."
Auch in Frankreich zeigt sich ein Aufschwung beim Verkauf der TV-Rechte für die Ligue 1, der womöglich mit dem gesteigerten Interesse an der Liga, nicht zuletzt dank PSGs Verpflichtungen von Neymar oder Mbappé zusammenhängt. Ab 2020/21 wird jährlich eine Summe von 1,153 Milliarden Euro für die Rechte gezahlt. Der spanische Konzern Mediapro sowie der katarische Sender BeIn Sports steigen ein und lösen den langjährigen Übertragungspartner Canal+ ab, wie Sport1 berichtet.
In England ist der absolute Hype um den Rechteverkauf dagegen wieder etwas abgeflaut; dennoch wurden die Rechte für die Spielzeiten 2019/20 bis 2021/22 laut Kicker für über fünf Milliarden Euro verkauft. Das ist schon ein Rückgang gegenüber den 6,9 Milliarden für die Saisons von 2016 bis 2019. Allerdings hat sich Amazon nun noch ein ,Restpaket' von 20 Spielen gesichert, das nach Schätzungen weitere 100 Millionen Euro in die Kassen der Vereine spielen dürfte. Und dies sind nur die ersten Schritte der großen amerikanischen Medien auf dem Rechteparkett des europäischen Fußballs.
In Spaniens La Liga werden zur kommenden Saison die Rechte neu vergeben, man will pro Spielzeit 1,3 Milliarden Euro, und damit 30 Prozent mehr als beim vorigen Deal, erwirtschaften. So berichtet Reuters. Und tatsächlich nehmen immer mehr Großinvestoren die TV-Rechte im europäischen Fußball ins Auge. Die Welt berichtete in diesem Frühjahr davon, dass die chinesische Investmentfondsgesellschaft Orient Hontai Capital für eine Milliarde Euro 53,5 Prozent der Anteile an der Muttergesellschaft von Mediapro übernimmt. Mediapro wiederum hat Rechte in Italien und Frankreich, zudem noch Auslandsrechte für die Übertragung von La Liga. Das heißt, dass durch Investment noch mehr Geld für Gebote bereitsteht.
All die Preiserhöhungen sind für die Vereine nur positiv. Sie erhalten immer mehr Gelder, können diese für neue Spieler nutzen. Denn die werden ja bekanntlich, auch durch die großen Gelder, die den besten Ligen zur Verfügung stehen, nicht günstiger.
Für Lokale und Fans hat das aber seine Nachteile. Denn wer die meisten Spiele einer Liga live verfolgen will, braucht inzwischen häufig verschiedene Sender oder Streamingdienste. Sky und der Eurosportplayer sind es in Deutschland. Für Gastwirte ist das bereits ein Grund, um seltener Fußball auszustrahlen. Wer als Kneipier 700 Euro pro Monat für Sky bezahlt und nicht alle Partien ausstrahlen kann, ist mitunter verärgert. So verärgert wie die Fans, wenn nicht mal mehr die Relegation der 1. und 2. Bundesliga im Free-TV läuft, weil auch hier der Eurosportplayer die Rechte hatte. Und ab der kommenden Saison ist zudem die Champions League nur kostenpflichtig zu sehen, bei Sky und DAZN. Die Fans müssen also immer mehr zahlen und dabei noch auf verschiedene Quellen zugreifen, um das volle Fußballpaket zu erhalten. Da wundert es wenig, wenn einige Alternativen suchen.
Abhöreklat bei der La Liga App
Die Tagesschau offenbarte, dass die App der spanischen La Liga über die Smartphonemikrofone der Nutzer Daten erhob, um festzustellen, ob und wo eine Live-Übertragung von Spielen genossen wurde. Was nach dubiosem Abhören klingt, ist jedoch rechtlich in Ordnung. Die Nutzer stimmten der Angabe dieser Daten mit der Installation zu. So steht es in der Datenschutzerklärung:
"Likewise, we inform you that in the event that you have given us permission to access the microphone of your device – you can reject this option when updating the APP, as well as revoke it at any time later -, we will access to it to obtain digital acoustic footprints, without accessing to any audio or personal data, in order to perform audience market studies of football consumption."
Der Ligaverband konnte nun ermitteln, ob die Nutzer in einer Bar ein Spiel gesehen haben; und ob diese Bar auch pflichtschuldig ihre Gebühren für die Übertragung zahlt. Die Tagesschau nennt 150 Millionen Euro als Wert, den der spanische Ligaverband als Schaden angibt, der aus der Nicht-Zahlung von Gebühren für derlei Übertragungen jährlich entsteht. Daher sollte die App dabei helfen im Falle unrechtmäßig und öffentlich ausgestrahlter Spiele einschreiten – und gegebenenfalls Zahlungen fordern – zu können.
Aus Sicht der Vereine und des Verbands, die tatsächlich um Zahlungen geprellt werden, wenn ohne Lizenz Spiele ausgestrahlt werden, ist das Bestreben durchaus nachvollziehbar. Denn ihnen entgehen somit riesige Summen, die weitere Investitionen in die Vereine bedingen könnten. Und niemand hat das Recht Spiele, die exklusiv im Pay-TV laufen, auszustrahlen, wenn nicht dafür gezahlt wurde.
Allerdings wirft die Nutzung der App, die die Handys von Fans quasi in Abhörgeräte verwandelt, Fragen auf. Darf man sein Recht mit Geheimdienstmethoden durchsetzen? Die meisten Fans dürften sich der wahren Absichten der App im Hinblick auf die Überprüfung von TV-Rechten nicht allzu bewusst gewesen sein. Mal ehrlich, wer liest genau alle Datenschutzbestimmungen, wenn er sich eine Fußball App installiert? Wer etwa die Bundesliga App installiert hat, gibt auch einige Daten preis, zum Beispiel:
Zeit und Datum der Installation

Zugangszeiten

Namen der Zugangsseite

Volumen der transferierten Daten

Zugangsstatus (etwa, dass Daten transferiert wurden)

Erkennungsdaten zu Browser und OS des Geräts

Namen der Service Provider der Nutzer
Aber welchen Stellenwert hat der Fußball, wenn wie in Spanien den Fans die Installation der App damit gedankt wird, dass sie als verlängerter Arm von Gebühreneintreibern fungieren, und zwar unwissentlich und sicher auch unwillentlich? Es zeigt sich daran wohl, dass der mindestens hierzulande und in weiten Teilen Europas als Volkssport natürlich auch im TV und im Netz so beliebte Fußball in einer kapitalistischen Gesellschaft zum immer wertvolleren Produkt wird. Doch gerade das macht ihn für viele Anhänger nicht gerade attraktiver. Denn wenn Großinvestoren aus China, Saudi-Arabien usw. dafür sorgen, dass die TV-Rechte stetig teurer werden, bedeutet das nicht nur Preiserhöhungen für die Fans und Gastwirte. Die Vereine erhalten zwar mehr, müssen aber, wie sich zeigte, für Transfers inzwischen Phantasiesummen zahlen, die in keinem klar definierbaren Verhältnis mehr stehen. Dazu kommen Gehälter, die weniger eine Leistung des Vertragspartners (in dem Fall der Spieler) als vielmehr dessen Ego oder die Verhandlungskunst der Spielerberater repräsentieren. Auch diese überbordende Freizügigkeit mit dem Geld lässt die Menschen abstumpfen, mitunter den Bezug zum Sport verlieren. Dass dieser Sport im Kontext seiner Rechtevermarktung die Bodenhaftung verlieren könnte, mag sich auch in der Rezeption in den kommenden Jahren widerspiegeln. Zunächst dürften einige TV-Zuschauer von heute in der kommenden Saison noch für Sky und DAZN zahlen, um die Champions League zu sehen, viele aber auch nicht. Wenn aber die Kosten für diese Rechte wieder deutlich ansteigen, muss das wohl auf die Zuschauer umgelegt werden. Wie viele werden dann noch zwei, vielleicht mehr, Sender und Dienste abonnieren, um sich eine – zugegebenermaßen höchst attraktive – Sportart anzuschauen?
Es ist andererseits nur recht und billig, dass der Nutzer zahlt, wenn er exklusive Ausstrahlungen verfolgen möchte. Immerhin zwingt ihn niemand dazu. So kann man zumindest verstehen, warum der spanische Ligaverband so dringend verhindern möchte, dass massenhaft Fans in Kneipen ohne Lizenz die Spiele aus La Liga verfolgen. Die Art und Weise, wie das angegangen wurde, zeugt dabei zwar von Raffinesse und digitalem Know-How, gleichzeitig aber ebenso von Windigkeit und einem gehörigen Mangel an Fair Play.
Was ist der Wert der Fans?
Die Fans tragen finanziell bereits zum Bestehen dieses wahnsinnig lukrativen Konstrukts der Fußballvermarktung bei. Sie müssen einiges an Euro, Pfund und dergleichen mehr aufbringen, um den Fußball umfassend zu verfolgen. Sie durch digitale Tricks auszunutzen schadet dabei dem Image eines Verbands und sendet nebenbei eine traurige Botschaft: ihr Fans seid der Lieferant von Geld und Daten, danke. Dabei sollten gerade die Verbände sich in gesamtgesellschaftlich instabilen Zeiten und unter ständigen Vorwürfen der Korruption mehr Gedanken darüber machen, wie sie die Fans wieder vermehrt auf ihre Seite ziehen können. Sonst werden die TV-Rechte preislich eventuell wieder einbrechen. Manchmal muss man sich da fragen, warum auch nicht. In England hat man beobachtet, was die unglaublichen Einnahmen spätestens seit 2016 mit den Gehaltsstrukturen angestellt haben. Warum muss ein Alexis Sanchez 350.000 Pfund die Woche verdienen, wofür? Bei Neymar sind es angeblich knapp über 600.000 Euro die Woche. Auch Messi liegt irgendwo bei 35 Millionen Euro im Jahr plus Boni. Unter der Saison 2017/18 fraßen die Gehälter beim FC Barcelona zu einer Zeit 84 Prozent der gesamten Einnahmen auf. Solches Wirtschaften ist weiterhin nur möglich, wenn der Fan für Trikots, TV-Rechte, Sitzplätze im Stadion und und und Jahr für Jahr immer tiefer in die Tasche greift. Da die Gehälter fern der Sportblase aber kaum oder nur sehr gemächlich wachsen, könnte sich die Einstellung der Fans trotz der Liebe zum Spiel in den kommenden Jahren ändern. In diese Richtung wären groß angelegte Studien sicherlich lohnenswert für Verbände und Vereine. Vor allem aber müssen die Fans künftig als wichtiger und mündiger Bestandteil des Ökosystems anerkannt werden – anders als bei der La Liga App. Nur dann kann dieses System wirtschaftlich erfolgreich bleiben und hat die Chance, das Produkt Fußball wieder als gesellschaftliches Sportereignis und nicht als exklusiven Blockbuster zu präsentieren. Und so sollte es auch verkauft werden. Andernfalls könnte sich das Blaue Wunder noch einstellen. Noch sieht es nicht nach einer Abkehr der Fans aus; aber: wehret den Anfängen.
Streaming Services Offer Clubs a Route to Fans' Ears and Hearts
The BVB have teamed up with Deezer and join the likes of ManUtd or Barça, while Boca Juniors and Co. partner with Spotify. Streaming Services grow in importance for any club, especially with podcasts in mind.
Multi media are a modern standard for any user. And so do football fans not only follow their beloved clubs via one channel, but use various opportunities to get ever more content concerning their club. With this in mind, it is no wonder a lot of clubs are teaming up with streaming services like Spotify and Deezer to create club branded channels and playlists in order to lure the supporters to the respective platforms. That very move also makes for a great foundation if clubs consider embracing the growing podcast market in the future.
Deezer deals aplenty for clubs
Borussia Dortmund just launched their very own Deezer account where not only playlists for the matchday will appear, but also curated ones from selected players like Marco Reus or Jacob Bruun Larsen.
Carsten Cramer, BVB director for sales, marketing & digitalisation, explained that the club could get closer to its fans via such a streaming service:
We're very happy to partner up with Deezer. Music like football has the power to unite people. With Deezer we have the ideal partner to get closer to our fans thanks with music.
Ralph Pighin, VP Central & Eastern Europe at Deezer said that Deezer would accompany happenings at one of Europe's biggest clubs with relevant audio content.
Referring to the founding year of the BVB, Deezer offers fans its family service for 19,09 euro in the next three months. This special offer, meant to make individualised listening for all family members – up to six profiles – easier, will be available in the BVB app.
The French streaming service Deezer is also the official music partner for media giants Manchester United or the FC Barcelona.
ManUtd put it nicely by claiming the streaming service offers a passage to clubs' hidden hearts:

Deezer's partnership with Manchester United is an exclusive backstage pass for fans to the club's hidden heart. With football and music content you won't find anywhere else, from player's playlists to what's playing in the stadium at Old Trafford before a match, Deezer is the best place to listen to Manchester United's Flow.

Clubs are banking on different streaming services like Apple Music or Spotify

Not only Deezer is helping teams around the globe reach their diverse fanbases. Argentinian powerhouse Boca Juniors for example have recently partnered with Spotify, as SportsPro Media report. As part of the deal the club will create a playlist with a title like Way to the Bombonera. The Swedish streaming giants had already teamed up with the three famous clubs from São Paulo: Corinthians, Palmeiras and São Paulo FC. On São Paulo FC's Spotify channel there are playlists with hits from the years 1992, 1993 an 2005 – as in each of those years the club won the famed Copa Libertadores. The partnership even saw Spotify give caricature paintings as well as co-branded headphones to the players.
Now, that's what you call visible branding.
Various clubs from all over the world have their own channel on Spotify by now. Borussia Mönchengladbach or West Ham United are examples for that.
And Spanish La Liga does have its own channel, too.
Apart from Deezer and Spotify, big clubs like Arsenal London or Bayern Munich have partnerships with different streaming services in place. The German record champions have an exclusive deal with Apple Music and are furthermore equipped with Dr. Dre headphones, a division from Apple. Arsenal London, on the other hand, have a started a partnership with streaming platform TIDAL. This rather unique deal emphasises Arsenal's conviction of developing young talent. Arsenal chief commercial officer Vinai Venkatesham said:
Football and music are great passions of so many of our global supporters. This partnership combines these two passions in a unique way and will give our members access to some fantastic benefits. It is also a celebration of our shared belief in young talent, and will create opportunities to bring together our players with TIDAL's rising artists.
Here, some Arsenal stars tell you what they listen to before matches.
The big potential in deals with audio streaming platforms
As of January 2019, Deezer had seven million paying subscribers, according to Statista. Spotify have 87 million paying users and 200 monthly unique visitors, though. And Daniel Ek, Spotify's CEO and founder, wants to turn the audio market into a success like the video market. For he says that people tend to spend as much time with audio these days as with video content.
With the world focused on trying to reduce screen time, it opens up a massive audio opportunity.
And audio does not just mean music. Podcasts are a content format which has been well adopted in the US. According to the IAB (International Advertising Bureau), ad revenue from podcasts was estimated at 314 million US dollar for 2017. To take it into perspective, that signals an 86 per cent increase year-over-year. And estimations from PwC see it surpass the one billion mark by 2020, growing to 1,6 billion dollar in 2022.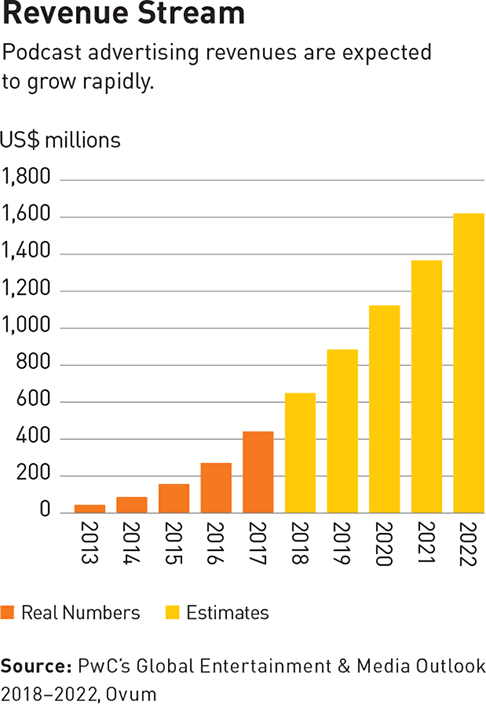 So there's a whole marketable market there for the taking – and sports clubs should be aware of this potential. Especially, since in Europe the podcast market hasn't been swamped with too much content, yet. And listeners are even earger to spend a lot of time and are not afraid of native advertising as well.
To partner with streaming services like Spotify, where the users are for a good part anyway, is a shrewd idea. Because Spotify just acquired podcast specialist platforms Anchor and Gimlet Media for nearly 340 million US dollar to strengthen their own podcast department.
St. Pauli, a cult club from Germany with fans everywhere, has already offered its fans the opportunity to listen to podcasts via Deezer. These are only fan podcasts, but clubs could integrate their own content, too. If it is exclusive, it would surely lure even more people. And that would also be great for the streaming service. The FC St. Pauli also promote songs from their remarkable FC St. Pauli Music School by Levi's® via Deezer, an insitution at the Millerntor stadium for everyone who can't afford music lessons. Branding and fan generating go hand in hand for them with the help of the streaming service. Those are great marketing prospects for any club in the world, since audio and football have long been closely related – and a revival, albeit way more digital and immersive, seems to be on the cards.