Wenn die Avengers auf Melbourne Victory treffen – Australiens Nationalstadion wird zum Marvel Stadium
Marvels Helden begeistern seit Jahrzehnten ihre Fans. Besonders in den letzten Jahren ist um Figuren wie Deadpool, Iron Man, Black Panther, Jessica Jones, Thor und Co. ein regelrechter Hype entstanden. Allein 2017 hat Marvel, das im Besitz von Walt Disney ist, neun neue Filme und Serien in die Kinos oder zu Netflix gebracht.
Das Potential, das das Marvel-Universum auch marketingtechnisch aufweist, versuchen immer mehr Partner des Verlagsunternehmens für sich auszuschöpfen. Dazu zählt nun auch Melbourne Stadiums Limited, die Gesellschaft, die dafür sorgt, dass Australiens Nationalstadion – bislang noch Etihad Stadium genannt – ab September zum Marvel Stadium wird. Die erhoffte Verschmelzung der Marke Marvel mit Live Sportevents kann ein Fingerzeig für künftiges Fußball-Erleben sein; und offenbart dabei gleichzeitig ein großes Problem für den Sport.
Marvel soll die Fans locken
In einer Zeit, da sich Sportstadien mehr und mehr in Event-Arenen verwandeln, braucht es für gewisse Besuchergruppen klare Anreize, die ihr Erlebnis im Stadion optimieren könnten. Oder sie überhaupt erst dazu bewegen. In Australien findet sich eine ganz besonders aufsehenerregende Maßnahme. Australiens Nationalstadion wird in Marvel Stadium umbenannt. Die Melbourne Stadiums Limited (MSL) hofft, damit einen hybriden Fan-Magneten bereitzustellen. Denn mit Marvel wurde eine Marke mit ins Boot geholt, die weltweit Furore – und Geld – macht und die mediale Aufmerksamkeit geradezu anzieht.
"Marvel utilizes its character franchises in entertainment, licensing and publishing",
heißt es auf der Website des Verlags. Wie diese Charaktere die Grenze zwischen Fiktion und Wirklichkeit verschwimmen lassen und dabei kräftig die Werbetrommel rühren, zeigt die Marketingkampagne für den zuletzt erschienenen Film Deadpool 2. Hier hat die Filmproduktionsgesellschaft 20th Century Fox wieder einmal kreatives Werbepotential bewiesen. Auch Fußballfans werden hier mit angesprochen. Ein Clip bei YouTube zeigt Deadpools Entschuldigung bei David Beckham; und spielt zugleich auf die anstehende WM an.
Schon knapp 21 Millionen mal wurde dieses Video angesehen. Auf ein ähnlich reges Interesse sowohl an Marvel als auch an den Sportevents vor Ort hofft nun die MSL, die für Australiens Nationalstadion verantwortlich zeichnet. Hier werden natürlich Konzerte veranstaltet, doch grundsätzlich ist es eine Austragungsstätte für Sportevents, von Fußball und Rugby bis hin zu Basketball.Gleich fünf Clubs der AFL, der Rugby-Liga Australiens, nennen das Stadion ihr Zuhause. Aus der australischen A-League, der höchsten Fußballspielklasse, trägt Melbourne Victory seine Heimspiele in der Arena mit dem ursprünglichen Namen Docklands Stadium aus.

Das Etihad Stadium in Melbourne; bald heißt es Marvel Stadium, © Etihad Stadium Australia
Dieser Name wird ab ersten September 2018 anders lauten: Marvel Stadium. MSL CEO Michael Green erklärte in der Pressemitteilung auf der Website des Etihad Stadium, man schaue einer neuen Ära der Unterhaltung entgegen. Mit Marvel als einer der bekanntesten Unterhaltungsmarken der Welt könne man ganz neue Fanerlebnisse kreieren. Senior Vice President und Managing Director der Walt Disney Company in Australien und Neuseeland, Kylie Watson-Wheeler, betonte im Zuge dessen:
"Marvel is known for epic storytelling with heart, action, humour and relatability. MSL's Docklands Stadium has told its own compelling stories over time, via a vast array of sport and entertainment. It's why this partnership is such a great fit".
Demnach setzt man in Australien die Fanerlebnisse von Filmfans mit jenen der Fußball- oder Rugbyfans gleich. Doch diese Annahme führt zu einem für den Sport gefährlichen Trugschluss.
Die Erwartungshaltung wird zum Problem
Wer sich im Kino von den Avengers oder Spiderman in den Bann ziehen lässt, geht an diese Erfahrung mit einer bestimmten Erwartungshaltung heran. Es wird ein Blockbuster erwartet, der auf minutiöser Planung, Effekthascherei und mal mehr mal weniger guter Schauspielkunst basiert. Diese Merkmale auch auf Sportereignisse in der Live Erfahrung zu übertragen stellt jedoch einen Vergleich dar, der hinkt.
Denn während die Avengers und Co. fiktionale Charaktere sind, denen dank ihrer Schöpfer immerzu Wunderdinge gelingen, sind Fußballer das mitnichten. Im Spiel können ungeahnte Dinge geschehen; und doch gibt es nie eine Garantie für einen Blockbuster. Ein 0:0 ist immer mal drin. Das ist den Fans durchaus klar. Aber wenn junge Sportbegeisterte in ein Stadion, für das Marvel der Namensgeber ist und das dessen Figuren darstellt, gehen, könnten sie sich an die Erwartung gewöhnen, dass ihnen hier hollywoodesques Entertainment zusteht.
Vice President of @Disney Australia Kylie Watson-Wheeler (right) and @EtihadStadiumAU CEO Michael Green in front of a Marvel mural inside the stadium. pic.twitter.com/k3zlfKFWh7

— AFL (@AFL) May 24, 2018
Angesichts des Marvel Stores, der bald im Stadion seine Türen öffnet, mag es bis zu einem gewissen Grad auch dazu kommen, dass solche Erwartungen erfüllt werden. Allerdings eher unabhängig vom Sport. Denn von den Fußballern erwarten wir per se, dass sie gerade nicht auf Effekte und Schauspieleinlagen setzen, wir schätzen zwar Taktik und wollen doch keine vorhersagbaren Spiele sehen. Eine Unterhaltung wie Kino ist hier schlichtweg nicht möglich. Da werden Äpfel mit Birnen verglichen.
Dass die MSL mit diesem Clou im Marketingbereich viele neue Besucher zu locken hofft, ist durchaus nachvollziehbar und die Namensgebung allein macht das Stadion in Melbourne interessant. Wirtschaftlich macht all dies einen sinnvollen Eindruck. Letzten Endes läuft man mit solch einer engen Verwebung mit der Entertainmentindustrie doch Gefahr, dass der Fußball selbst an Bodenhaftung und in der Folge auch an Relevanz für die Zuschauer verliert.
Natürlich lassen sich die Namensrechte an einem Stadion ignorieren. In Hamburg geht man wie stets ins Volksparkstadion. Doch die Entwicklung im Fußball und explizit in den Stadien ist nicht so leicht auszublenden. Digitalisierung und Technologisierung überhaupt machen die Stadien künftig wohl unweigerlich zu Erlebnis-Arenen, die es mit der Zusammenkunft außerordentlicher Superhelden aufnehmen können sollen.
Der Verkauf des Wembley durch die britische FA zeigt genauso, dass traditionelle Verbindungen im Fußball ebenso wirtschaftlichen Gesichtspunkten weichen wie anderswo. Dass das überaus lukrativ ist, kann nicht bestritten werden. Wie sich der Sport und vor allem die Wahrnehmung des Fußballs aber dadurch entwickeln, bleibt fragwürdig – und zwar in jedweder Bedeutungsauslegung des Wortes.
Zu den Zahlungen für die acht Jahre währende Namensgebung durch Marvel gibt es vonseiten der MSL keine Angaben. Man darf aber versichert sein, dass beide Parteien von diesem Deal massiv profitieren. Nur die Sportler, die sind vielleicht am Ende weniger die gefeierten Helden als einige der Comic-Figuren, die von den Wänden des Stadions auf sie herabblicken.
Streaming Services Offer Clubs a Route to Fans' Ears and Hearts
The BVB have teamed up with Deezer and join the likes of ManUtd or Barça, while Boca Juniors and Co. partner with Spotify. Streaming Services grow in importance for any club, especially with podcasts in mind.
Multi media are a modern standard for any user. And so do football fans not only follow their beloved clubs via one channel, but use various opportunities to get ever more content concerning their club. With this in mind, it is no wonder a lot of clubs are teaming up with streaming services like Spotify and Deezer to create club branded channels and playlists in order to lure the supporters to the respective platforms. That very move also makes for a great foundation if clubs consider embracing the growing podcast market in the future.
Deezer deals aplenty for clubs
Borussia Dortmund just launched their very own Deezer account where not only playlists for the matchday will appear, but also curated ones from selected players like Marco Reus or Jacob Bruun Larsen.
Carsten Cramer, BVB director for sales, marketing & digitalisation, explained that the club could get closer to its fans via such a streaming service:
We're very happy to partner up with Deezer. Music like football has the power to unite people. With Deezer we have the ideal partner to get closer to our fans thanks with music.
Ralph Pighin, VP Central & Eastern Europe at Deezer said that Deezer would accompany happenings at one of Europe's biggest clubs with relevant audio content.
Referring to the founding year of the BVB, Deezer offers fans its family service for 19,09 euro in the next three months. This special offer, meant to make individualised listening for all family members – up to six profiles – easier, will be available in the BVB app.
The French streaming service Deezer is also the official music partner for media giants Manchester United or the FC Barcelona.
ManUtd put it nicely by claiming the streaming service offers a passage to clubs' hidden hearts:

Deezer's partnership with Manchester United is an exclusive backstage pass for fans to the club's hidden heart. With football and music content you won't find anywhere else, from player's playlists to what's playing in the stadium at Old Trafford before a match, Deezer is the best place to listen to Manchester United's Flow.

Clubs are banking on different streaming services like Apple Music or Spotify

Not only Deezer is helping teams around the globe reach their diverse fanbases. Argentinian powerhouse Boca Juniors for example have recently partnered with Spotify, as SportsPro Media report. As part of the deal the club will create a playlist with a title like Way to the Bombonera. The Swedish streaming giants had already teamed up with the three famous clubs from São Paulo: Corinthians, Palmeiras and São Paulo FC. On São Paulo FC's Spotify channel there are playlists with hits from the years 1992, 1993 an 2005 – as in each of those years the club won the famed Copa Libertadores. The partnership even saw Spotify give caricature paintings as well as co-branded headphones to the players.
Now, that's what you call visible branding.
Various clubs from all over the world have their own channel on Spotify by now. Borussia Mönchengladbach or West Ham United are examples for that.
And Spanish La Liga does have its own channel, too.
Apart from Deezer and Spotify, big clubs like Arsenal London or Bayern Munich have partnerships with different streaming services in place. The German record champions have an exclusive deal with Apple Music and are furthermore equipped with Dr. Dre headphones, a division from Apple. Arsenal London, on the other hand, have a started a partnership with streaming platform TIDAL. This rather unique deal emphasises Arsenal's conviction of developing young talent. Arsenal chief commercial officer Vinai Venkatesham said:
Football and music are great passions of so many of our global supporters. This partnership combines these two passions in a unique way and will give our members access to some fantastic benefits. It is also a celebration of our shared belief in young talent, and will create opportunities to bring together our players with TIDAL's rising artists.
Here, some Arsenal stars tell you what they listen to before matches.
The big potential in deals with audio streaming platforms
As of January 2019, Deezer had seven million paying subscribers, according to Statista. Spotify have 87 million paying users and 200 monthly unique visitors, though. And Daniel Ek, Spotify's CEO and founder, wants to turn the audio market into a success like the video market. For he says that people tend to spend as much time with audio these days as with video content.
With the world focused on trying to reduce screen time, it opens up a massive audio opportunity.
And audio does not just mean music. Podcasts are a content format which has been well adopted in the US. According to the IAB (International Advertising Bureau), ad revenue from podcasts was estimated at 314 million US dollar for 2017. To take it into perspective, that signals an 86 per cent increase year-over-year. And estimations from PwC see it surpass the one billion mark by 2020, growing to 1,6 billion dollar in 2022.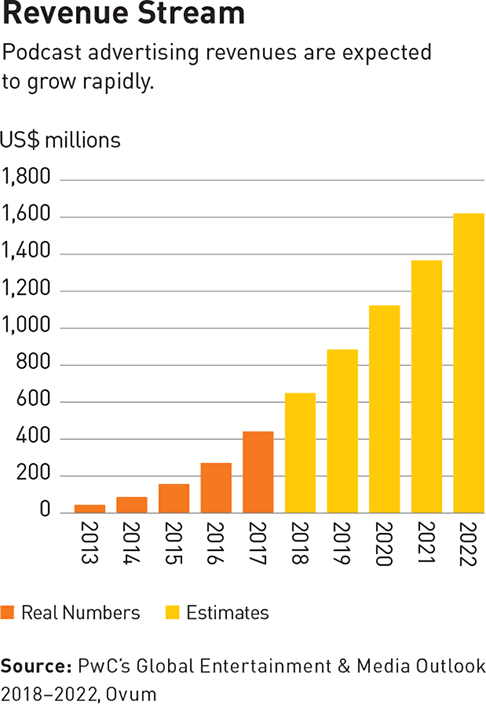 So there's a whole marketable market there for the taking – and sports clubs should be aware of this potential. Especially, since in Europe the podcast market hasn't been swamped with too much content, yet. And listeners are even earger to spend a lot of time and are not afraid of native advertising as well.
To partner with streaming services like Spotify, where the users are for a good part anyway, is a shrewd idea. Because Spotify just acquired podcast specialist platforms Anchor and Gimlet Media for nearly 340 million US dollar to strengthen their own podcast department.
St. Pauli, a cult club from Germany with fans everywhere, has already offered its fans the opportunity to listen to podcasts via Deezer. These are only fan podcasts, but clubs could integrate their own content, too. If it is exclusive, it would surely lure even more people. And that would also be great for the streaming service. The FC St. Pauli also promote songs from their remarkable FC St. Pauli Music School by Levi's® via Deezer, an insitution at the Millerntor stadium for everyone who can't afford music lessons. Branding and fan generating go hand in hand for them with the help of the streaming service. Those are great marketing prospects for any club in the world, since audio and football have long been closely related – and a revival, albeit way more digital and immersive, seems to be on the cards.