Das Runde muss ins Eckige – auch digital! Warum YouTube und Fußball so gut zusammen passen
Die Live-Übertragung fehlt – noch. Ansonsten ist bei YouTube schon allerhand Fußball zu sehen, in den verschiedensten Formen. Die Videoplattform und der Fußball scheinen einem perfekten Match gleichzukommen. Dabei sind Highlights von Sportsendern und Streamingdiensten längst nicht mehr das einzig Interessante für Fans; vielmehr etablieren sich immer mehr Formate, die mit ihren Fußballclips viral gehen und die Sportbegeisterten auch medial in den Bann schlagen. Das beweist nicht zuletzt YouTubes erstes europäisches Original: Training Days. Doch wo YouTuber und Celebrities die Popularität des Fußballs für die eigenen Shows nutzen, sollten auch Vereine die Chance für mehr Fan Engagement wahrnehmen. Und letztlich öffnet YouTubes Nutzerzahl noch das Tor für Werbetreibende im Sportsegment und Partnerschaften überhaupt.
YouTube: Quelle für Bildmaterial der Spiele und mehr
Jeder, der Fußball als Business denkt, sollte für die Außenwirkung die Plattform YouTube als enorm wichtigen Kanal wahrnehmen. Das hat einige grundsätzliche Gründe. Mit über einer Milliarde Nutzer ist das Videoportal eine der am häufigsten besuchten Websites überhaupt. In den USA erreicht YouTube, sogar nur auf Mobile gemünzt, mehr 18–34 und 35–49-Jährige als Kabelanbieter.
Doch auch in Bezug auf Sportrezeption ist YouTube wichtiger denn je. Google selbst hat eine Studie bemüht, um zu zeigen, wie stark das Interesse der YouTube-Nutzer an Sportvideos steigt. Demnach ist die Sehdauer für Highlights von Sportereignissen allein im letzten Jahr um über 80 Prozent gestiegen.

Highlight-Videos für Fußball und Co. werden immer beliebter bei YouTube, © Google
Darüber hinaus werden selbst Interviews mit Sportlern zu 60 Prozent mehr geschaut.

Selbst Interviews im Sportkontext werden bei YouTube mehr geschaut, © Google
Die Notwendigkeit für Vereine, Publisher im Sportbusiness usw. auf YouTube präsent – und dabei aktuell – zu sein, zeigt sich ebenfalls daran, dass ein Wandel zur Rezeption von Sportereignissen über mehrere Screens stattgefunden hat. 80 Prozent gaben bei der von Google dargestellten Umfrage an, beim Schauen von Sportevents im TV parallel am PC, Tablet oder Smartphone nach Zusatzinformationen oder -material zu suchen; nicht selten auch bei YouTube.

Mehr Screens bei der Rezeption sorgen für mehr Zugriffe auf YouTube, © Google
Da mehr als die Hälfte aller Views bei YouTube von mobilen Geräten kommen, ist dieser Kanal in einer Mobile First-Zeit eine zentrale Quelle für die Nutzer.
Um zu verdeutlichen, welche umfassendes Informations- und Unterhaltungspotential das Videoportal speziell den Fußballfans inzwischen liefert, schauen wir uns einen kleinen Querschnitt an. Wie bereits erwähnt, erfreuen sich Highlight-Videos großer Beliebtheit; das weiß zum Beispiel der Streamingdienst DAZN, der wirklich schnell nach Ablauf der Spiele solche Clips einstellt. Der Channel DAZN Bundesliga etwa hat knapp 280.000 Follower, die Videos werden regelmäßig von vielen Nutzern gesehen.
Dabei macht DAZN mit diesen gut aufbereiteten Höhepunkten Lust auf mehr – vielleicht dann auch ein Abonnement.

DAZNs Bundesliga-Channel auf YouTube ist beliebt und macht Lust auf mehr, Screenshot YouTube: DAZN Bundesliga
Der Channel von BILD Fußball geht sogar weit über Highlights hinaus. Diese werden ebenfalls gezeigt und erhalten sehr gute Viewzahlen. Doch dazu finden sich auch Analysen, Listen mit den besten Toren oder auch Kuriositäten aus der Rubrik InTORnational.
Das sind genau die Inhalte, die den Fußballfan fesseln und im Bestfall seine Verweildauer beim Channel erhöhen. Das macht diesen für Advertiser interessant und erhöht gleichzeitig die Beliebtheit und Followerzahlen der Marke. Der BILD Fußball-Channel hat so schon beinah 600.000 Follower.
Auch der Channel des britischen Senders BT Sport überzeugt bei YouTube mit Content zu Sport- und Fußballthemen. So werden auch immer wieder die lehrreichen und spannenden, mitunter hitzigen Diskussionen aus dem Studio als Videos eingestellt. Hier kommen neben Gastgeber Gary Lineker dann Ex-Stars und Experten wie Rio Ferdinand, Steven Gerrard oder Frank Lampard zu Wort. Für deren Expertise klicken auch nach der Übertragung extreme viele Viewer rein.
Dass heutzutage, und gerade bei einem Kanal wie YouTube, der Unterhaltungswert vorhanden sein muss, steht außer Frage. Daher erfreuen sich auch Channels, die Aktuelles zum Thema Fußball humorvoll oder besonders kreativ verarbeiten, großer Beliebtheit. Zeugnis darüber legt etwa der Channel von JOE UK ab. Conor Moore zeigt beeindruckende Imitationen von Trainergrößen wie Klopp, Guardiola, Wenger oder Mourinho.
Und der Channel 442oons wartet mehrmals pro Woche mit Cartoons zu großen Spielen oder Ereignissen auf. Die sind sehenswert und gehen, wie im Beispiel des Salah-Songs, viral.
Dieses Video allein hat über fünf Millionen Aufrufe. Der Channel hat 1,8 Millionen Follower. Mit einem verstärkten Hang zur Unterhaltung und der Differenzierung der Fußballberichterstattung oder thematischen Behandlung überhaupt wird YouTube zusehends zu einem TV-Ersatz.
Warum YouTube heute und künftig für Marken umso wichtiger ist
Sich im TV gut zu präsentieren, war über Jahrzehnte für die Medienwirksamkeit von Sportmarken elementar. Doch inzwischen herrscht ein digitales Zeitalter. Lineares TV ist auf einem absteigenden Ast. Vereine wie Publisher im Sportbusiness müssen sich online vielschichtig präsentierten. Digitalisierungs- und Internationalisierungsstrategien erfordern das Ausweichen auf Kanäle, die ständig verfügbar, leicht und besonders mobil zugänglich und massentauglich sind. Das trifft natürlich auf Facebook, Twitter, Instagram, bei der Videopublikation aber besonders auf YouTube zu. Immerhin wächst die Generation Z sowie die folgenden mit einem Selbstverständnis auf, dass diese Größen deutlich vor TV-Sendern oder herkömmlichen Printmedien sieht.
YouTube hat deshalb ein so großes Potential für Vereine, Publisher und andere Unternehmen im Fußballbereich, weil es international ist. Es gibt lokale Versionen des Videoportals in 88 Ländern, mittlerweile werden 76 Sprachen bedient – womit 95 Prozent der vernetzten Gesellschaft potentiell angesprochen werden können.
Wir werfen einen knappen Blick darauf, wie Vereine diesen Kanal nutzen (können).
Wie Vereine YouTube zu ihrer Bühne machen
Einen eigenen Channel haben die meisten professionellen Fußballvereine bereits. Doch es zeigen sich klare Unterschiede in der optimalen Darstellung der eigenen Marke über Video Content. Diese Unterschiede sind oftmals auf differente Budgets zurückzuführen. Dennoch dürfte sich zeigen, dass die strategische Ausrichtung bei YouTube Potential für mehr Views und mehr Sichtbarkeit bietet. Damit ist heutzutage die Follower- oder gar Fan-Generierung verbunden. Für Vereine wie Unternehmen aus der Fußballbranche sind diese Beziehungen dann bares Geld wert.
Sehen wir uns den Channel des SC Freiburg an, der zugegebenermaßen einen vergleichsweise geringen Etat haben dürfte.

In der Video-Übersicht des SC Freiburg-Channels sind nur Pressekonferenzen zu erkennen, Screenshot YouTube: SC Freiburg
Unabhängig von den Möglichkeiten schreckt das Bild ab, das sich dem Nutzer bei dem Channel zeigt. Hier finden wir in der Video-Übersicht zunächst nur Clips zu Pressekonferenzen mit Christian Streich. Auch wenn diese mitunter sehr unterhaltsam sein können, lädt dieses Content-Angebot nicht gerade zum langen Verweilen ein. Selbst mit geringen Mitteln könnten hier Optimierungen erstellt werden, indem zumindest etwas Abwechslung und ein paar mehr Insights geliefert werden.
Anders ist es beim Channel des BVB. Hier finden sich spannende Insights, unterhaltsame Clips und nostalgische Videos ebenso wie Pressekonferenzen usw. Da wird Thomas Tomáš Rosickýs Karriere rekapituliert, ein Video präsentiert, das zu jedem Tag der Rückrunde des BVB eine Sekunde Material zusammenfügt oder eine beliebte Reihe fortgeführt. Bei dieser, mit Namen: "Das Spiel dauert 90 Sekunden", werden die Spieler zu aktuellen Themen befragt, dürfen aber nicht mit ja oder nein antworten.
Es ist zu erkennen, dass der Channel es schafft, bestimmte Formate kontinuierlich zur Verfügung zu stellen. Das bindet Viewer langfristig und man wird der Entwicklung gerecht, dass YouTube sich als Bewegtbildquelle Nummer eins im Netz etabliert. Der Channel von Manchester United offenbart, wie auch die großen Werbepartner von solch einer Präsenz profitieren. Täglich gibt es verschiedenste neue Videos, von Aufnahmen der Tunnel-Cam bei Topspielen bis hin Trainingsaufnahmen, Behind the Scenes-Material oder Klassikern von Spielen. Aber es finden sich ebenso Videos, die Adidas Hashtags wie #heretocreate promoten oder etwa den neuen 20th Century Fox-Film Deadpool 2.
YouTube Originals: Der Fußball ist ein Magnet für Viewer
Dass Fußball, zumindest in Europa, ein absoluter Massenmagnet ist, sollte keine Neuigkeit sein. YouTube aber hat es auch selbst erkannt. Als erstes YouTube Original für Europa startete kürzlich Training Days. Das Format ist eigentlich auf Comedy ausgelegt und ihr Star ist Jack Whitehall. Der Brite wurde unter anderem durch die Serie Fresh Meat bekannt, hat allerdings bei Netflix schon seine eigene Show und ein Live Comedy-Programm abgeliefert. Jetzt trifft er in der exklusiven YouTube-Serie auf Fußballgrößen wie Gareth Bale, Thomas Müller oder Dele Alli.
In Folge eins etwa soll José Mourinho ihm das Fahren beibringen, während Gareth Bale als vermeintliche Wachsfigur die Besucher eines Museums erschreckt.
All dies erinnert von der Konzeption her an klassische TV-Formate. Damit wird deutlich, dass sich Rezeptionsgewohnheiten inhaltlich gut aufgreifen lassen, während hierfür neue Kanäle wichtig werden. Der Erfolg der Serie hängt natürlich mit der Popularität von Whitehall zusammen. Aber diese kann er selbst noch steigern, da er Stars trifft, die unheimlich viele Fußballfans online sehen wollen; auch gerne mal abseits des Platzes oder Fußballeralltags.
YouTube wird auch gut daran verdienen können, weil derlei Formate für Advertiser für den Sportbereich sehr vielversprechend sind. So haben die beteiligten Parteien von der Liaison YouTube und Fußball – in diesem Fall mit einer ordentlichen Prise Comedy – alle gut.
Der knappe Überblick zu den Verschränkungen der medialen Aufbereitung von Fußballthemen und YouTube als Plattform kann einerseits als Anreiz gesehen werden, sich die verschiedenen Ausprägungen beim Videoportal einfach einmal genauer anzusehen. Andererseits könnten dadurch auch etwaige Optimierungspotentiale für den eigenen Channel ausgemacht werden. Oder man sammelt nur ein wenig Inspiration, um seine Fußballvideos für die Rezipienten von heute und morgen zuzuschneiden. Denn YouTube ist gekommen, um zu bleiben; als eine der wichtigsten Online Plattformen und ebenso als Portal für Sportmedien. Hier stecken eine Menge Möglichkeiten, für alle, die Fußball als Business denken und den immensen Wert von Video Content zu schätzen wissen.
Streaming Services Offer Clubs a Route to Fans' Ears and Hearts
The BVB have teamed up with Deezer and join the likes of ManUtd or Barça, while Boca Juniors and Co. partner with Spotify. Streaming Services grow in importance for any club, especially with podcasts in mind.
Multi media are a modern standard for any user. And so do football fans not only follow their beloved clubs via one channel, but use various opportunities to get ever more content concerning their club. With this in mind, it is no wonder a lot of clubs are teaming up with streaming services like Spotify and Deezer to create club branded channels and playlists in order to lure the supporters to the respective platforms. That very move also makes for a great foundation if clubs consider embracing the growing podcast market in the future.
Deezer deals aplenty for clubs
Borussia Dortmund just launched their very own Deezer account where not only playlists for the matchday will appear, but also curated ones from selected players like Marco Reus or Jacob Bruun Larsen.
Carsten Cramer, BVB director for sales, marketing & digitalisation, explained that the club could get closer to its fans via such a streaming service:
We're very happy to partner up with Deezer. Music like football has the power to unite people. With Deezer we have the ideal partner to get closer to our fans thanks with music.
Ralph Pighin, VP Central & Eastern Europe at Deezer said that Deezer would accompany happenings at one of Europe's biggest clubs with relevant audio content.
Referring to the founding year of the BVB, Deezer offers fans its family service for 19,09 euro in the next three months. This special offer, meant to make individualised listening for all family members – up to six profiles – easier, will be available in the BVB app.
The French streaming service Deezer is also the official music partner for media giants Manchester United or the FC Barcelona.
ManUtd put it nicely by claiming the streaming service offers a passage to clubs' hidden hearts:

Deezer's partnership with Manchester United is an exclusive backstage pass for fans to the club's hidden heart. With football and music content you won't find anywhere else, from player's playlists to what's playing in the stadium at Old Trafford before a match, Deezer is the best place to listen to Manchester United's Flow.

Clubs are banking on different streaming services like Apple Music or Spotify

Not only Deezer is helping teams around the globe reach their diverse fanbases. Argentinian powerhouse Boca Juniors for example have recently partnered with Spotify, as SportsPro Media report. As part of the deal the club will create a playlist with a title like Way to the Bombonera. The Swedish streaming giants had already teamed up with the three famous clubs from São Paulo: Corinthians, Palmeiras and São Paulo FC. On São Paulo FC's Spotify channel there are playlists with hits from the years 1992, 1993 an 2005 – as in each of those years the club won the famed Copa Libertadores. The partnership even saw Spotify give caricature paintings as well as co-branded headphones to the players.
Now, that's what you call visible branding.
Various clubs from all over the world have their own channel on Spotify by now. Borussia Mönchengladbach or West Ham United are examples for that.
And Spanish La Liga does have its own channel, too.
Apart from Deezer and Spotify, big clubs like Arsenal London or Bayern Munich have partnerships with different streaming services in place. The German record champions have an exclusive deal with Apple Music and are furthermore equipped with Dr. Dre headphones, a division from Apple. Arsenal London, on the other hand, have a started a partnership with streaming platform TIDAL. This rather unique deal emphasises Arsenal's conviction of developing young talent. Arsenal chief commercial officer Vinai Venkatesham said:
Football and music are great passions of so many of our global supporters. This partnership combines these two passions in a unique way and will give our members access to some fantastic benefits. It is also a celebration of our shared belief in young talent, and will create opportunities to bring together our players with TIDAL's rising artists.
Here, some Arsenal stars tell you what they listen to before matches.
The big potential in deals with audio streaming platforms
As of January 2019, Deezer had seven million paying subscribers, according to Statista. Spotify have 87 million paying users and 200 monthly unique visitors, though. And Daniel Ek, Spotify's CEO and founder, wants to turn the audio market into a success like the video market. For he says that people tend to spend as much time with audio these days as with video content.
With the world focused on trying to reduce screen time, it opens up a massive audio opportunity.
And audio does not just mean music. Podcasts are a content format which has been well adopted in the US. According to the IAB (International Advertising Bureau), ad revenue from podcasts was estimated at 314 million US dollar for 2017. To take it into perspective, that signals an 86 per cent increase year-over-year. And estimations from PwC see it surpass the one billion mark by 2020, growing to 1,6 billion dollar in 2022.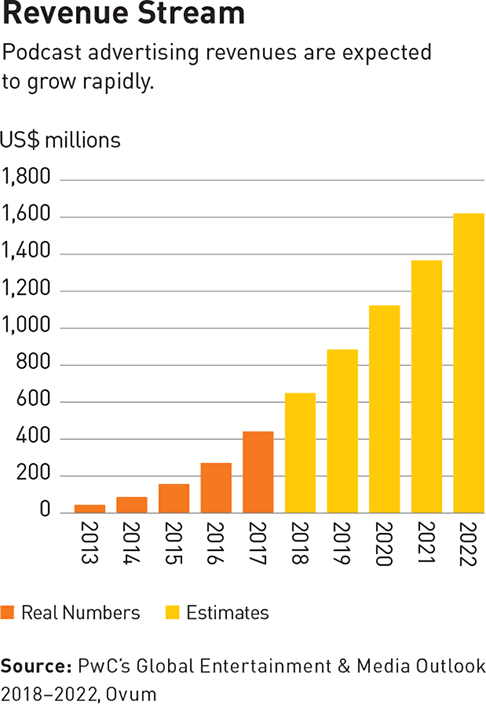 So there's a whole marketable market there for the taking – and sports clubs should be aware of this potential. Especially, since in Europe the podcast market hasn't been swamped with too much content, yet. And listeners are even earger to spend a lot of time and are not afraid of native advertising as well.
To partner with streaming services like Spotify, where the users are for a good part anyway, is a shrewd idea. Because Spotify just acquired podcast specialist platforms Anchor and Gimlet Media for nearly 340 million US dollar to strengthen their own podcast department.
St. Pauli, a cult club from Germany with fans everywhere, has already offered its fans the opportunity to listen to podcasts via Deezer. These are only fan podcasts, but clubs could integrate their own content, too. If it is exclusive, it would surely lure even more people. And that would also be great for the streaming service. The FC St. Pauli also promote songs from their remarkable FC St. Pauli Music School by Levi's® via Deezer, an insitution at the Millerntor stadium for everyone who can't afford music lessons. Branding and fan generating go hand in hand for them with the help of the streaming service. Those are great marketing prospects for any club in the world, since audio and football have long been closely related – and a revival, albeit way more digital and immersive, seems to be on the cards.