Highlights bei Facebook reichen nicht mehr: Die moderne Kommunikation mit dem Fan vom GIF bis zur interaktiven Twitter-Strategie
Die Social Media-Auftritte sind für Fußballvereine längst obligatorisch. Bei Facebook oder Instagram werden den Fans bereits Videos, Bilder und Statistiken präsentiert, die das digitale Erlebnis der Vereinsentwicklung mittragen sollen. Doch die Anforderungen – aber auch Potentiale – der Kommunikation in sozialen Netzwerken haben sich rasant weiterentwickelt. Wer bei Facebook und Twitter die richtigen Strategien fährt, auf die wachsenden Plattformen setzt und sich neue Features für die Interaktion mit der Fangemeinde zunutze macht, kann nicht nur die Zahl seiner Follower erhöhen, sondern auch die Brand Awareness und den Profit steigern.
Social Media bringt Vereine und Fans näher zusammen – und ruft Marketer auf den Plan
Die Präsenz des Lieblingsvereins auf den gängigen Plattformen wie Facebook, Instagram, Twitter, vielleicht aber ebenso Snapchat, macht das Leben der Fans im digitalen Umfeld deutlich aufregender. Immerhin können dort nicht nur unmittelbar nach den Partien, sondern bereits währenddessen verschiedene Inhalte wie Statistiken, Highlights, GIFs usw. das Spiel betreffend begutachtet werden. In Zeiten der Second Screen-Rezeption sind solche Unterfütterungen vonseiten der Vereine oder Verbände unabdingbar.
Dennoch erschöpfen die Social Media-Kanäle sich für die Clubs nicht in einem Selbstzweck. Vielmehr gelten sie als Plattformen für Branding und Marketingkommunikation. In der Bewertung von Medien hinsichtlich ihrer gesamten Wertigkeit können Social Media nach einer Herangehensweise von Nielsen Sports für fünf bis 20 Prozent der Wertgenerierung für Sponsoren im Sport Geltung beanspruchen. Als Beispiel nennen Chris Hurst und Andreas Plastiras von Nielsen Sports den spanischen Clásico im Camp Nou im Dezember 2016, bei dem insgesamt 42,5 Millionen US-Dollar an Medienwertigkeit generiert wurden; zwölf Prozent davon entfielen auf soziale Medien – und das war vor fast eineinhalb Jahren.
Wie bei den jeweiligen Plattformen Kampagnen gelingen, und langfristig fruchten, zeigen einige Big Player. Adidas hat Paul Pogbas zu jener Zeit teuersten Transfer aller Zeiten zu Manchester United mit dem Hashtag #pogback ebenso zelebriert wie auch das aufwendig produzierte Video mit Musiker Stormzy.
Dann wurde im Rahmen der Kampagne #heretocreate Werbung mit Pogba für Adidas in den sozialen Medien promoted.
Die Effekte, die solch kostspielige Kampagnen haben, sind für Adidas, Pogba und Manchester United klar ersichtlich. Adidas hat etwa bei Instagram 19,2 Millionen Abonnenten, Paul Pogba sogar 21,6 Millionen. Für Manchester United sind es 21,3 Millionen; doch der englische Rekordmeister ist auch insgesamt in Sachen Social Media top. Bei Facebook folgen fast 74 Millionen Nutzer dem Verein. Das ist ein Statement, das mit der richtigen Social Media-Strategie und dem Investment in diesen digitalen Bereich zusammenhängt. Doch können auch kleinere Vereine sich dort etablieren? Und über welche Optionen verfügen die Vereine?
Beispiele aus Huddersfield und Leverkusen
Während Manchester United das Social Network Ranking in England anführt, befindet sich überraschenderweise Aufsteiger Huddersfield Town auf Platz sechs, wie The Straits Times berichtet. Grund sind 18.000 Social Media-Posts im Jahr 2017; nur Manchester United, City und Chelsea setzten in England mehr ab.
"Smaller teams may struggle to compete financially with the top teams, but Huddersfield's digital performance should encourage other clubs looking to increase brand exposure",
heißt es im Bericht, der von Newton Insight erstellt wurde.
Hierzulande stellt etwa Bayer Leverkusen ein gutes Beispiel für intensiven Einsatz im Social Media-Bereich dar. Der Verein rund um die Werkself nutzt inzwischen den Social Hub Flockler, mit dem alle Inhalte aus Social Media in einem zentralen Bereich angezeigt werden. So können Fans auf der Bayer 04 Website die aktuellen Posts aus allen Bereichen nachvollziehen – auch wenn sie gar nicht auf Twitter oder Facebook aktiv sind.

Social Hub auf der Website von Bayer 04 Leverkusen, Screenshot Bayer04.de
Im Interview mit Flockler gibt Heiko Schulz, Head of Digital Club Platforms bei Bayer 04, an, dass auch die Spieler zum Teilen der Clubinhalte angehalten sind. Den Spielern stehen sogar mehrsprachig verfasste Social Media-Richtlinien zur Verfügung. Zudem gibt es verschiedene Versionen der Social Accounts für verschiedene Märkte. Sponsoren und Partner werden dann bei unterschiedlichem Content miteingebunden, darunter die Präsentation der Aufstellungen oder bei Posts zu Toren. Hierfür werden altbekannte und bei Fans beliebte Content Templates genutzt.
Wichtig für alle Vereine ist auch die Expansion in neue Märkte. Daher haben viele Vereine, darunter auch Manchester United und Bayer Leverkusen, Präsenzen bei den chinesischen Portalen wie WeChat oder dem Dienst Sina Weibo.

Bayer 04 Leverkusen auf Sina Weibo – auch die asiatischen Märkte wollen gewonnen werden, Screenshot Weibo
Nun ist deutlich, wo und mit welchen Ansätzen die Follower und im Bestfall Fans gewonnen werden können. Doch welche konkreten Ansprachen erwartet der digital vorgeprägte Fan von heute?
Neue Arten der interaktiven Ansprache
Wir wollen an dieser Stelle zunächst ein paar Beispiele zeigen, wie Social Media aktiv für Engagement auf verschiedenen Ebenen instrumentalisiert werden kann. Da gibt es etwa die Möglichkeiten, Umfragen bei Facebook oder Instagram zu starten, wie Schalke 04 es vormacht.
Das bringt Engagement wie Kommentare und Likes und unterstützt die Brand Awareness. Gerade wenn authentische Videos oder Inhalte geteilt werden.
Doch lassen sich die sozialen Kanäle auch für ganz praxisnahe Zwecke nutzen. Orlando City startete erst 2015 in der US-amerikanischen MLS. Da das Team und der Verein wenig bekannt waren, nutzte man Instagram, Periscope und Twitter, um Hinweise für eine besondere Schnitzeljagd zu posten. Bei dieser konnten, wie Social Wall berichtet, die Nutzer Standorte herausfinden, an denen in der Stadt kostenlose Tickets versteckt waren. Die über Social Media gesteuerte Kampagne war in mehrerer Hinsicht ein Erfolg. Zum einen war die Kampagne relativ kostengünstig, konnte zum anderen aber viele neue Fans gewinnen und Menschen ins Stadion bringen. Mit dem Hashtag #PurpleFriday wurde auch direkt auf die farbliche Identität hingewiesen. Das Branding hat funktioniert. Und in der Folge haben sicher einige Sportfans aus Orlando und Umgebung ein Trikot oder andere Merchandisingprodukte erworben, sind Follower der digitalen Kanäle geworden und haben die Fangemeinde verstärkt.
Twitter ein wichtiger Kanal für die Fanansprache im Fußball
Als sehr einflussreicher Kanal für die Kommunikation mit den Fußballfans gilt Twitter. Laut einer Studie von Twitter selbst und MediaCom Sport & Entertainment sind 2017 gut 124 Prozent mehr Fußballvideos auf der Plattform geteilt worden als noch im Vorjahr. Dazu kommt, dass Nutzer, die während der TV-Rezeption von Sportevents auf Twitter unterwegs sind, naturgemäß mehr Engagement zeigen.
Allerdings ist es auch so, dass Werbung auf Twitter bei Live Sportevents effektiver ist als im TV. Die Fußballfans können über den Dienst unmittelbarer erreicht werden.
Für Marken und Unternehmen im Fußballumfeld lassen sich nun noch einige Tipps von Twitter anführen, wie man das Potential der Plattform optimal nutzen kann.
Darunter fällt zum Beispiel die Option First View. Damit können Kampagnen Nutzern in der Timeline als Promoted Video ganz oben angezeigt werden. Aber auch das Emoji Targeting kann effektiv sein, da sehr viele User an diese Zeichen gewöhnt sind und entsprechend darauf anspringen.
Kurzer Stimmungscheck: Wer macht heute das Rennen im @Oly_Berlin ? 🤔 #BSCWOB #hahohe

— Hertha BSC (@HerthaBSC) March 31, 2018
Darüber hinaus gibt es natürlich Sponsoring Pakete wie die Sponsored Video Website Cards. Umfragen und besonders Videoumfragen sind bei Twitter ebenfalls beliebt; und können auch während der Partien oder in der Halbzeitpause eingesetzt werden.
Letztlich findet sich auch noch die Möglichkeit der Auto Response API Kampagnen, die es erlauben, Nutzer über auf bevorstehende Live Events zu informieren.
100 days until the World Cup! ♥️ this Tweet to receive top-notch football & brand Tweets during the tournament. pic.twitter.com/VRsKSryK66

— Twitter Marketing UK (@TwitterMktgUK) March 6, 2018
Wer den Fußball in Social Media vertritt, kommt an GIFs nicht vorbei
Millionen GIFs werden jeden Tag bei Google gesucht. Grund genug für das Unternehmen die GIF-Plattform Tenor für iOS, Android und Desktop zu erwerben. Tenor hat das GIF Keyboard entwickelt. Zwölf Milliarden Suchanfragen pro Monat hatte die Plattform zuletzt bekannt gegeben. Das bedeutet auch, dass die GIFs für die digitale Präsenz der Fußballvereine eine stetig wachsende Rolle spielen. Nicht zuletzt deshalb hat der FC Bayern München eine Partnerschaft mit Tenor gestartet.
Dabei kommen dann auch teilenswerte GIFs zustande. Und natürlich können auch Insights aus der Kabine genutzt werden.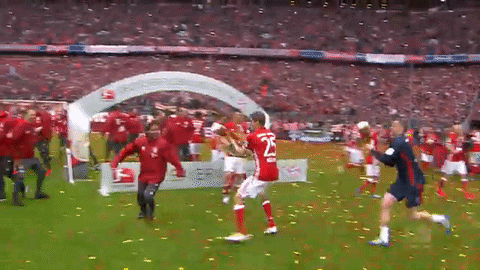 Die Präsenz bei GIPHY hingegen, einer weiteren Plattform für GIFs, ist für viele Vereine längst obligatorisch. Dort können auf schnellem Wege selbst GIFs erstellt werden. Und da diese in Social Media schnell viral gehen können – wer kennt nicht die Katze an der Tastatur oder den ungläubig zwinkernden Mann –, bieten sie eine handfeste Option für die Fanansprache, die auf Engagement aus ist. Bleiben wir einen Moment bei Paul Pogba und Manchester United, sehen wir, wie GIFs auch für die Präsentation von Werbepartnern genutzt werden können. In diesem Fall, um die Partnerschaft mit Deezer zu feiern.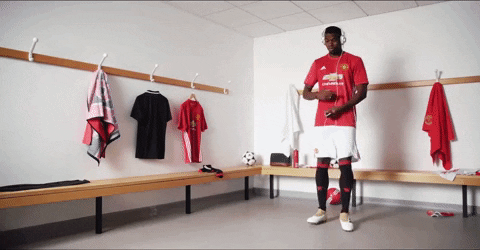 Dass die GIFs eine durchaus große Reichweite erfahren, beweisen auch die Zahlen vom offiziellen Channel des FC Bayern München bei GIPHY. 1.100 Uploads sorgten bislang für knapp 325 Millionen Views. Bisher haben aber nur vereinzelt Clubs ihre Channels bei GIPHY. Dabei ist der Wert des Formats für das Branding und eine ausgewogene Social Media-Strategie nicht zu unterschätzen.
Um die Ansprache mit diesem Mittel noch interaktiver zu gestalten, eignen sich wiederum die GIPHY Sticker. Sie bieten Nutzern die Möglichkeit Inhalte wie Bilder oder Videos mit den Stickern zu versehen.
Und auf diesem Wege können Vereine und Marken der schier unendlichen digitalen Social-Landschaft ihren Stempel aufdrücken. Hertha BSC hat ebenfalls einen eigenen GIPHY Channel mit über 70 Millionen Views, und setzt auch auf Sticker.

Hertha BSC und der offizielle Channel bei GIPHY, Screenshot GIPHY, © Hertha BSC
So kann das dann aussehen.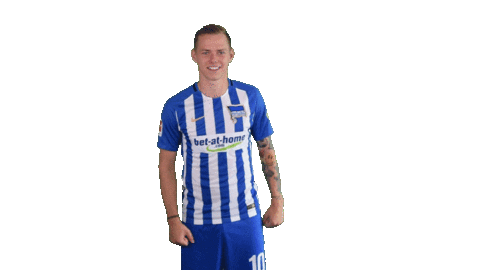 Die Beliebtheit der GIFs spiegelt sich ebenfalls in der Tatsache wider, dass beim Videospiel von EA Sports, Madden NFL 2015, bereits ein Giferator eingebaut wurde, der es Spielern erlaubt GIFs ihrer besten Szenen zu erstellen und zu teilen.
Der Mehrwert, den GIFs, die richtigen Tweets oder womöglich auch Social Hubs auf der eigenen Website bieten, lässt sich nur schwerlich unmittelbar messen. Bedenkt man aber die monetären Wertangaben, die Nielsen Sports den Social Media für Sponsoren und Werbepartner zuspricht, kann die Optimierung von Social Media-Strategien sicherlich als langfristig wertsteigernde Operation betrachtet werden.
Der Fußball ist seit Jahren ein großer Player auf den sozialen Plattformen; doch nicht jeder Verein und jedes mit diesem Sport vernetzte Unternehmen nutzt die Potentiale voll aus. Heute ist es mit einer Facebook Page und ein paar geteilten Videos nicht mehr getan. Wie aber interaktiv und effektiv der für den Fußball nach wie vor so wichtige soziale Aspekt auch digital wirkmächtig für die eigenen Ziele eingesetzt werden kann, das deuten unsere Beispiele an. Dabei sind sie nur Ansätze, die jedoch zur Inspiration auf vielen Ebenen anregen mögen. Die sozialen Medien sind gekommen, um zu bleiben; und ihr Einfluss auf die Fans wird nurmehr wachsen.
How Real Betis Aim for World-Class – Quite Literally
Real Betis Sevilla may be a middle-class club in La Liga with the odd appearance in Europe. But their pledge to become climate neutral makes them pioneers for sustainable club development off the pitch.
Honestly, what's your best memory thinking of Spanish traditional club Real Betis Sevilla? The club is certainly not too well known outside of Spain; the most recent footage you probably have seen was Leo Messi's wonder goal against them a few days back. Apart from their decent performances in La Liga and at least the Europa League group stage, the club have already proved their innovative approach concerning off-field matters. Now, Real Betis have committed to becoming climate neutral. Which would make them the first club in Spain to be just that and one of the first few clubs to take sustainability to another level.
Emulating the Forest Green Rovers status
When it comes to climate neutrality, sports and football do have a long way to go. Yet, there are clubs that already operate on an officially climate neutral level. And La Liga's Real Betis Sevilla, also known as Real Betis Balompié, aim to become one of them. So far, the English fourth tier club Forest Green Rovers are a prime example for sustainable operating. They have 100 per cent green energy, are fully vegan, use electro mobility and are the first club to ever become climate neutral according to none less than the UN.
As of the beginning of March, Real Betis have officially joined the
Climate Neutral Now initiative of UN Climate Change. By doing that, they commit themselves to reduce greenhouse gas emissions and to compensate the rest. Furthermore, the club will become a platform to raise awareness for the need for a change in climate politics and policies. Real Betis' millions of fans across the globe should therefore be amongst the first to acknowledge the club's quest for a better world – and that alone should stand the Béticos in good stead, especially in relation to social attention.
Real Betis will become Spain's first top tier club to become climate neutral and emulate the achievement of Forest Green Rovers, a team that by coincidence or not, also sport green shirts. On Betis' home kits we find Green Earth from Avalon Life as the main sponsor as well, a project to commercialise endangered areas in Central America via blockchain, in order to keep them from further burdening the environment.
Ángel Haro, president of the club, said about the coming projects for Real Betis:
Since the beginning, Real Betis Balompié has been about its family, its members and fans. We strive to ensure that they feel Betis represents them and supports them, just as much as they support us. Taking action on climate is also about them, it's about our family. We understand that climate change is a threat to the livelihoods and the wellbeing of everyone on the planet, and we are doing our part.
And the Global Climate Action at the UN appreciate the committment a lot, as their manager Niclas Svenningsen emphasised:
We are encouraged to see Real Betis align its business with the climate agenda. We are inspired by their focus on serving their community, engaging their fans, and working together with others in a respectful, responsible manner. We are happy to have them as one of the signatories of our Climate Neutral Now initiative

What else are Real Betis doing to become somewhat of a world-class club?
Climate change is an important matter, but how can a football club oblige this aim? First of all, Real Betis will provide renewable energy for its new sports city, plus advanced waste collection and treatment systems. Additionally, a lot of further trees shall breathe more life into the environment. Smart illumination systems will be installed in the stadium
Benito Villamarín and single-use plastic shall be drastically reduced.
These measures to become climate neutral are an important step for Real Betis on the way to becoming a widely acclaimed club. While things might not have gone the way the fans would have wanted in the Europa League, where Stade Rennes was responsible for their downfall, they're still fighting to get back to European football next season. And to stay present in Europe is important for the club as a brand. As their sustainable approach will see them getting repect, other aspects have to be considered in order to generate financial revenue at the same time. Thankfully, Real Betis are also frontrunners in the realms of e-commerce, since they're one of several clubs that own a customised club shop on Amazon.
So, after all, the internationalisation strategies of Real Betis put them in a bracket with pioneers in their very aspects of climate neutrality or lucrative e-commerce solutions. Their Social Media accounts could use a push, though, but the attention from their newest and laudable scheme will probably help there, too. Let's see whether Joaquín, Sergio Canales, Marc Bartra and Co. can achieve big things on the pitch in the near future. Their club has certainly made sure that there will be an awareness for even more urgent matters on this world than football, believe it or not: the future of our planet.
Any club should aim to at least optimise their management of single-plastic use and have the goal to become climate neutral. Real Betis and the Forest Green Rovers are great examples and even the best clubs in the world can learn from them. Whoever is interested, may also have a look at the UN Climate Neutral Now initiative.